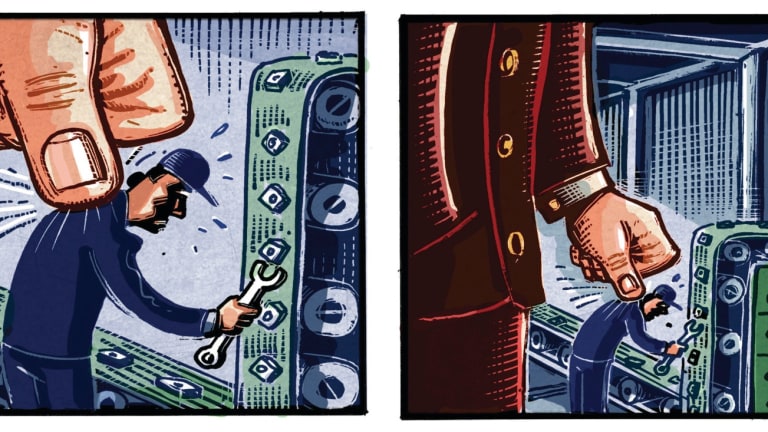 Unions Demand More than Equitable Pay
`
Managing with Labor's Values is a book that describes ways managers can use the values unions fight for (respect, helping rather than monitoring staff, due process, progressive discipline) to manage their staff effectively without acting like the bosses unions fight. Written by Ken Margolies, a former steward in a staff union at SEIU, the book provides healthy guidelines for all types of leadership -- not just those managing union labor.
The LA Progressive contacted Ken and asked for permission to publish an excerpt from his book.  Following is an excerpt and a link to the book.  Enjoy.
Unions demand that those who manage and supervise the union's members help them succeed by providing adequate training and equipment and clear expectations and instructions on how to do their jobs as well as providing positive coaching and encouragement. Unions resist managers who see their job as monitoring employees to catch them doing something wrong.
Labor's values also include treating staff with respect, being understanding and fair, and valuing their input. It includes making decisions as transparently as possible and acting with honesty and integrity. 
To Manage with Labor's Values, managers need to embrace the role of manager, get past the initial cringe reaction at the thought of being a "boss" that many feel, and focus on becoming a good manager.
If staff do not trust their manager, it becomes extremely difficult to manage well. How much a manager is trusted depends mostly on actions rather than words. Trust is built by being honest, transparent, reliable, competent, supportive, culturally competent, and acting in staff's best interests.
Managers must also be aware of subtle or overt ways those not in the majority are made to feel excluded. Managers are responsible for creating a work environment free of discrimination which allows all staff to do their best.
Giving staff what they each need
When it comes to managing staff, one size does NOT fit all. Each staff person has different history, experience, personality, behavioral styles, culture, and motivation. Managers need to know their staff well so they can determine the best ways to help them be successful. People of color, women, and others traditionally not as well represented on staff are likely to have unique needs that managers not from those groups need to become aware of.
Staff have various levels of ability to the do the job and willingness or motivation to do it well. Those who do not know how to do their job need direction from their manager. Staff who are not motivated to do a good job need a manager to find out why and provide the support needed to get them on track.
Setting clear expectations
Setting clear expectations is enormously important and too often neglected. It's common for staff to not know exactly what they are expected to do and how to do it. Sometimes expectations are communicated unclearly or too quickly. It's not uncommon for organizations to say one thing is a priority while rewarding other things. Other times staff are confused because it seems that each day brings a new crisis or priority.
When staff don't know what is expected, it leads to a variety of problems, not the least of which is that important work does not get done or done well. Managers need to concentrate on communicating expectations clearly, get confirmation from staff that they understand, and then act in ways that support those expectations.
Motivating staff
People are motivated by a variety of factors and methods. Managers need to reflect on how they motivate staff (or don't) and know the right method for each member of the staff. What may motivate a manager or some staff may or may not be effective with other staff.
Helping staff succeed
Managers need to provide resources, help deal with political and other obstacles, help staff when they get stuck, give effective feedback, see that staff get needed training, and respond appropriately to issues staff encounter.
Practicing positive accountability
With positive accountability managers focus on helping staff learn and develop rather than monitoring them. Managers and staff need to exchange feedback frequently in a clear, honest, and supportive manner.
Building teamwork
It's up to the manager to help the members of the team work together effectively. Sometimes that means setting a good example, other times providing good facilitation, or using conflict productively. And it always means running effective meetings.
When teams are dysfunctional, managers may need to intervene, communicate with individual staff one on one, provide better role definition, or address divisions based on cultural, political, or personality differences or other factors.
Performance management systems
The way an organization manages staff can be viewed as a system with many aspects and moving parts which interact to create outcomes. In looking at systems, it's essential to focus on how things actually work rather than organizational charts, vision statements, and stated goals.
Making changes to a system is complicated and must be done strategically with managers and leadership working together. 
Before a manager tries to make any performance management changes, there needs to be careful analysis. Managers should think about how staff will react to any changes and devise a strategy to introduce the changes.
Managers should be open and discuss the changes they want to make and the reasons for them and get and use feedback from staff.
Ken Margolies worked as a Field Representative at Local 715 SEIU (now Local 521) in San Jose, California, where he was steward of his staff union. He was a director, managing unionized staff, at the Communications Workers of America, the Teamsters Union and the Worker Institute at Cornell. While at Cornell he developed a workshop series titled Managing with Labor's Values on which the books are based.
Ken is donating all his royalties to Action Center for Racial Equity (ACRE) and the Worker Institute at Cornell.