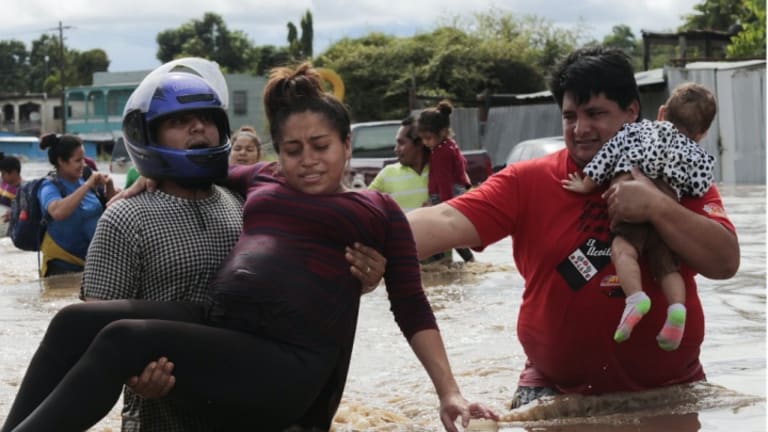 A Brewing Immigration Crisis
Nancy San Martin: Ill winds of Hurricanes Eta and Iota claimed lives, homes and jobs in Central America. With little hope of recovery and climate change promising a future of severe storms, new caravans may soon bring a migrant crisis to the border.
Along the most widely used migrant route that stretches from Nicaragua to the U.S.-Mexico border there is talk that a new caravan will soon make its way north.
For many Central Americans who lost everything last month to back-to-back storms — Category 4 Hurricane Eta and Category 5 Hurricane Iota — soon is not soon enough.
Ill winds of Hurricanes Eta and Iota claimed lives, homes and jobs in Central America. With little hope of recovery and climate change promising a future of severe storms, new caravans may soon bring a migrant crisis to the border.
"People are already leaving, both from Honduras and Guatemala," Mauro Verzeletti, director of the Casa del Migrante in Guatemala City, told palabra. in a telephone interview. "The migration has begun."
Within a two-week time frame, more than 250 people have stopped in at the migrant shelter on their way north. 
"And that's just what we've seen, not all come through the Casa del Migrante," Verzeletti said. "These are people who have lost everything — their house, the animals, their crops. They arrived with nothing, just as they came to the world."
What happens once they get to the United States' southern border remains to be seen. But the crisis is still brewing. International humanitarian organizations have estimated that the storms affected more than 5 million Central Americans, including more than a third of the population in Honduras.
Eta struck first on Nov. 3, making landfall in Nicaragua, but carving out a path of death and destruction that stretched from Panama to Mexico. Iota came 13 days later, on Nov. 16, striking the same region along Nicaragua's Caribbean coast and dumping incessant rain on areas still flooded from Eta.
The storms claimed at least 189 lives and more than 100 people remain unaccounted for, most of them believed to be buried under a landslide in the village of Quejá, Guatemala.
Thousands of homes were destroyed. Roads, bridges and other infrastructure crumbled. Among the hardest-hit areas is Honduras' most productive agricultural region, in the north of the country. 
Large swaths of land in Honduras, Nicaragua and Guatemala were severely flooded and some areas remain inaccessible. 
The Political of Hurricanes
Honduran President Juan Orlando Hernández recognizes the emerging problem. He recently traveled to Washington to seek international support and ask the Trump administration for Temporary Protected Status (TPS) for Hondurans already living in the United States. A similar request was previously filed by Guatemala. 
An estimated 940,000 Hispanics of Honduran origin now live in the United States, according to a Pew Research Center analysis. The Honduran population is concentrated in Texas, Florida and California.
The United States has granted TPS in the past to countries devastated by natural disasters and political turmoil, including Haiti, El Salvador, Honduras and Nicaragua. But the program, which protects migrants from deportation while their home countries manage crises, has been a source of controversy. The Trump administration has pushed for its termination.
During his meeting with U.S. officials in Washington, Hernández stressed the impact deportations would have on the economies of Honduras and the United States.
"If they are returned to Honduras, it would have a double negative effect. The United States would lose a labor force and a very important tax contribution, but also in Honduras we would see the impact of their not being able to send remittances," Hernández told The Washington Post.
This story was originally published by palabra., a digital magazine produced by the National Association of Hispanic Journalists.
The United States has been intimately involved in rescue and disaster relief efforts following both hurricanes. Joint military operations included getting people out of dangerous zones and also getting food and other supplies into areas that remain isolated.
U.S. Southern Command and Joint Task Force-Bravo recently concluded operations with military partners in the region and efforts are now focused on a more long-term response.
"The command supported 295 missions, providing medical and casualty evacuations for people in need of urgent care," Joint Task Force-Bravo said in a statement. "JTF-Bravo's assets rescued 810 citizens, transported 163 rescue and aid workers, and nearly 350,000 pounds of food, water, hygiene kits, and other life-saving aid. Additionally, JTF-Bravo transported nearly 564,000 pounds of relief supplies in support of the USAID-led humanitarian response to the region."
Unprecedented Challenges Ahead
More than 400,000 storm evacuees remain in emergency shelters in Guatemala and Honduras. An additional 225,000 remain stranded in isolated areas in Honduras.
Experts said it will take years to recover from the devastation and test the resilience of governments in the region. Before the storms, poverty, gang violence, corruption, the spread of COVID-19 and a stagnant economy were all prevalent issues.
The crisis looms darkest over Honduras.
"This in fact could be the worst disaster ever in the history of Honduras," said Teo A. Babún, president & CEO of the Miami-based Americas Relief Team, an initiative of Outreach Aid to the Americas, Inc. "From everything that we're hearing from our partners on the ground, this is very bad. It will take years to recover. The problem is severe and is one that is going to require continuous assistance for some time to come."
Babún said the best aid is cash, via trustworthy, nonprofit charitable entities that can purchase supplies and get it to those in need. Sending material goods such as food and clothing ends up requiring storage and runs the risk of getting caught up in bureaucracy and never reaching the intended destination.
"Absolutely the best way to help is with cash," Babun said. "And put the money in your budget so you can help often."
Climate Change and a Parade of Troubles
A number of current problems in the Americas will create more turmoil and complicate the recovery: there are second and third waves COVID-19, the inauguration of a new U.S. administration under Joe Biden and presidential elections in Honduras and Nicaragua.
With so many storm evacuees crammed into shelters, the coronavirus is expected to spread at a faster pace, along with other health ailments. Meanwhile, Biden has promised a more compassionate approach to immigration. He also has promised to protect TPS holders from being returned to unsafe countries and establish a path to citizenship through immigration reform, which could trigger incentives for migrants to try to get to the United States. Elections in Central America also have a history of conflict. 
Then there is the issue of climate change, which exacerbates the devastating effects of hurricanes. And densely populated areas are believed to be most vulnerable to new storms in coming years.
Warmer ocean waters provide additional strength to hurricanes. The more water vapor in the atmosphere, the more persistent the amount of rain that will fall. As global temperatures rise, conditions are likely to be more problematic for regions like Central America.
"We use models to try to understand how hurricanes respond to global warming. There is higher rainfall in warmer climates," said Meteorologist Tom Knutson, with the National Oceanic and Atmospheric Administration (NOAA).
The strongest link between hurricane impact and global warming is through sea level rise. Storms are riding into hurricane-prone areas on higher seas.
"That in itself has caused more inundation in coastal regions," Knutson said. "Sea level rise is going to continue."
An Early Test for Biden
For now, efforts are concentrated on getting help to those in need. 
"The country is paralyzed," said Juan Flores, president of the Miami-based Fundación 15 de Septiembre, a community organization that has been collecting aid to ship to Honduras. "What is occurring is a humanitarian crisis."
"With people having lost what little they had, now they have lost hope," Flores said. "The United States needs to work on a plan to find a solution to this problem." 
Babún, of the Americas Relief Team, said this could be one of the first crises the Biden administration will have to contend with.
"The last thing they need is to have 100,000 people on the border who want to come in," he said. "That would be a pity, but it could happen."
Nancy San Martín
palabra
This story was originally published by palabra., a digital magazine produced by the National Association of Hispanic Journalists.