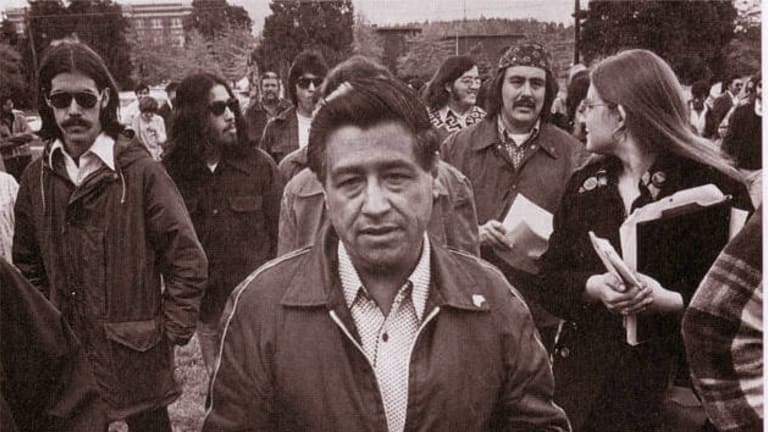 Cesar Chavez Memorial
Rosemary Jenkins: Chávez, considered "one of our country's most recognized civil rights leaders, became a role model for the world and proved that one person can make a difference."
César Estrada Chávez's birthday is not an official federal holiday (although it is a dedicated observance in Arizona, California, Michigan, New Mexico, Utah, and Wisconsin), but President Obama has declared March 31st of each year, César Chávez Day "with Americans being urged to observe this day with appropriate service, community, and educational programs to honor César Chávez's enduring legacy."
For those who don't know or who are only vaguely familiar, what is that legacy?
I remember while growing up in the 50s and 60s that the Civil Rights Movement (led by E. D. Nixon, Rosa Parks, and Martin Luther King, Jr., and so many others) set the standard for other movements. Thus, it should be no surprise nor was it a coincidence that at the same time as the civil rights movement was underway, César Chávez, his wife Helen, Dolores Huerta, and thousands of Mexican- and Japanese-American farmworkers in California participated in demonstrations, marches, led hunger strikes, delivered countless speeches (and were joined by such luminaries as my hero, Robert Francis Kennedy) to gain fair wages, healthier and safer working conditions, benefits, and to eliminate exploitation and retaliation by Big Ag farm-owners (our labor movement today is certainly an echo of that past era).
The fact is that César Chávez has become a symbol for what can be accomplished on behalf of labor (and particularly the working poor). Chávez, considered "one of our country's most recognized civil rights leaders, became a role model for the world and proved that one person can make a difference."
I still remember as a young adult my joining the boycott of Delano table grapes—for me, a personal imperative to which I adhered for years even after the strike was over and labor abuses were mitigated. The picture of stoop labor in the fields and the use of short-handled hoes has been seared forever in my memory. It is because of this Movement that short-handled hoes, which caused such back damaging injuries, are no longer used.
I recall my father taking me to some of those field houses when I was a little girl living in Bakersfield and how I responded in horror (at the tender age of 8 or 9) at the unspeakable conditions under which all those farmhands were living (an image described so vividly by John Steinbeck in Grapes of Wrath—a book I would read much later). Such experiences have moved me to be an activist myself.
What has been especially striking about Chávez, his colleagues, and the United Farm Workers (which they created) was how they handled the boycott. By example, they utilized non-violence in their struggle or lucha (to this day many paintings which honor them use doves to illustrate the peaceful nature of their work)—having largely patterned their actions on the similar philosophies of Gandhi and King.
Then and today, we can accomplish so much and so much more by pursuing socio-economic and political change through peaceful engagement. We must convince and engage the populace to follow suit. Such role-modeling and precedent will continue to serve us well.
The City of San Fernando became a pace-setter some years ago when it set aside a sizable area within its city limits to commemorate the history of the Movement.
If possible, please visit the site where you will be awed by the artwork designed by Ignacio Gomez. Located at Truman near Fox, it features a life-size statue of Chávez, ten figures representing the thousands who were actively involved (including in the march of hundreds of miles from Delano to Sacramento), a fountain whose base represents the UFW's eagle symbol, and a breath-taking mural featuring events throughout this mighty man's life (someone who died too soon at the age of 66). "The plaza . . . memorialize(s) César's compassion and courage, his gentleness and determination, to win justice and dignity for all." In addition, the artistry shows off some of the most outstanding murals in the Mexican folkloric tradition.
One side of the fountain is emblazoned with the prayer that César Chávez authored to represent the Farm Workers' Struggle:
Show me the suffering of the most miserable;
So I will know my people's plight.
Free me to pray for others;
For you are present in every person.
Help me to take responsibility for my own Life;
So that I can be free at last.
[Think of the familiar mantra: "Free at last. Free at last. Thank God, Almighty,
we're free at last!"— as spoken by Martin Luther King, Jr.]
Give me honesty and patience;
So that I can work with other workers.
Bring forth song and celebration;
So that the Spirit will be alive among us.
Let the Spirit flourish and grow;
So that we will never tire of the struggle.
Let us remember those who have died for justice;
For they have given us life.
Help us love even those who hate us;
[Consider the prophetic words attributed to Jesus.]
So we can change the world.
Recently, the U. S. Department of Agriculture has proposed a memorial within the courtyard of its headquarters in Washington, D. C., now entitled the César Chávez Courtyard. A small plaque recognizes Chávez's legacy, not nearly enough to reflect all that he and his colleagues accomplished. Hence the larger project. The concept will include a life-size statue of Chávez and a mural of seven panels illustrating significant events during his life.
The same Ignacio Gomez (of the San Fernando commemorative campus) has been commissioned to design and create the artwork for this project as well.
It is expected that this courtyard will cost approximately $100,000 to complete. Since public funds are prohibited from covering such costs, it is up to "we, the people," to raise the dollars necessary to see it through from conception to completion.
A letter has been drafted for Secretary of Agriculture, Tom Vilsack, to sign, demonstrating his (and the Department's) support for this worthwhile and long-overdue project.
If you would like to contribute or help in any way, please contact the following:
Mr. Ruben Rodriguez, Executive Director

Pueblo y Salud, a non-profit agency

(designated as the fiscal agent for this project)

818-837-2272

Mr. Alex A. Reza (life-long community activist and

retired teacher from San Fernando High School)

661-259-3938