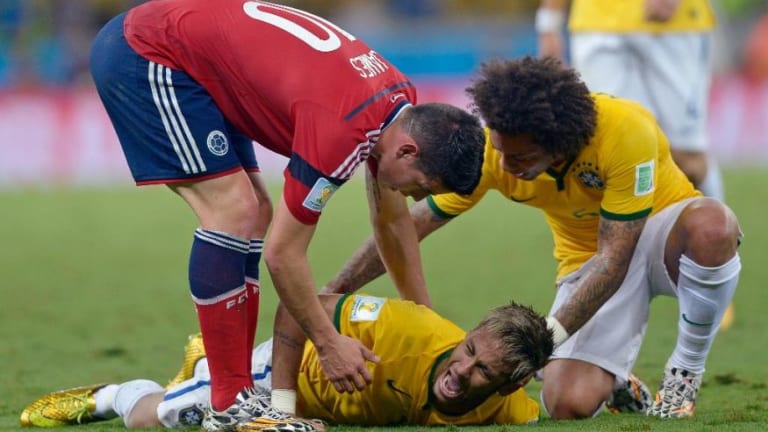 Soccer, Politics and Sportsmanship
Mariachi bands are a tradition in Mexico. The Spanish word mariachi is derived from the French for marriage, because when Emperor Napoleon III ruled the country, small groups of musicians played at weddings.
The French were booted out, but the mariachis stayed. Their colorful costumes and vibrant singing, expanded beyond churches to street corners, plazas and restaurants - a cultural tradition. So, it came as no surprise when a man with a graying Elvis-style pompadour readied himself outside La Parilla Mexican restaurant in Los Angeles. "Is that his real hair," my friend asked. As real as his guitar. As real as the five-dollars a song he offered at our table.
Because of the World Cup, waiters wore soccer shirts from various Latin American countries. People were eating, drinking and talking as game highlights played on a large screen TV. "Watch this," my friend said. Two men from opposing teams were running after the ball. A player from Columbia jumped into the air, kneeing Brazil's star defensive player in the back. Neymar fell to the ground writhing in pain. Players and officials gathered 'round. Eventually, a helicopter landed on the soccer field and airlifted him to a nearby hospital. He had a cracked vertebra and would be unable to play in the upcoming match.
I was so troubled by what had taken place that I brought it up the day before Tuesday's match. I was at a coffee shop with couple of friends. "He could be paralyzed," my Egyptian friend said. "What about the politics of it?" I asked. My friend from Costa Rica said, "My sister was watching a special about the favelas (poverty-stricken areas) in Brazil. She was surprised that they were so poor." I asked the question because there have been ongoing protests in Brazil. One issue is the cost of building so many stadiums which will sit idle after the games. Protesters want resources used to help the people. Of course, that is a leftist argument. Colombia, one of the biggest recipients of U.S. aid, is also one of the most right-wing governments in Latin America. Following that line of reasoning, Brazil loses, the leftist candidate loses. Politics or bad sportsmanship?
Two friends who edit and publish the online magazine, L.A. Progressive, weighed in. "Follow the money," Sharon Kyle said. Her husband, Dick Price, told me about an incident involving the New Orleans Saints. Defensive players targeted the Vikings' Brett Favre during a game in 2010, taking him out of the action. "They just wanted to win," he said.
With their star player unable to play in Tuesday's semi-final match, Brazil lost to Germany, 1-7. In Wednesday's semi-final it's the Netherlands versus Argentina. By the time you read this column World Cup fans will know which teams will face-off in the final. Hmm. I remember that the La Parilla host was wearing a shirt from Argentina. Germany vs. Argentina? What could be more interesting, financially rewarding and politically beneficial? Europe vs. Latin America! That's another story.
Have you ever thought about the relationship between soccer, politics and sportsmanship? Please e-mail me jcromshow@yahoo.com.
John Cromshow