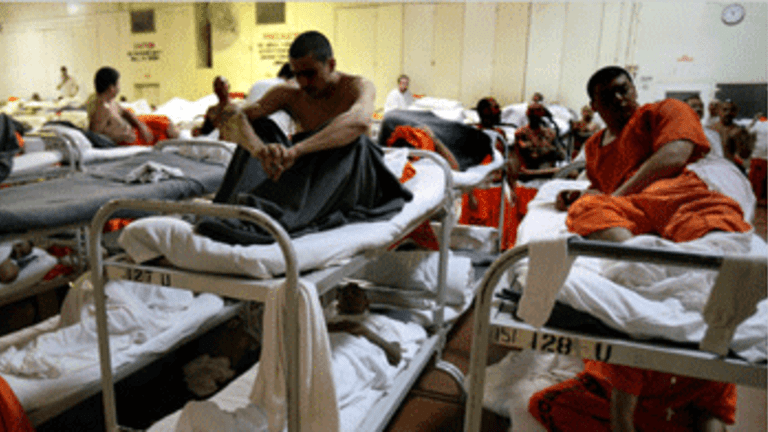 ACLU Asks, More Jails or Better Sentencing?
Dick Price & Sharon Kyle: California's 58 counties must deal with a sudden influx of state prison inmates, straining their jails and requiring innovative sentencing and supervisory programs.
Mindful that all good things roll downhill, California's 58 counties are scrambling to deal with a sudden influx of state prison inmates, which threatens to strain their current jails to the breaking point or, more optimistically, require them to individually devise innovative sentencing and supervisory programs for accused criminal defendants and released prisoners within their jurisdictions.
A recent report from the ACLU of California seeks to understand which course individual counties will take. Driving this need to quick action is the U.S. Supreme Court Brown v. Plata decision, which called California's long-term and severe prison overcrowding tantamount to "cruel and unusual punishment."
Written by the Court's more liberal contingent -- Justices Ruth Bader Ginsburg, Stephen Breyer, Sonia Sotomayor and Elena Kagan joined Justice Anthony Kennedy's opinion -- this groundbreaking 2011 ruling forces California to reduce its state prison population by 33,000 by May 2013. Already, since last October, the state's prison population has fallen by 17,000. Rather than deal directly with the challenge solely at the state level, California's State Legislature passed and Governor Jerry Brown signed the Public Safety Realignment Act, or Assembly Bill 109 (AB 109), which forces each county's officials to develop plans for handling people convicted of low-level, non-violent crimes within their county jail systems, rather than in state prisons, and also assume greater post-release supervision responsibilities.
Under the realignment provisions of AB 109, the counties are responsible for incarcerating or finding an alternative to incarceration for three "non, non, non" types of offenders: non-violent, non-sex crime, and non-serious.
To gauge how California's counties are faring with this daunting challenge, the ACLU released a report earlier this week, "Public Safety Realignment: California at a Crossroads," which details progress made across the state on meeting the Supreme Court's directive and recommending positive paths counties might take. As the report states, individual counties face a perilous choice:
"Counties can see realignment as simply a transfer of incarceration responsibilities and insist upon business as usual, jailing people convicted of non-serious, non-violent offenses at great cost to county budgets and even greater cost to individuals, families, and communities. Or counties can take the smarter, evidence-based path and implement cost-effective alternatives to incarceration that will reduce recidivism and improve public safety."
Locally, in response to the additional responsibilities, Los Angeles County Sheriff Lee Baca submitted an early proposal to build a new $1.4 billion jail. Also, Gov. Brown has allocated an additional $425 million in the California State budget for realignmentthis year, indicating that he will increase that amount in the next two budget cycles.
Emily Harris of Californians United for a Responsible Budget (CURB) warns that, "If realignment just becomes a massive jail expansion plan, we are continuing the 30 years of failed corrections policy."
This "lock 'em up, lock 'em all up" response to non-violent, non-serious offenses contributed mightily to the overcrowded conditions in the the first place. The ACLU report recommends a more balanced approach: "Simply building new jails or re-opening unused jail space treats the symptom but not the underlying disease," said attorney Allen Hopper, director of the Criminal Justice and Drug Policy Project of the ACLU of California and co-author of the report, in a press release accompanying the report's release. "It's time to confront the fact that in California, over-incarceration is itself a disease, and the way to end it is to expand the use of mental health services, drug treatment and job training, and to reserve prison and jail for responding to serious crimes."
The Pasadena Altadena Community Team Offers an Alternative
If California's counties are looking for innovative alternatives to incarceration, the Pasadena Altadena Community Team (PACT) offers an attractive community-based approach. Long before the Supreme Court mandated California to reduce its state prison population, PACT had the foresight to begin a series of reintegration programs designed to support ex-offenders in making a successful transitions to community life. PACT's partners believe they have the makings of a community model for reintegration that, if replicated on a wide scale, would reduce recidivism rates, a central contributor to the prison population explosion. On March 13th, three PACT team members -- Brian Biery of the Flintridge Center; Darryl Qualls, Deputy Chief of the Pasadena Police Department; and Mary Weaver of Friends Outside -- discussed their strategy and progress with the ACLU Pasadena/Foothills chapter. Formed in 2010 and coordinated by the Flintridge Center, PACT began as the Pasadena/Altadena Reintegration Council. Although the name has changed, its mission is the same -- a collaborative effort to develop a network of local service providers and public agencies able to meet the needs of formerly incarcerated individuals who are returning to their community.
The multi-sector coalition includes the Pasadena Police Department and more than two dozen partners comprised of community-based, faith-based, philanthropic, business, civic, and educational organizations. Darryl Qualls, a PACT Team leader who also serves as Deputy Chief of the Administrative Services Division of Pasadena's Police Department, told of losing a boyhood friend who, after being released from prison, could not find work and committed suicide, with Qualls among the officers who found his body.
Asserting that the lack of employment opportunities is the leading cause of recidivism in California, Commander Qualls claimed that he could make a significant dent in recidivism if he had funding for a program that resulted in jobs for low-level offenders. Flintridge's Brian Biery added that his organization has already had some success by seeking out companies willing to hire formerly incarcerated men and women, though more will be needed as the program goes forward.
Mary Weaver of Friends Outside, a community-based support organization, told of her role supporting the families and friends of inmates -– the sector of our population that currently carries the burden of prisoner reintegration. Currently, PACT is not receiving any funding from the state to implement its reintegration program.
However, it is becoming a known entity because so far, its success rate in reducing recidivism exceeds all expectations. "Besides funding where we're having problems is with housing, especially for newly released prisoners who don't have substance abuse or mental health issues," said Commander Qualls. "We have resources for people with those problems, but not others."
What the ACLU Recommends
The ACLU report raises the concern that while the realignment legislation encourages counties to seek alternatives to incarceration, thus avoiding the state's "let a thousand prison cells bloom" prison-building boom that did so much to create the prison overcrowding problem in the first place, the way the state is parcelling out funds to the counties tells a different story.
In fact, as the report says, "the state has allocated more money to counties that have historically incarcerated the most people, and on top of AB 109 funding is providing hundreds of millions of dollars more earmarked for county jail expansion." So, a county -- take Fresno, Kern, Kings, San Bernardino, Santa Clara, Shasta or Tulare -- that has traditionally sent more people to prison for relatively low-level, non-violent crimes will be incentivized with extra funding for continuing these damaging practices.
Counties that have leaned heavily more toward local alternatives to incarceration -- Alameda, Contra Costa, Sacramento, San Diego, and San Francisco -- receive proportionally less funding.

For example, San Francisco received about $5.2 million in state realignment funds from California's budget, according to the report, while Tulare got $5.9 million, even though Tulare's 442,000 population is half that of San Francisco's at 805,000.
Obviously, locking up low-level offenders makes sense in the short run given these comparisons, and in the greatest economic downturn since the Great Depression, short-term financial gains will get people elected and keep them in their jobs. So you can guess what path decisions might take. The ACLU thus offers six recommendations:
Mandate standardized data collection and analysis across the 58 counties and partner with academic institutions, think-tanks and advocacy organizations to develop a robust outcome measurement program.
Enact statewide front-end sentencing reforms to expand county flexibility to manage jail space and support successful reentry.
Enact statewide front-end sentencing reforms to expand county flexibility to manage jail space and to support successful reentry.
Amend statewide pretrial detention laws to keep behind bars only those who truly pose a risk to public safety while increasing the number of people released on their own recognizance or under community-based supervision without necessarily requiring money bail.
Require counties to submit new or revised realignment plans each year, making changes in light of previous years' practice and additional time and thought for research and program development.
Discourage further county jail expansion and construction plans.
As a final key point, the ACLU report points to recent legislation introduced by State Senator Mark Leno (D-San Francisco) whose Senate Bill 1506 would reduce penalties for possession of a controlled substance for personal use from a felony to a misdemeanor, which would drop the penalty from a three-year prison term to up to one year in county jail.
According to the report, the California Legislative Analyst's Office estimates this change will save counties $159 million annually and save the state an additional $64.4 million each year.There is no evidence to suggest that long-prison sentences deter or limit people from abusing drugs," says Senator Leno. "In fact, time behind bars and felony records often have horrible unintended consequences for people trying to overcome addiction because they are unlikely to receive drug treatment in prison and have few job prospects and educational opportunities when they leave."
Reportedly, the L.A. County Sheriff's Department is seeking alternatives to low-risk offender incarceration, such as pretrial programs and electronic monitoring. As more inmates are released to the counties and other low-level offenders are convicted, the need for counties to come up with similar solutions will become more urgent. Time will tell how many counties will do what has been done for the past 30 years and how many will take the road less traveled.
Dick Price & Sharon Kyle
Editor & Publisher, LA Progressive