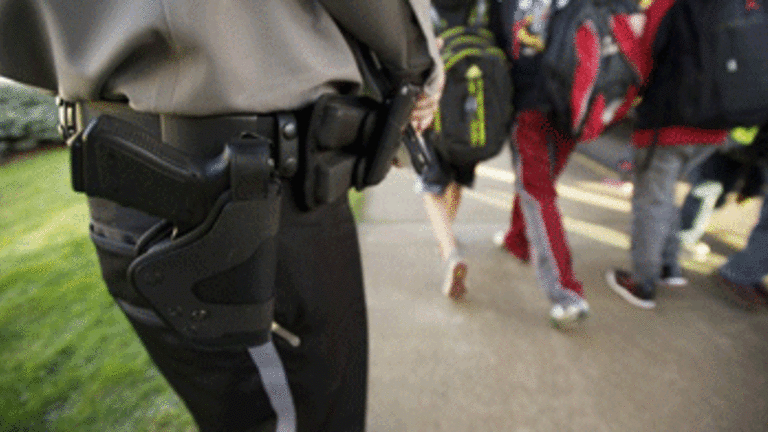 Assault Weapons on School Campuses -- Really?
Bobbi Jo Chavarria: To provide responsible training to our school police is not only cost-prohibitive, but also compromises the other valuable training school law enforcement officers require because they deal with the youth population on a constant basis.
To my recollection, there have been at least two shootings on a school campus here in Fontana, California. Fortunately, we have not had a shooting death.
The first week of school my senior year in 1988, a student's calf was grazed by a bullet when an armed man entered onto the Fontana High School campus. I cannot recall if the injured student was the intended target or a bystander. From what I remember, the gunman was tackled to the ground by a group of students and disarmed. It is a fuzzy recollection, to be sure, but I remember the confusion, rumors and speculation of my classmates when it happened.
The second shooting that I can recall was when law enforcement officers carrying weapons armed with bean bag rounds and sting balls opened fire on "rioting" students in October of 2006, on the high school campus. A family member, who was a student at the time, witnessed a girl, her friend, getting shot by one of "the hundreds of rubber pellets that were dispersed" into the crowd. She noted, this student, who was not involved in any fighting or rioting, was hit from behind as she was running away from the officers alongside other students.
I may be mistaken on the details of the first incident, but I know I am not on the second. And, a shooting is a shooting, no matter who is doing the firing.
But it is serious mistake for school administrators, school law enforcement, or city law enforcement to assert that weapons of war, as these high-powered rifles are classified, can, in any way, make our students safer and therefore are required to be in the arsenal of school peace officers.
I do not want to conflate the issue with any unnecessary fear-mongering, but it is important to note the risks. Michael Shank, adjunct faculty at George Mason University's School for Conflict Analysis and Resolution, senior fellow at the French American Global Forum, and on the board of directors at the National Peace Academy makes no bones about it, "The idea that more guns will stem gun violence is categorically false. The data tells us otherwise. In fact, adding a new gun into any situation -- at home or at work -- greatly increases the likelihood of gun violence."
Unintended consequences are possible even with 40 hours of training the superintendent says was provided to the officers. My Marine veteran relatives have shared that their war weapons training comprised a great deal of time spent in boot camp, with repetitive and continued training for the duration of their enlistment both in and out of the battle zone. Military forces recognize that it is imperative to provide constant training in the use of this kind of weaponry to temper the normal adrenaline-impacted stress and danger of battle situations. To provide that kind of responsible training to our school police is not only cost-prohibitive, but also compromises the other valuable training school law enforcement officers require because they deal with the youth population on a constant basis.
Of course, we must address our human need for safety and the urge to protect our children from the real dangers and tragic incidents like our country endured this past December in Connecticut. It is a matter of perspective and strategy on how to accomplish that. For that, serious public discourse is required. Especially when our children -- the most precious community assets and gifts we have -- and their safety are concerned.
The purchase by Fontana Unified School District was made in October. It was somewhat reassuring that the purchase of these rifles wasn't a reactionary decision after the children and teachers in Connecticut were brutally murdered. But that it was a "precautionary" decision made without the knowledge and input of the public – parents, community members, and students – is not acceptable. That the combined expense of purchase, training, storage and maintenance of this weaponry is above what education code and district policy allow for staff to make without the express consent of the School Board in a public meeting, is also cause for concern.
As a champion for peace and nonviolent solutions, my first and last response is that I do not want my sons in their school to be anywhere near guns or weapons of war. I don't want it for your sons or daughters either. Schools should be a haven, where in seeking knowledge and developing their primary and most lasting interactions with neighbors and friends, they are counting on us to make that experience the best that it can be.
There are solutions that together we might find reassuring and acceptable. We cannot be certain that anything we do will be the foolproof panacea we seek, but we must temper security with the kind of lives we want our children to lead, and what kind of lessons we teach. "The ones with the bigger guns win," is not a lesson to be learned or taught in our schools or in our community.
Bobbi Jo Chavarria