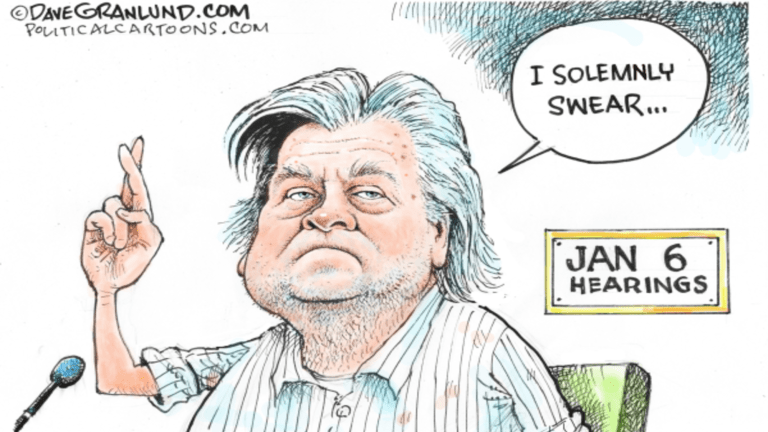 Bannon Would Lob Hand Grenades of Misinformation at January 6th Hearing
Europeans are starting to worry that Steve Bannon has the EU in his cross hairs. Read this blog to know how the White House could genuinely help pull it apart.
On Saturday, Donald Trump wrote a letter to Stephen Bannon "releasing" him from any claims of executive privilege and bestowing his "blessings" that Bannon testify "truthfully" before the January 6 Committee. However, Bannon did not have executive privilege in the first place. In the second place, the notion that Bannon would tell the House committee anything approaching the truth was nil.
Bannon followed Trump's letter (which also whined about his treatment by the Committee) by saying he was now "released" to be publicly questioned by the Committee. No doubt he was prepared to be a hostile witness. He is the guy who has said his goal is to destroy the administrative state. If he had gone ahead and talked with the members of the January 6 committee, they'd need flak jackets because most of his time would have been spent lobbing hand grenades of lies.
However, don't expect Bannon to appear in the House hearing room now. It appears that his offer was disingenuous and was aimed at getting his court hearing for defying a full House subpoena delayed.
Ironically, a Trump-appointed judge on Monday threw out Bannon's attorney's appeal for a delay with a stern rebuke that Bannon will still face a July 18 trial for not complying with the subpoena issued by the House last October.
A federal judge on Monday refused to delay Stephen K. Bannon's trial next week after the Justice Department called an offer by the former Trump aide to testify before the House committee investigating the Jan. 6, 2021, insurrection a "last-ditch attempt to avoid accountability" on charges of criminal contempt of Congress.
"I see no reason for extending this case any longer," U.S. District Judge Carl J. Nichols said in rejecting a host of Bannon's defenses after a hearing, including his contention that Donald Trump had claimed executive privilege over his testimony and documents. The judge narrowed Bannon's defenses at trial mainly to whether he understood the deadlines for answering lawmakers' demands.
When Bannon's attorney said that if the judge had already made up his mind about Bannon's guilt, there might be no need for a trial, Judge Nichols surprised him by agreeing, perhaps facetiously, that might be the case. Bannon could face from 30 days to a year in jail if convicted of contempt of Congress, which appears increasingly likely.
Expect Bannon not to testify in the House, particularly since the Committee is not going to question him publicly. It would be like having Jim Jordan on the Committee. But with a stalwart Trump judge throwing the riot act at him, Bannon no longer has anything to gain by claiming a new-found willingness to answer questions under oath.
As Heather Cox Richardson observed:
Bannon's moves lately were almost certainly designed to delay his trial for contempt of Congress, due to start next Monday. He vowed to make the case the "misdemeanor from hell," for the Justice Department, and he tried to subpoena House Speaker Nancy Pelosi and members of the January 6 committee. Bannon's lawyers were in court today to try to postpone his trial for three months. U.S. District Judge Carl Nichols, who was appointed by Trump, ruled against Bannon across the board. "It seems clear that Mr. Bannon's trying to turn this into a circus that cannot be allowed," House counsel Douglas Letter said, and the judge apparently agreed. Bannon's trial will begin as scheduled.
A year in jail would be a fitting sentence for the man who has such contempt for America and democracy, had a role in what unfolded on January 6 and is Donald Trump's alter-ego..