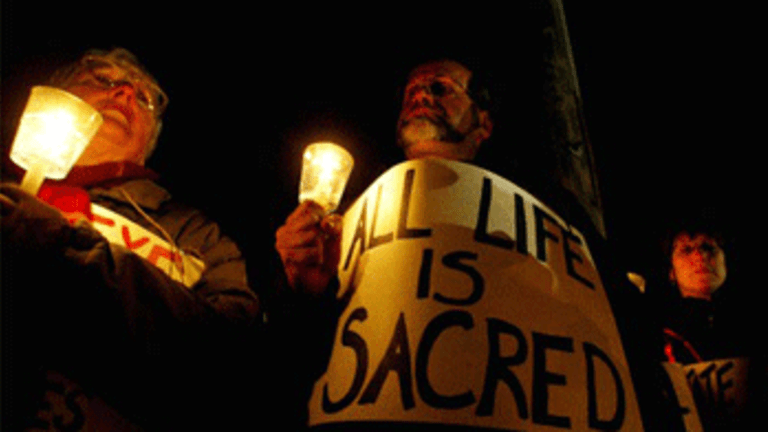 Growing Consensus That California's Death Penalty Must Be Replaced
Andy Love: California's death penalty is incredibly costly, and the money would be far better spent keeping kids in school, keeping teachers and counselors in their schools and giving the juvenile justice system the resources it needs.
Tani Cantil-Sakauye, after one year as the Chief Justice of the State of California, has concluded that the state's capital punishment system is "not effective" and requires "structural changes" that the state cannot afford. Her predecessor, Ron George, who was Chief Justice for 15 years, came to the same conclusion, describing California's death penalty scheme is "dysfunctional."
These are two conservative jurists, appointed by Republican Governors, who with their fellow justices on the California Supreme Court have voted to uphold death sentences at an unprecedented rate. But they have become disillusioned when confronted with a costly, time-consuming, unreliable and unworkable system that serves no useful purpose while draining judicial resources and diverting needed funds from true public safety programs.
As the California Commission for the Fair Administration of Justice concluded after its extensive review in 2008 of the state's death penalty system, death sentences are unlikely ever to be carried out (with extremely rare exceptions) because of a process "plagued with excessive delay" in the appointment of post-conviction counsel and a "severe backlog" in the California Supreme Court's review of death judgments. According to CCFAJ's report, the lapse of time from sentence of death to execution constitutes the longest delay of any death penalty state.
California has a death row population close to 720, by far the largest in the nation. But it has not carried out an execution since 2006, while the myriad problems with the state's lethal injection protocol continue to be litigated. Only ten days ago, a state court held that the revised rules for carrying out executions are invalid because state officials again misapplied California's administrative law which sets out the proper rule-making procedures. As a recent New York Timeseditorial stated: "The process it used exemplifies California's capital-punishment system — badly broken and in need of being permanently shut down."
The Times also referenced an "exhaustive study released last summer which found that since 1978 capital punishment has cost California about $4 billion." This is the report by Arthur Alarcon, long-time judge of the Ninth Circuit Court of Appeal, who, together with law professor Paula Mitchell, determined that California's death penalty system is currently costing the state about $184 million per year. They concluded that "since reinstating the death penalty in 1978, California taxpayers have spent roughly $4 billion to fund a dysfunctional death penalty system that has carried out no more than 13 executions."
The views of the present and former Chief Justice reflect, as the Los Angeles Times reports, "a growing frustration with capital punishment even among conservatives and a resignation that the system cannot be fixed as long as California's huge financial problems persist."
This includes Don Heller, the author of California's death penalty law. He wrote in an op-ed for the Los Angeles Daily News: "I never contemplated the staggering cost of implementing the death penalty: more than $4 billion to date and approximately $185 million projected per year in ongoing costs." Heller now believes that "the cost of capital punishment takes away funds that could be used to enhance public safety."
And Jeanne Woodford, the former warden of San Quentin State Prison, who presided over four executions, now speaks out against the death penalty, has become the executive director of Death Penalty Focus, and is working hard on the SAFE California Act, a ballot initiative that would replace the death penalty with life without parole. As Woodford asserts, the death penalty is expensive, ineffective in preventing crime, and brings with it the ever-present risk of executing an innocent person.
And Gil Garcetti, who sought and obtained many death judgments when he was the District Attorney of Los Angeles: "California's death penalty does not and cannot function the way its supporters want it to. It is also an incredibly costly penalty, and the money would be far better spent keeping kids in school, keeping teachers and counselors in their schools and giving the juvenile justice system the resources it needs. Spending our tax dollars on actually preventing crimes, instead of pursuing death sentences after they've already been committed, will assure us we will have fewer victims."
Judges, prosecutors and jurors across California, mirroring a nationwide trend, have become less enthused about capital punishment. In 2011, California saw its death sentences drop by more than half to ten, the lowest number since 1978.
Andrew Cohen, in the Atlantic Monthly, suggests the reasons:
Prosecutors are seeking the death penalty less often because of the prohibitive costs of capital cases. Judges and jurors have new sentencing options (like life in prison without parole). Politicians can no longer deny the unsettling number of wrongful convictions that have sent hundreds of innocent people to death row over the years. The Supreme Court has sent unmistakable signals to lower court judges to rein in trial excesses. And most of the civilized world has turned against the practice.
Cohen correctly notes that "California is one ballot initiative away from finally packing in its wretched excuse of a capital scheme."
The New York Times editorial explains that, "California's system of government-hobbled-by-referendum means only the state's voters can abolish the death penalty," and concludes: "They should stop this madness of attempting to fix something that is immoral and simply cannot be fixed."
"They" means "us." Signatures are currently being gathered to put the SAFE California Act on the November 2012 ballot. If it passes it would replace California's multi‑billion dollar death penalty with life imprisonment without parole and require those convicted of murder to work and pay restitution to victim families through the victim compensation fund. It would also set aside $100 million in budget saving for local law enforcement for the investigation of unsolved rape and murder cases.
Click here for more information, to donate, or to join the effort.
Andy Love
Fair and Unbalanced