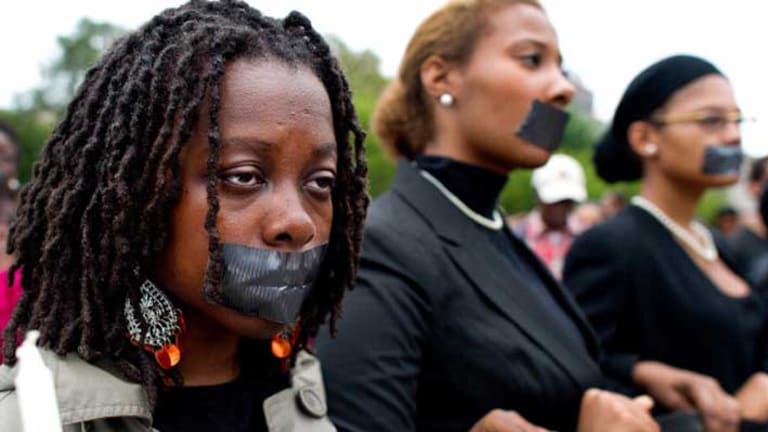 Is California Death Penalty Ruling a Bellwether for the Nation?
David Love: If the process by which the death penalty is applied amounts to cruel and unusual punishment, and the death penalty machine cannot provide equity, fairness or a modicum of due process, then the death penalty is no more legitimate than its extrajudicial cousin - lynching.
On July 16, a federal judge ruled California's death penalty unconstitutional, a violation of the Eighth Amendment prohibition against cruel and unusual punishment. In a nation in which the death penalty is under close scrutiny and already on the decline, the decision could have significant implications for the application of the death penalty in other parts of the country.
In his 29-page opinion in Jones v Chappell, Judge Cormac J. Carney of the Central District of California - a George W. Bush appointee - wrote that the death penalty is carried out inconsistently, in a random and arbitrary manner with few executions. And due to a dysfunctional post-conviction review process, capital punishment in California is plagued by delays that render it an ineffective form of retribution.
Of the over 900 death sentences handed down in the Golden State since 1978, when the voters adopted the current system through a referendum, only 13 have resulted in executions. Further, 94 death row inmates have died of natural causes, and 39 were granted relief from their sentence in the federal courts, leaving 748 awaiting execution or review of their case by the courts.
"For the rest, the dysfunctional administration of California's death penalty system has resulted, and will continue to result, in an inordinate and unpredictable period of delay preceding their actual execution," the judge wrote. "Indeed, for most, systemic delay has made their execution so unlikely that the death sentence carefully and deliberately imposed by the jury has been quietly transformed into one no rational jury or legislature could ever impose: life in prison, with the remote possibility of death. As for the random few for whom execution does become a reality, they will have languished for so long on Death Row that their execution will serve no retributive or deterrent purpose and will be arbitrary."
Judge Carney's decision overturned the death sentences of the state's entire death row population, 40 percent of whom have been behind bars for over 19 years. The ruling is of particular significance because California has the nation's largest death row population, accounting for a quarter of all prisoners on death row in the U.S.
California's broken death penalty is rife with racial injustice. According to a study published in the Santa Clara Law Review in 2005, the race and ethnicity of the victim and geographical variation were the principal factor in determining whether a defendant received a death sentence. Based on data from 1990-1999, the study found that while people of color accounted for over three quarters of murder victims in California, 53 percent of death penalty cases involved white victims. Moreover, those who killed whites were three times more likely to receive death as those who killed African-Americans, and four times likelier than those who kill Latinos. The study also found that counties with a lower population density and a higher concentration of whites yielded the highest rates of death sentences.
California has effectively been under a moratorium since 2006, when its lethal injection methods were ruled unconstitutional. In addition, a ballot initiative to repeal the state death penalty statute was defeated by a narrow 52-48 margin in 2012. As botched executions in Arizona, Ohio, Oklahoma and elsewhere have further exposed the brutality and inhumanity of the death penalty, Judge Carney has identified the capriciousness of the California system as a constitutional violation. The ruling could encourage challenges in other jurisdictions.
For example, with 193 death row inmates, Pennsylvania - the nation's fifth largest death row - has executed only three people since 1976, the last one in 1999. Although the Keystone State is 78 percent white, 65 percent of its death row inmates are racial minorities, a result of discrimination in the criminal justice system. According to the Death Penalty Information Center, Philadelphia County - which has the third largest number of people awaiting execution in the country, and supplies nearly half of Pennsylvania's death row - ranked last in the state in paying attorneys who represent defendants in death penalty cases. Often, capital convictions are reversed and reduced to life in prison due to inadequate representation of defendants. Moreover, six inmates have been released from Pennsylvania death row due to innocence.
In addition, the federal government has executed only three people in half a century, has not put anyone to death since 2003, and has implemented a moratorium on executions since 2010. Of the 61 prisoners on federal death row, 61 percent are of color. President Obama has called for a review of how the federal death penalty is applied, in light of issues such as racial bias and innocence.
If the process by which the death penalty is applied amounts to cruel and unusual punishment, and the death penalty machine cannot provide equity, fairness or a modicum of due process, then the death penalty is no more legitimate than its extrajudicial cousin - lynching.
Last year, executions in the U.S. dipped to a 20-year low. Jones v Chappell only further erodes confidence in the criminal justice system, as America travels down the path to death penalty abolition.
David A. Love
BlackCommentator