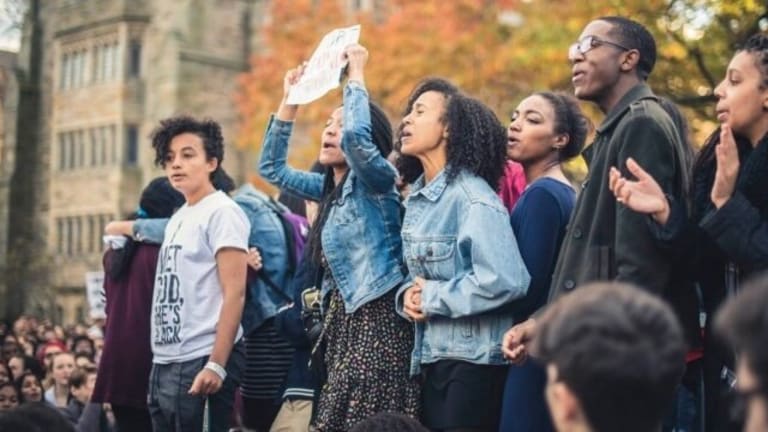 Is Campus Speech 'Free'?
Frank Fear: Institutions have much to lose when things go array. And that conclusion isn't lost on university administrators as they evaluate how to proceed in the wake of the Charlottesville tragedy.
[dc]"I[/dc]'m both disappointed and relieved," Lansing State Journal columnist Judy Putnam wrote recently. Her declaration was in response to Michigan State University's decision to bar white supremacist, Richard Spencer and his National Policy Institute, from speaking on campus.
Putnam was relieved because MSU gave public safety as the reason. Four other public universities—Florida, Texas A&M, LSU, and Penn State—made the same call recently and for the very same reason.
Putnam was disappointed because she evaluated MSU's decision as an infringement of free speech. "Protecting speech when it's not controversial is easy," Putnam wrote. "Allowing Spencer and his National Policy Institute on campus would have been the right thing to do. It would have been the brave choice." (italics added)
It would have been brave, but it certainly wouldn't have been easy. Institutions have much to lose when things go array awry. And that conclusion isn't lost on university administrators as they evaluate how to proceed in the wake of the Charlottesville tragedy.
Institutions have much to lose when things go awry. And that conclusion isn't lost on university administrators as they evaluate how to proceed in the wake of the Charlottesville tragedy.
They have plenty of reasons to be concerned, too. Consider what happened in 2015 at the University of Missouri-Columbia. The chancellor of the system and university president resigned in the wake of racial protests. The university hasn't recovered. Enrollment has declined by over 2000 students (seven dorms have been taken out of service), and Mizzou's 2017 incoming freshman class is the smallest since 1999. Even home football attendance is down—by an average of 13,000 fans a game.
What's the lesson for campus executives? Do what you can to mitigate prospects of a bad outcome. A no to Spencer does that. A yes decision opens Pandora's Box.
But what about Putnam's interpretation that 'yes' would have been 'the right thing to do'? Dr. Allison Stanger, associate professor at Middlebury College, would agree.
A few months ago, Stanger volunteered to introduce a campus speaker and moderate the discussion. The talk never started because a number of people in the audience took exception with the speaker and what he had so say. Stanger was injured in a scuffle that ensued. Despite suffering injury, Stanger defended his right to speak. "Upholding freedom of expression on college campuses is a necessary condition for upholding constitutional democracy," she wrote recently in The New York Times.
A revealing aspect about Stanger's assertion—and Putnam's too—is that neither person is a university executive. Eric Barron, on the other hand, serves as Penn State's president. Here's what he said about his no decision: "There's no place for hatred, bigotry, or racism in our society and on our campuses."
While true, Barron's response makes it seem that the only possible response is 'no.' But that interpretation may say less about the circumstance and more about how university choices are made.
Let's face it: presidents don't want to make a wrong call on a big matter like this. Getting it wrong puts the legal staff to work, brings in a crisis management team, and puts the president's viability at risk. Only a measured, systematic approach will do: consult with the board and other key stakeholders; gain counsel from legal staff; figure out the politics; and get the PR message right. Presidents have to protect the brand.
But where does that leave 'making brave choices' (Putnam) and 'upholding constitutional democracy' (Stanger)? Those aren't just topics for class discussion and op-eds. Or are they?
Sometimes they are. That's because America's colleges and universities struggle with balancing two competing realities—operating as a corporate enterprise and functioning as a social institution. As I've written elsewhere at LAP, schools often put more emphasis on achieving outcomes in a competitive marketplace (as a corporation) and less emphasis on taking institutional actions to advance the public good (as a social institution).
That's not to say the universities should have said yes to Spencer. No was the right call as I see it. But I'm not convinced 'no' was made for the right reasons. Here's why.
First, public universities can't legally bar a speaker from campus on the basis of speech content, so they need another reason. Public safety became that reason. Safeguarding the public is a real issue, of course. Consider the recurring violence that's taking place at the University of California, Berkley. But, on its face, the desire to safeguard the public shouldn't have been the defining reason for saying no. Why? Charlottesville is a reason. Officials there should have done more—reasonable things, too—to counter the prospect of violence. That says knowing how/being able to safeguard the public is the defining issue. It's unclear why none of the five universities couldn't reasonably safeguard the public.
Second, the universities made it appear that the decision was about choosing between free speech and public safety. But is that the only way to frame the decision? I think not. There's another compelling reason—academics. Academics represent the lifeblood of a university, its raison d'être. Can you imagine a school engaging in teaching, research or service (core academic activities) to promote racial inferiority and/or promulgate white supremacy? Of course you can't. Faculty may study Spencer and his NPI, and students may read and discuss both, but those activities would be undertaken to advance understanding of Spencer and his work—not to aid and abet it. Why didn't any of the schools use academic mission as the basis for saying no?
Third, there's the matter of what it means to use the word "speech." In Undoing the Demos, California-Berkeley professor, Wendy Brown, does that that. Rather than consider speech as it's understood typically—as content in a communicative act—Brown views speech as a commodity. Speech fluctuates in value in a market system, she believes, just like other commodities, such as oil and gas. Brown writes: "It (speech) appreciates through calculated investment, and it advances the position of the bearer or owner."
Brown then connects her interpretation to higher education and to public higher education, specifically. She writes: "Public higher education/ … today … abjures itself …/from/… the project of producing a public readied for participation in popular sovereignty…." While some readers might find that assertion hyperbolic, I see it as a reasonable conclusion. While it's true that more schools are launching and supporting programs associated with "promoting democracy," very few institutions proclaim it as a priority, as their institutional mantra.
So what's my answer to the question, "Is speech on campus 'free?'"
It's not. Speech flows freely when matters are uncontroversial, just as Putman asserts. But when the cost is evaluated as too high to bear institutionally, campus executives will step in, often tying decisions more closely to university brand than to democracy.
In saying no to Spencer, the five universities made a good corporate call, but they failed as social institutions. They used safeguarding the public as safe passage out of a political jam.
But the great thing about a democracy—as Trump is certainly finding out—is that presidents don't always have the final say. That's exactly what's happening in Florida.
First Amendment lawyer Gary Edinger has threatened to take the University of Florida to court if Spencer is barred from speaking on campus. "My clients are not unmindful of UF's legitimate security concerns," Edinger said, "but I caution, however, that the university's principal obligation in this regard is to ensure order so that the speech may go forward."
What's it all mean? My bet is that America's college campuses will be in the middle of whatever political turmoil is coming next. And I think a lot of turmoil is on the way. If so, then America will need higher education to stand tall—much taller than its standing right now.
Frank Fear