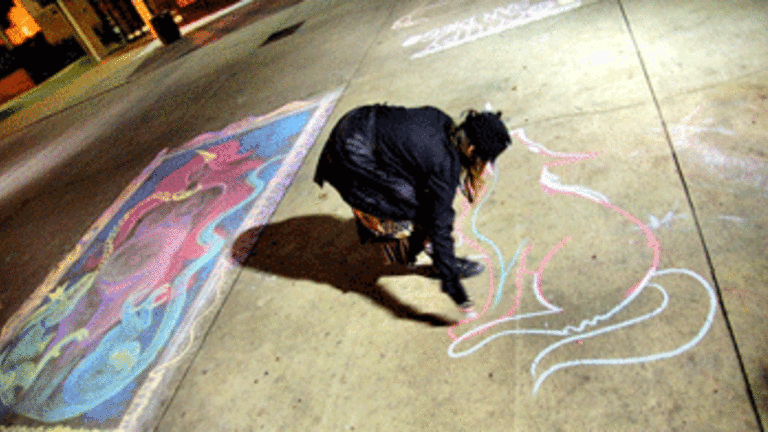 Occupy L.A. Reaches Out to Art-Walk Goers in Spite of LAPD
Cheryl Aichele: Occupy LA Activists hope its chalk-art campaign will hit LAPD in the pocket books and others in their hearts to raise awareness and encourage others to participate.
Occupy LA Activists hope its chalk-art campaign will hit LAPD in the pocket books and others in their hearts to raise awareness and encourage others to participate.
We see Rights being violated every day, around the world, and it makes us seethe, sob, and sometimes want to fight back. Sometimes we respond in masse and speak up for human rights.
Thanks to the wiki-leaked cables, revolution after revolution has popped out around the world, even if the media doesn't give them ample or accurate coverage.
Thanks to the Arab Spring, we had an American Autumn ushered in by anti-wall-street protestors.
We see things on facebook or twitter or email and we respond with a "like" or a "share" or a "retweet" or a "forward", in part because it's so easy. At our keyboards or on our cellphones, we can— with a handful of clicks— beam out our support and speak out against injustice without much effort.
Last year, the Obama Administration spoke out against the unjust treatment of protestors, by their own governments, in far off lands.
What's right in front of us is different. Sometimes we don't see. Sometimes we choose not to see. Sometimes we see but have no idea what to do.
Take the Occupiers in many U.S. cities. Maybe you even visited an encampment and attended some Occupy meetings yourself.
Do the Occupiers have Rights to Freedom of Expression? Do the Occupiers have Rights to Freedom of Assembly and Association? Is chalking on a public sidewalk really an arrestable offense or a violation of Rights? Are Occupiers' Rights being violated by local law enforcement? Is the Obama Administration keeping quiet?
A lot of us mull these questions and, failing to resolve them, do nothing.
The United Nations Special Rapporteurs responsible for Freedom of Expression and Freedom to Assembly and Association want to challenge that, at least with the Obama Administration regarding Occupiers. These U.N. Envoys sent an "official communication" to Secretary of the State, Hillary Clinton, at the end of last year, asking for a response to the reports of local law enforcement and governments violating Occupiers' Rights.
The Obama Administration has yet to respond to the U.N.'s request.
Activists fear the Obama administration has actually taken drastic steps against them by signing into law the National Defense Authorization Act which activists say could targets their rightful activities and lead to indefinite detention of American citizens on American soil.
Occupy LA plans to press the issue locally and nationally.
The Ninth Circuit Court of Appeals ruled "no reasonable person could think that writing with chalk would damage a sidewalk" in MacKenny v. Nielsen (1995).
The Fourth Amendment prohibits an officer from making an arrest without probable cause.
In addition, Title 42, Chapter 21, subsection 1, section 1983 states any officer who subjects another to the deprivation of any rights, shall be liable to the party injured in an action of law.
California has a similar code on the books, Civil Code 52.1 which allows anyone who has been threatened, intimidated, or coerced from exercising and enjoying their rights to sue the violators for $25,000 each.
The city of Orlando spent nearly $200,000 defending a lawsuit from one Occupy Orlando arrestee earlier this year.
"It really is cheaper to respect a person's constitutional rights," said Mike Riggs, a reporter covering the Occupy Orlando case.
So Occupy LA has decided to reach out to a larger audience on their own terms, with a campaign designed to generate the most "likes" and "retweets" and "shares" and "forwards" on Facebook and twitter and email — and to educate the public on the breadth of LAPD's political repression against Occupiers and activists alike.
The campaign is centered on the First Amendment of The Constitution of America and focuses in on the U.N.'s "official communication" with some creative flares. Occupy LA asks people to donate to the cause by joining them a Jalisco's near Second and Main Streets after the Downtown LA Artwalk on Thursday. Occupiers will occupy the artwalk with their own political contributions to the festivities, called Chalk Walk, from 7-9pm.
Last month, after the first chalking arrests, Carol Sobel -- a National Lawyers Guild Civil Rights attorney -- wrote a letter to the Constitutional Policing Assistant at LAPD.
"Given the [MacKinney] decision is now 18 years old, there is no excuse for these arrests," Sobel states in the letter.
Yet LAPD has made a dozen more chalking arrest against Occupiers.
However, Occupiers say that the LAPD uses selective enforcement against them because the LAPD arrested no one for chalking at a permitted anti-Walmartprotest organized by unions and non-profit organizations two weeks ago inChinatown.
Not to mention, the city's own parking enforcers use chalk on private property each time they leave a water-soluble mark on the tires of vehicles they wish to monitor for time restrictions. However, it is illegal to wipe of suck chalk under certain circumstances, so driving and activist beware.
The Occupiers plan to chalk up downtown, in front of City Hall, Police Headquarter, and other spots around downtown, in exercise and enjoyment of their Rights.
"Mainstream media may have written off the Occupy movement since the encampments were violently disbanded last year, said a female Occupier, 19, who was arrested in the raid, "but a group of activists still meet and take action and use digital media to spread the word about our activities."
Occupy LA's plan is to widely disseminate chalk at this Thursday's Downtown Artwalk and video the project and to get local media to cover their efforts.
The dream is that the campaign will go viral and LAPD will stop blatantly violating their Rights.
"We need a safe space to express our political views." Another Occupier said.
A male Occupier, 22, who was arrested for chalking last week, says the campaign's message works for him.
"Our encampment was violently raided by LAPD," he said, "and now we're being targeted by LAPD for our activism."
Occupiers say public awareness is the key to stopping the LAPD.
"We need to get the word out there. I showed a bunch of my friends our idea and they thought it was awesome," he added.
It shouldn't take this kind of effort to make us see the need closest to home. But it does.
The LA Times featured an article about Weingart Center on skid row which has launched a chalk-art campaign to raise money for homeless services but as far as we know, the LAPD hasn't arrested any of them yet.*This was adapted from the LA Times article mentioned above.
Cheryl Aichele
Occupy LA
*This was adapted from the LA Times article mentioned above.
Photo: Occupy LA