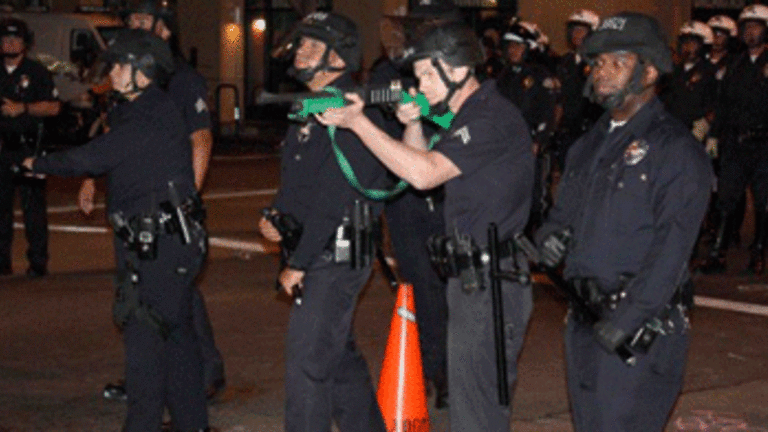 L.A. Police Chalking Arrests Spark Uprising
Dan Bluemel: A protest over activists being arrested for chalking messages on sidewalks erupted into a near-riot last Thursday in downtown Los Angeles.
A protest over activists being arrested for chalking messages on sidewalks erupted into a near-riot on Thursday, July 12 in downtown Los Angeles.
Members of Occupy Los Angeles held a planned act of civil disobedience over what they argue is their constitutionally protected right to chalk politically sensitive messages on the sidewalk.
The event was staged during the monthly LA ArtWalk, where LA's art galleries and artists can showcase their wares. Occupiers wrote messages on sidewalks using the non-toxic, water-soluble chalk that is marketed to children. Protesters, saying "Free chalk for free speech," handed out chalk to passersby, many of whom participated in the civil disobedience.
Although tense with emotion after eight occupiers and non-occupiers were arrested for chalking, occupiers were on the verge of leaving by 9 p.m. However, a large crowd began to amass at the intersection of Fifth and Spring streets where a sizable contingent of riot-clad LAPD officers stood on standby.
The crowd, seemingly incensed by the police presence, demanded they leave and taunted them with gestures. Occasionally, plastic and glass bottles were thrown at cops. According to the Los Angeles Times, four officers were injured, one suffering a minor concussion from a thrown object.
The LAPD arrested 17 people related to the civil disobedience and uprising. It is certain that at least eight were for chalking, the first arrest occurring within 15 minutes of leaving Pershing Square, the protesters' starting point.
The arrests we witnessed were for chalking sidewalks; however, private property had also been marked with chalk during the uprising. It is not discernible if occupiers engaged in the vandalism or if it were done by the numerous people who were given chalk by occupiers. Although they participated in the uprising, occupiers made up only a fraction of the hundreds of people who joined the protest.
Occupier Karo Szymanska spent part of the protest playing hopscotch with children. She assumed, she said, they would be safe within the family-friendly and artistic ethos of ArtWalk.
"I was really shocked that it escalated to this degree," she said. "There was one woman who was chalking and she got grabbed and slammed onto the sidewalk, face first, [by police]."
Police shot at least two people with beanbag rounds fired from shotguns, although it is not clear why, as those moments were not marked by any violence on the part of demonstrators.
Szymanska said police tried to grab her while she was attempting to assist one of the protesters wounded by the less-lethal rounds.
"It is really shocking, the amount of escalation they had over chalking, which really makes me think what we are doing has hit a nerve with them," she said. "I mean, had any other group decided to be like, 'Hey, let's chalk at ArtWalk,' this wouldn't have happened."
Szymanska's opinion is shared by many occupiers, who are accusing the LAPD of attempting to silence their dissent. In their argument, they are citing a 1995 court case, MacKinney v. Nielsen, where the 9th Circuit Court of Appeals ruled that police lacked the justification to arrest a protester who was marking the sidewalk with chalk.
"No reasonable person could think that writing with chalk would damage a sidewalk," stated the court.
Ironically, the protester, Christopher MacKinney, was chalking, "A police state is more expensive than a welfare state — we guarantee it," at the time of his arrest.
More recently, it was ruled by a federal judge in Florida that Orlando police violated the First Amendment rights of Timothy Osmar, an occupy protester who was arrested twice for chalking political messages.
"It is definitely unconstitutional to arrest somebody for chalking on a public sidewalk," said LA occupier Cheryl Aichele, who recently wrote an article on the arrests for LA Progressive.
According to LAPD Lt. Peter Casey, who was present at Thursday's demonstrations, police are applying penal code 594, an anti-vandalism law. If found in violation, a vandal could face up to a year in jail and $1,000 in fines.
During OLA's occupation at City Hall, the LAPD gave occupiers a wide berth from their zest for law enforcement. But, according to occupiers, all that changed significantly on May 29, when OLA began protesting the Central City Association, a powerful downtown business lobby.
"That is about the time when the chalking arrests really ramped up," said Aichele.
In the interest of local businesses and multinational corporations, the CCA lobbies city and state governments. The group has also lobbied the city attorney and the LAPD for tougher policing on Skid Row. Recently, their efforts got them 40 additional police officers to target the homeless or what is commonly termed "quality of life issues," such as aggressive panhandling and people sleeping on sidewalks in the Skid Row area.
Occupiers have been camping out nearly every night to protest the CCA's efforts to, according to activists, push the poor and homeless out of downtown so as to attract more investors.
OLA has enlisted the help of Carol Sobel, an attorney with the National Lawyers Guild. She submitted a letter, dated June 5, to Gerald Chaleff, LAPD's Special Assistant for Constitutional Policing, informing him of the MacKinney court ruling. However, despite the notification, the chalking arrests continued.
Until yesterday, there had been 12 arrests for chalking, which occurred since the beginning of the CCA demonstrations. Through the help of Sobel, occupiers hope to get a court injunction that will stop the arrests.
Ryan Rice, an occupier who has been present for many of the CCA demonstrations, figures the total of arrests for all infractions, which are designed to target the homeless, such as no sitting or lying down on the sidewalk after 6 a.m., to be upwards of twenty or more.
"The significance of that number is that these were not planned arrests," he said about the chalking incidents. "We didn't sit in the street and plan for them to take us one by one. These have been in the dead of night. They have been totally unexpected."
Rice feels the police are being pressured by the CCA to end the demonstrations. He said one officer admitted to an occupier that the arrests were unnecessary.
"It's a situation where they are clearly being ordered to do this, and they know they could be doing something more productive," he said. "All signs point to following the money. I assume the LAPD doesn't give a shit about chalking, but it's happening right in front of a building that controls this town."
Police activity since the CCA protests certainly have taken on a more heavy-handed tone. In June, we reported that 20 to 30 cops were sent in to arrest two occupiers and a non-occupier for sitting on the steps of a downtown office building near the CCA. Police never provided the arrestees with a warning or an opportunity to leave. According to occupiers, none of the arrests held up in court.
Arrests for chalking have been similar, sometimes with the aid of the Downtown Center Business Improvement Districts' private security force, which is related to the CCA via Carol Schatz, who is president and CEO of both organizations.
Occupiers describe officers rushing into their encampments or protests en masse and leaving with people in handcuffs. Because of the nature of such incidents, activists have begun to describe the arrests as "snatches" or even "kidnappings."
None of the nightly demonstrations at the CCA have been violent or resulted in vandalism, said Rice. He assumes occupiers are being targeted because of their outreach, such as with Skid Row's homeless, a development, he said, that may leave the city's power structure more than a little nervous.
"If we can get a true network of solidarity between Skid Row homeless people and lower middle-class people, then it's a whole new ball game, and I think the state knows that," he said.
ArtWalk attendees mostly expressed bewilderment over the fact that chalking a sidewalk was illegal. Possibly none could have been more puzzled, and outspoken, than 12-year-old Carmelo Rodriguez, who joined the occupiers' protest while walking through downtown.
When he was told people were getting arrested for chalking, he said it was "the most ridiculous thing he ever heard of in his life."
"Let me put it this way, they used to chalk when they were kids too, and people love chalk," he said. "So what are they going to tell Crayola, 'You are not allowed to sell any chalk products'?"
Rodriguez said he would like to be like Martin Luther King Jr. when he grows up — minus getting murdered, of course. He expresses sympathy for police who have to make the chalking arrests.
[dc]"T[/dc]he cops have better things to do than arrest a whole bunch of kids," he said. "I think what the cops sign up for is not what they think they are going to sign up for. I can even feel the cops on this one, because they are probably regretting it too, but they have orders."
However, when it comes to chalking and the law, Rodriguez is pretty clear on the issue.
"It's not vandalizing," he said. "It washes away. It doesn't leave a scar or a mark. So, I think it is just a whole bunch of hogwash."
Dan Bluemel
Editor, L.A, Activist
Photos: Dan Bluemel, LA Activist
Posted: Monday 16 July 2012
Republished with permission