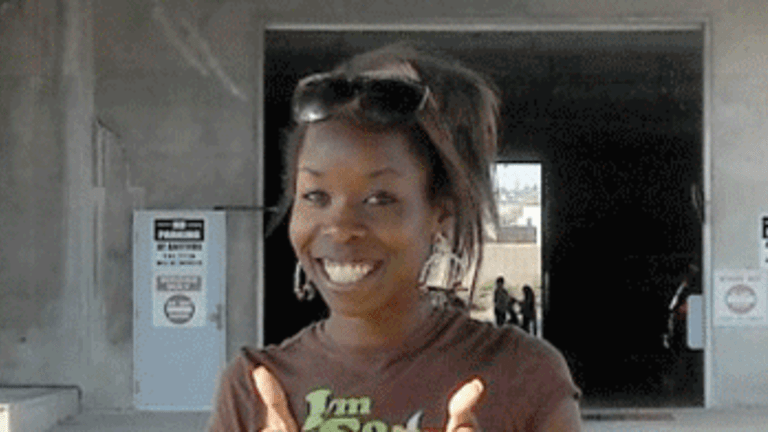 The Unrelenting Spirit of Cherise Rogers
Dan Bluemel: Because Rogers had been tackled, roughed up and pepper-sprayed by several officers on the night of her arrest, she and her attorney believed the DA aggressively sought the resisting arrest and battery charges to make it more difficult for her if she later sued the Sheriff's department.
Cherise Rogers is happier these days – much happier.
After five years of fighting questionable misdemeanor charges, which involved over 70 costly court appearances and ruined her career aspirations, her case is finally over, but with a pleasant twist. Her case has been expunged, allowing Rogers to freely move on with her life.
"I just so happen to come across the greatest judge in the world," said Rogers. "She said that she saw no reason why this case should still be lingering over me.
"And then I cried in the courtroom."
Rogers was arrested in April 2007, after a traffic stop conducted by an LA County sheriff's deputy. She was charged with reckless driving, possession of marijuana, resisting arrest and two counts of battery upon an officer.
It became apparent as her trial proceeded that the arresting officer's claims were dubious, which were documented in a July 2011 article in LA Activist. Just about the only point anyone agreed on was the presence of a third-of-a-gram joint in Rogers' car. The deputy's story changed several times and his stated reasons for pulling Rogers over seemed highly improbable.
Rogers and her attorney believed the deputy had been illegally running plates, which led the officer to pull Rogers over and invent the reckless driving charge as his probable cause. (There was a warrant put on Rogers' car, but the warrant was for a friend who had received a traffic citation while having borrowed her car.)
Though Rogers was found not guilty of reckless driving, prosecutors continued to doggedly pursue her resisting and battery charges. Those charges were originally thrown out because the DA failed to provide documents to the defense in time, but the DA won an appeal. By January 2010, just before trial, the DA added an additional charge of resisting arrest. When that trial ended in a hung jury, the DA pressed on for another until they got a guilty verdict on the two counts of resisting arrest.
Because Rogers had been tackled, roughed up and pepper-sprayed by several officers on the night of her arrest, she and her attorney believed the DA aggressively sought the resisting arrest and battery charges to make it more difficult for her if she later sued the Sheriff's department. The fact that the arresting officer's mother is one of the top district attorneys in LA County also made them suspicious of the prosecutions' motives. The DA's office had told LA Activist they pursue all cases with such vigor where they feel justice can be served.
Events began to unravel when Rogers received a letter saying she owed the court nearly $300. Knowing she was not in debt to the court, she readied herself for yet another appearance before a judge, this time to contest the money allegedly owed.
Her past experiences with judges were not very positive. The judge in her resisting arrest trial accused her of "lying on the stand and trying to destroy [the officers'] careers," even though perjury had never came up as an issue. Even though Rogers had been found not-guilty of reckless driving, the jury's verdict meant little to her judge, who stated during sentencing that "police saw her driving erratically."
So Rogers wasn't expecting much, but while waiting to be heard, she noticed something different about this justice.
"When I had seen what kind of judge she was, and how she was being fair, because I actually watched how she dealt with all the cases before me, and I could tell she was a fair judge," said Rogers. "She just wasn't one of those that was harsh to people for no reason. She was actually listening to people's cases and trying to see what would work best for that person."
When Rogers finally got before Judge Lauren Weis Birnstein, the issue of the debt was not an issue. Rogers owed nothing; the court had made a mistake.
Then Rogers asked to be taken off probation.
"I told her how I wasn't able to get a job and how my life had been affected," she said.
Before she had been arrested, a 25-year-old Rogers was working for the LAPD civilian corps as a clerk typist. She was not long out of college with a bachelor's degree in child and adolescent development and hoped to work with inner-city youths. But the LAPD fired her before her case went to trial. From that point forward, Rogers could only find intermittent and menial jobs.
"I said I really had not been able to do anything because this case has been harboring over me," she said. "I said I can't get a job; I can't do anything, because it is always following me. I'm just trying to get on with my life. I said it's been five years of my life on this one case and I've never been in trouble before."
When Judge Birnstein granted her request, Rogers began to cry. The oppressive weight of five years of injustice began melting off her tiny shoulders. Her crying caused a domino effect of tears in the courtroom, she said. Even the DA wasn't immune.
But the coup de théâtre came when Rogers asked via a public defender that her record be expunged.
"I've been wanting this thing to be expunged forever," she said. "Over the past few years, when I have applied for jobs, this case has hindered me from getting any job. So I knew that just having me off probation was still going to limit me."
For Rogers, an ominous sounding record that turns up in every background check was the criminal justice system's enduring yoke. She has a stack of denial letters from potential employers to prove it. Since her troubles began five years ago, the inability to no longer find a stable, good paying job was worse than being fined, ordered to do community service or put in jail, because it robbed her of much hope for having a better future.
Thus, it was no surprise that when her record was expunged by the court that Rogers cried out to Judge Birnstein, "You are a lifesaver."
As practically any street-level activist can tell you, interactions with police tend to radicalize one's views. Rogers was no different. Her opinion of police has since, to put it mildly, soured. It has led her to become an outspoken critic of police brutality in which she has participated in numerous demonstrations.
"I wasn't against cops before," she said, "but if you went through my experience and actually have been able to dive into what I've seen or experienced, then you would be able to see that they're not as good as people make them out to be."
But to call Rogers a "cop hater," would not be fair to her. To do so would obscure the subtly of her argument.
"I do know there are some good ones, but the overall establishment is corrupt," she said. "You can't have good apples come from a rotten tree. That's how I look at the police, the organization as a whole is corrupt.
"I always hear from people there's bad in all organizations. There's bad teachers and this and that, but my argument against that is: yes, there is bad in everything, but police are the only ones that can ruin your life by simply saying something that's false."
It wasn't easy, explains Rogers, to sit in a courtroom and listen to the testimony of several officers tell a jury how they were attacked and battered by her. There were days, she said, when she would become incredibly ill on the mornings of her trial dates, sick to her stomach and sometimes vomiting. Then she had to muster the strength to appear in court to face her accusers, their ever-changing testimonies and their demand for "justice."
In his book "L.A. Secret Police," former LAPD detective Mike Rothmiller wrote about how arrest reports are malleable things that sometimes serve the best interests of its authors.
"Every day veteran officers taught the subtleties of circumventing the laws to their younger officers," he wrote. "And when the tricks didn't work, the veterans said, falsify the arrest reports. Decide who is guilty and then construct a report that made it so. Often these tactics put deserving individuals behind bars. Other times they were used simply as retribution for some wrong perceived by the cop."
Rogers used to type arrest reports for the LAPD. Now she has gotten first-hand experience of being on the receiving end of these records. It has caused her to self-reflect on her own involvement in a system that she calls a "rotten tree."
"I worked with the police," she said. "I typed up all their reports, and I started asking myself, 'Hey, I wonder how many reports that I typed were false?' That's one thing I always ask myself.
"I was sitting there, typing up all this stuff — I wonder how many were fabricated. How many lives did I have to type up that were ruined. I never looked at it like that when I was working with them, because I didn't see [anything] wrong [with] police at the time, but it's always that eye-opening experience that you have to have."
Roday, Rogers is looking forward. She originally had the goal to work with children as her career, but things are different now. She is considering going to law school, though she still "loves the kids."
"My direction has turned more to justice regarding the community," she said. "I want to get a degree in law, that I can be able to help other people in situations like mine."
Whether or not going to law school becomes a reality for Rogers seems immaterial. Her life has been forever changed out of which a new purpose to help others has been forged. It is a path that can be fulfilled in innumerable ways.
"I hate what I had to go through," she said. "I just know, after going through with this, what it did to me. I didn't let it defeat me, but it did take a lot out of me.
"I don't want anybody else to go through with that."
Dan Bluemel
LA Activist
Published: Friday, 5 October 2012