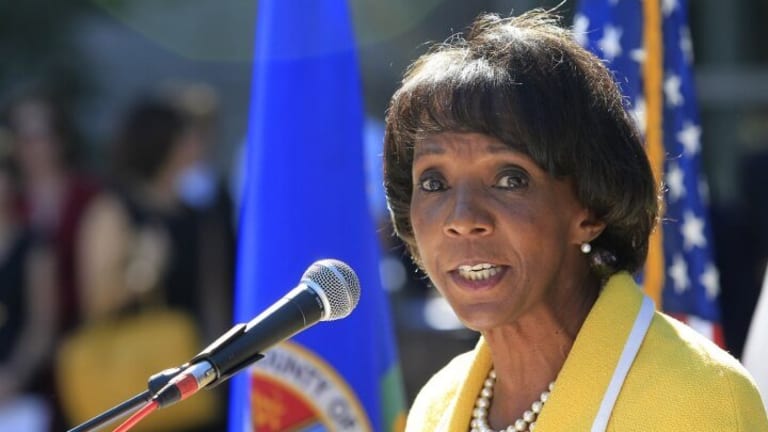 Gavin Newsom, Condemn DA Jackie Lacey's Continued Pursuit of the Death Penalty
Dahlia Ferlito: Lacey's conservative positions on criminal justice are more closely aligned with the old white guard, city and county real estate developers, and allies of Donald Trump.
Jackie Lacey is on the wrong side of history, again. A recent report revealed that the Los Angeles District Attorney has a pattern of vigorously pursuing the death penalty against only people of color. At a time when California Governor Gavin Newsom has declared a moratorium on the death penalty and public support for the death penalty is at its lowest point in 45 years, the District Attorney, once again, proves herself a champion of racist and antiquated "tough on crime" policies and practices that disproportionately impact people of color.
In fact, she has always stood against her constituents who've pushed, and continue to push, for criminal justice reform. She will not pursue actions to decarcerate county residents; from her failure to support ending cash bail or resentence marijuana convictions after legalization, to her opposition to Propositions 57 and 64. Instead of supporting and implementing progressive and common sense criminal justice reforms, she doubles down on bad policies. Evidently, Jackie Lacey has no interest in remedying harms perpetuated by an unfair criminal legal system.
Our current system has always disadvantaged poor people and people of color. Wealthy white people, for instance, are generally presumed sufficiently innocent to escape victimization from forced plea deals. Due to discretion and flexibility within the law, white people are more often charged with misdemeanors while people of color are charged with felonies for similar offenses. Whiteness is so highly valued that the death penalty is more often sought if a victim is white rather than Black. Poor people and people of color generally have to navigate their cases with substandard legal counsel, and all too often that road leads to longer prison sentences or the death penalty. Black people and people of color on death row are executed whether or not they've had adequate representation or the mental capacity to understand their actions and consequences. The criminal legal system preys on people of color and those who cannot afford competent attorneys to represent them.
Lacey's conservative positions on criminal justice are more closely aligned with the old white guard, city and county real estate developers, and allies of Donald Trump.
Although Jackie Lacey is trying to rebrand herself as a progressive candidate for her 2020 re-election bid, she is not a candidate for the people. Her conservative positions on criminal justice are more closely aligned with the old white guard, city and county real estate developers, and allies of Donald Trump.
Application of the death penalty is another unfair and racially biased component of the legal system.
District Attorney Jackie Lacey's wears her tough on crime rhetoric as a badge of honor. When questioned about her pattern of bringing capital cases against only people of color, she responded by saying "As a career prosecutor, I believe the death penalty is the appropriate punishment for some crimes – a serial killer, someone who tortures and kills a young child, the person who rapes and then kills the victim to silence his only witness or someone who kills a police officer trying to do her job safely."
When considered in a broader context this sentiment should be concerning to all justice and fair-minded people. It's true these are egregious crimes and are often used to justify the death penalty. Lacey's view, however, fails to take into account the rigorous academic scrutiny and widely accepted body of research on the application of the death penalty in our country. The American Civil Liberty's position on the death penalty, on the other hand, is backed by myriad data that support and justify abolishing capital punishment. It shows that the death penalty is unfairly applied, does not deter crime, is costly to maintain with no cost/benefit advantage, is applied mostly to people of color, commits innocent people to death, and is most often used in states with legacies of slavery. When weighed against the costs of the death penalty to our society, capital punishment hardly seems justifiable.
As steward of the death penalty in Los Angeles County, Jackie Lacey is right in line with the worst and most draconian DA's in the country, and it would be difficult to assume that racial bias was not a factor. She is out of step with most domestic policies related to capital punishment, with all but 12 states adopting measures to abolish or place a moratorium on the death penalty. She is also at oods with the international community, because most countries in the world have abolished the death penalty in law or in practice, including all Western countries except the United States.
Jackie Lacey protects murderous police officers and condemns ordinary residents to death.
Los Angeles is home to the two most murderous law enforcement agencies in the country, the LAPD and the County Sheriff's Department, yet Jackie Lacey almost never charges a police officer for killing unarmed people. While there have been more than 530 Los Angeles residents murdered by law enforcement on her watch, she has filed charges in just one case. This voluntary manslaughter charge came only recently, in 2018, in response to pressure Black Lives Matter Los Angeles and other activist groups who protest weekly at the Hall of Justice and other venues demanding justice from the District Attorney.
When pressed about her refusal to hold murderous police accountable, Jackie Lacey's answer has always been "not enough evidence to pursue criminal charges" - yet she refuses to investigate to gather the evidence. But when it came to the mysterious deaths of race horses at Santa Anita, she lost no time establishing a task force to investigate there.
Meanwhile, serial killer officers, such as LAPD's Eden Medina, have been allowed to kill multiple times while still keeping their jobs. Officers like Medina have it easy. They maintain employment on taxpayer dollars, are shielded by laws that give officers more protection than civilians, are afforded extra cover by the police "union" bill of rights, receive free and competent legal counsel at the taxpayers' expense, and are ignored by a DA who feels more compelled to sentence people of color to death. No criminal charges were filed against Officer Medina even though one of his victims was a 14 year old child. Even when the LAPD Chief has recommended charges against one of his own, or when police actions are ruled out of policy by the Police Commission, Jackie Lacey remains silent. How can our District Attorney be more interested in seeking the death penalty for people of color in Los Angeles County than she is in holding law enforcement officers accountable for their egregious murderous behavior?
Interested in taking action?
Call Governor Gavin Newsom's office and demand he condemns the actions of Jackie Lacey. (916) 445-2841
Visit https://www.blmla.org/
Donate to Black Lives Matter Los Angeles and support their campaign against DA Jackie Lacey
Follow @morethanahashtagla on Instagram
Dahlia Ferlito is a white, queer, anti-racist organizer and co-founder of White People 4 Black Lives (WP4BL). Special thanks to editor Karen Hilfman. WP4BL is a white anti-racist collective and activist project of the Alliance of White Anti-Racists Everywhere (AWARE-LA) and operates within a national network of white anti-racists called Showing Up for Racial Justice. WP4BL is rooted in acting in solidarity with Black Lives Matter: Los Angeles. Visit www.awarela.org and follow us @wp4bl