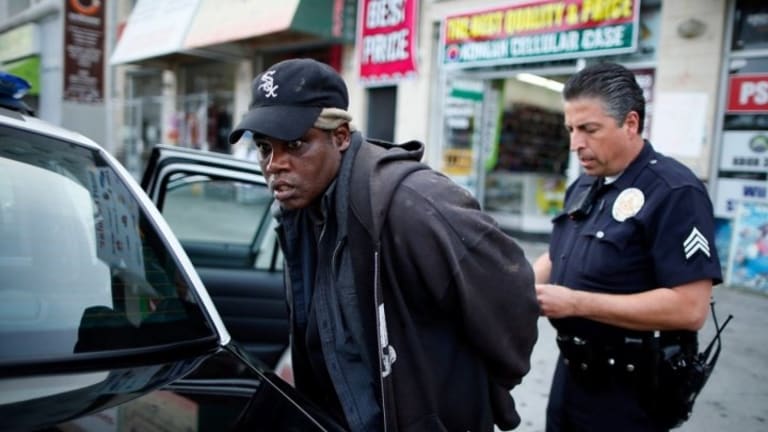 Dismissing Old Warrants Is Laudable, but Continued Criminalization of Poverty Is Unwarranted
Kath Rogers: If prosecution of petty offenses is a drain on our court system, why continue the practice of citing and arresting people for them?
Los Angeles officials announced last month the dismissal of 2 million old, low-level tickets and warrants. This is a welcome first step toward addressing the harmful effects caused by enforcing so-called "quality-of-life" laws such as restrictions on sleeping in public or living in a car.
Both the L.A. city attorney and the district attorney touted their mass dismissal of warrants as an effort to "help stem the tide of poverty and homelessness." Their filings cited to a recent court ruling that barred imposing fees and fines on people who cannot afford to pay them. They discussed the harmful effects of compounding debt, burdensome court appearances, and the possible loss of employment or shelter.
If prosecution of petty offenses is a drain on our court system, why continue the practice of citing and arresting people for them?
But if prosecution of petty offenses is a drain on our court system, why continue the practice of citing and arresting people for them? Why not grant amnesty on all past low-level fines and warrants rather than just those over five years? If we fail to address the ongoing nature of this problem, will we not end up in the same place in another five years? It's like bailing water out of a boat without plugging the hole.
Volunteers from Court Watch Los Angeles – a coalition that keeps an eye on local courts – are documenting the people behind these cases. For example, one man in court last month had a whopping 17 bench warrants. Another woman was recently issued a bench warrant after she left court early to feed her young baby, mistakenly believing her case was resolved.
Court watchers have spotlighted the debt trap that befalls defendants in infraction courts, who are not entitled to an attorney. Many unrepresented people in these courts end up with fines they cannot pay or community service that takes time away from paying work and family commitments. Often, no one explains that they are entitled to an ability-to-pay determination that could drastically reduce or eliminate their court debt.
Even in misdemeanor courts, where there is a right to an attorney, judges can be unsympathetic on fines and fees. Recently, a public defender in downtown court requested a waiver of conviction fees due to the client's indigent status. Another judge denied a request to reduce a $364 fine for a 64-year-old man facing health issues who had been unemployed for two years, telling him to come back in six months if he still cannot afford to pay the fine.
Excessive imposition of warrants and fines is just one way that the justice system fails to account for the needs of people in poverty, including the unhoused. Recently, a judge in downtown court derided a houseless disabled man for missing court while in the hospital. In another case, a city attorney prosecutor argued that a man should not be released on his own recognizance because of his "transient" status.
Our region's prosecutors have acknowledged that low-level offense enforcement has little or no countervailing benefit—either from a policy perspective or a fundraising tool for the courts. Moreover, citation, arrest, incarceration, or fees and fines cannot deter life-sustaining behavior performed outdoors when people have no access to indoor places to live.
At a minimum, the recent dismissals should be expanded to cover all past and ongoing failure to appear warrants. Amnesty should also be granted to the underlying "crimes" that punish people for behaviors that are unavoidable when you live outside
It is admirable to forgive old poverty-based warrants, but we need to stop creating new ones. The only way to truly unclog the courts of low-level citations and related warrants is to stop issuing them in the first place. This means police should stop citing and arresting people for their poverty. It means courts should stop issuing failure-to-appear warrants for such charges. And it means prosecutors should decline to file such charges and support dismissal of low-level citations. Any other response is…well, unwarranted.
Kath Rogers
Kath Rogers is an attorney and executive director of the National Lawyers Guild-LA; she is also lead coordinator for Court Watch Los Angeles, a volunteer court observation program.