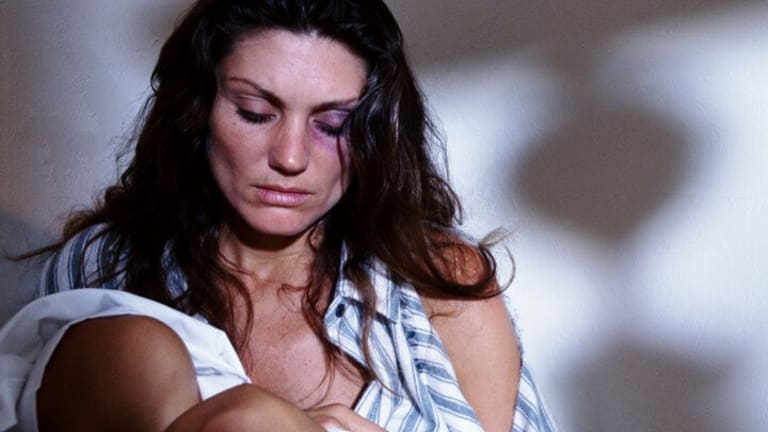 Domestic Violence: Step Up! Speak Up!
Rosemary Jenkins: For many, the sad reality is that too often the police are not called in to intervene until it is too late—until someone has been brutalized or murdered, leaving the children to bear life-long scars.
Domestic violence has many facets about which most people are unaware: It occurs not only when a man physically abuses his wife or partner but in other horrifying ways as well. It manifests itself through the psychological, emotional, sexual, and spiritual damage he inflicts on her. These victims are subject to constant threats, in part, because the offenders have the power to take advantage of their positions in the family hierarchy. And beyond that, too often these aggressive men (and sometimes women) do similar, if not worse, damage to their own children.
I was fortunate last week to attend a wonderful forum, open to all, and sponsored by Congressmember Tony Cárdenas, whose purpose was to define, inform, and educate about domestic violence, offering (among other aspects of the discussion) instruction in how to recognize such cruel behavior and what to do about it.
It emphasized that it is truly within the realm of reality for a victim to be able to start a new life outside the confines of a destructive home if the target or anyone else has the nerve to report it. Consequently, the forum placed the responsibility on all of us to disclose such possibilities to the proper authorities. That means we have a moral obligation to step up if we are aware of or even suspect there is the remotest likelihood of such behavior going on in a home—whether your own or your neighbors' (without any negative repercussions if the accusation is incorrect). Better to report a case which turns out to be innocent than allow an adult or the children to become or continue to be victims in an outrageous, intolerable, and unacceptable environment.
For many, the sad reality is that too often the police are not called in to intervene until it is too late—until someone has been brutalized or murdered, leaving the children to bear life-long scars.
It was suggested over and over the importance of people "to step up and speak up" not only on behalf of themselves but for all those who were not there and yet urgently need the help that was offered at that site. For many, the sad reality is that too often the police are not called in to intervene until it is too late—until someone has been brutalized or murdered, leaving the children to bear life-long scars.
The effort in advance to reach out to the public was tremendous. Distributing flyers, knocking on doors, sending e-mails, making presentations from the pulpit at many religious institutions were all part of the outreach for this forum. Translation services by an intern, who incidentally did an outstanding job, were available for both English-only and Spanish-only speaking listeners.
Children who accompanied their parents were treated to a movie and refreshments in a separate room so that they were not exposed to the details exposed at the conference and would not have to relive their own experiences or listen to those of others. Thus, this process also insured the privacy of the adults from children who might otherwise overhear their stories.
There were between 40 and 50 people of all ages who came to listen. It became readily apparent to me and the organizers that, had it not been for the fear of coming out in the open, attendance would have been greater. We need to do a better job at assuaging those apprehensions.
It is ironic that too frequently mothers don't believe their daughters (or sons) who claim that someone in the family is sexually molesting them. They take the side of the abuser instead of the child. And then when these children gather up the nerve to flee such an unhealthy environment, they find themselves being abused again by pimps offering false promises.
I have spoken in the past about how too many of our young people are so destroyed by what they have observed transpiring in their own homes (where their mother is being continuously beaten, screamed at, cursed at, and sometimes even killed) that they run away to find a "real" home among local gang members who make them feel important and wanted.
Many of those who wind up in the gang life, as a way to support themselves, somehow are sucked into the sex trafficking business—either as the pimps or the prostitutes.
Numerous young women are unwittingly lured into such practices with promises of a safe and secure home and then find that when they are forced into prostitution, they cannot get out for fear of being beaten or killed.
We cannot ignore the existence of such trafficking in our own neighborhoods. It is there and until we choose to intervene, it will continue to be a bane on all our lives.
In other instances, these children find themselves abandoned by their guardians. They are dropped off somewhere in the middle of nowhere to fend for themselves, having been disowned by one or both of their parents. And even if the child is left with a loving grandparent, the youngster is overwhelmed by the sense of abandonment and, eventually, often wind up perpetrating the same damage on others because that is the only role-modelling to which they have been exposed.
Too often, children observe and then repress the memories of what they have experienced—only to have them resurface later in life when it manifests itself through violent acts on others. It is a vicious cycle that must be broken now—not sometime in the future.
It was noted at the conference that the culture in which so much of this violence is found has become a "normal, expected, nearly acceptable" way of life. It is "your cross to bear" and nothing can be done to change that. This chronic behavior is generally rationalized and justified within the Latino community in particular.
These brutal behaviors, however, do cross socio-economic lines. Nevertheless, victims are often stigmatized by other family members, neighbors, friends, and so forth if victims do speak up. And the stigma goes beyond the mother/wife to the children, and the entire family. They find themselves caught up in a spider's net and come to believe there is no way out, no alternative to their lives of pain and suffering.
Much too frequently, children are afraid to speak up. They attend school (where they may find themselves victims again but this time from peer or staff violence). School is too often a place where they don't feel safe and thus cannot concentrate and, as a result, often cause trouble because of all the pent-up anger and fear they harbor and because of the belief that no one is on their side. They also worry that if they share their experiences with authorities, their mothers will suffer at the hands of the man in the house who is perpetrating the crimes. These children often do not report what is happening because sometimes they have seen for themselves or heard of other situations in which the victim-mother takes the side of her abuser out of fear of retribution by him at a later time. The fact remains that without reporting, the savagery is then allowed to be sustained relentlessly.
It was repeatedly stated at the meeting (and quite emphatically at that) that because Los Angeles is a sanctuary city (thank goodness), victims can report these crimes (without fear of legal reprisals, even for people who are undocumented) and will receive the assistance that is so badly needed. Victims, regardless of status, must not fear deportation from our City for reporting these sadistic and brutish actions—despite the frightening stories they might otherwise hear that goes on elsewhere.
Furthermore, many Spanish-only victims are fearful of sharing their stories with English-only officers and/or representatives from other agencies. It is because of that that there is a new focus on training and providing expert staff who can speak the language and who might have, themselves, been victims of similar experiences. Officers are contemporaneously being trained specifically on how to interact with those who have been part of domestic violence incidents. Being aware of this should allay some of the apprehension that victims possess.
Too many women (often the pregnant ones that are most vulnerable) do not know their rights, regardless of documentation status. In fact, all people who reside in America are protected by our justice system. Congressmember Cárdenas pointed out that women can seek asylum for themselves and their children when they are victims of domestic violence. No one needs to suffer the malicious and evil behavior that is a constant in their lives.
There is the additional fear that if such abuse is reported that the children will be taken away from the mother on the basis that the home is unsafe for them. These issues are being addressed so that mothers will no longer have to worry that they will lose their children by reporting the hostile behaviors of their partners.
In fact, it is understood that both the mother and her children need to be removed immediately from the hostile atmosphere found within the home and that both mother and children must be allowed to stay together in a safe place. Efforts are, therefore, made on their behalf to find suitable and safe housing for them—without fear of retaliation by their husbands or from legal authorities.
Domestic violence touches everyone. Thus, it is the responsibility of all of us to act on what we know or have experienced. Many communities deny that such behavior exists: "Not here in our neighborhood! Our men would not do those kinds of things!" Such crimes that do go unreported can also affect the rest of us directly when children who find themselves on their own wind up committing crimes against their neighbors or local businesses—often in an effort just to survive.
And what of those who claim they do not want help? That stance is usually taken out of fear, but if what is known is reported to the police, they will investigate and try to convince the victims that they can be protected, along with their children, and can be rescued from the nightmare in which they find themselves.
Similarly, if the brutality is so bad that medical attention is sought, the attending physicians and staff are obligated to report it with absolutely no repercussions to the victims or their families.
Finally, after the presentation by a panel of experts (including the Congressmember and his wife, Norma), there was the opportunity for attendees to ask questions and then to meet at tables with legal aid attorneys (and other people representing a number of agencies and organizations) whose goal is to share (with specifics) just how these counsellors can help change the circumstances for those experiencing so many domestic horrors—offering them positive options which will lead to a freedom they have not felt for most of their lives.
It is important to note that any abogados who charge thousands of dollars for these same services are not legitimate but exist to take advantage of vulnerable clients. Seek help only from those attorneys who are recommended by your local officials.
In the near future, you will find an article written by a woman whose own experiences reflect what has been cited here. In the meantime, see something; say something! Indeed!
Below, you will find a number of references for such counsel which is free for those seeking help.
Expediente Rojo Project: expedienterojo.org
Independent registered psychologists/therapists specializing in domestic violence cases (various; obtain references); Rosa Maria Villalpando spoke at the conference: Call: 213-309-5016
LAFLA (Legal Aid Foundation of Los Angeles): Call: 888-373-7888
DCFS (Department of Children and Family Services—Los Angeles): 24/7 services available. Call 800-540-4000
Consulado de México: Call: 213-351-6800 (Patricia Pérez G.)
LAPD—any station within the City of Los Angeles; Mission: Call: 818-838-9800; Foothills: 818-756-8861
Strength United, a CSUN agency: 24/7. Call 818-886-0453; 661-253-0258
El Nido [the nest] Family Center: Call 818-896-7776
New Directions for Youth: Call 818-375-1000
Communities in Schools: Call 818-891-9399
Neighborhood Legal Services of Los Angeles County (free assistance); Call: 800-433-6251 (Monday, Wednesday, Friday from 9 a.m. to 1 p.m.)
South Asian helpline: Call 562-402-4132
Chrysalis (Changing Lives through Jobs): Call: 818-794-4200 (Monday through Thursday with 8 a.m. orientation meetings)
Office of Congressmember Tony Cárdenas (CD 29); Call: 818-504-0090/781-7407
Rosemary Jenkins