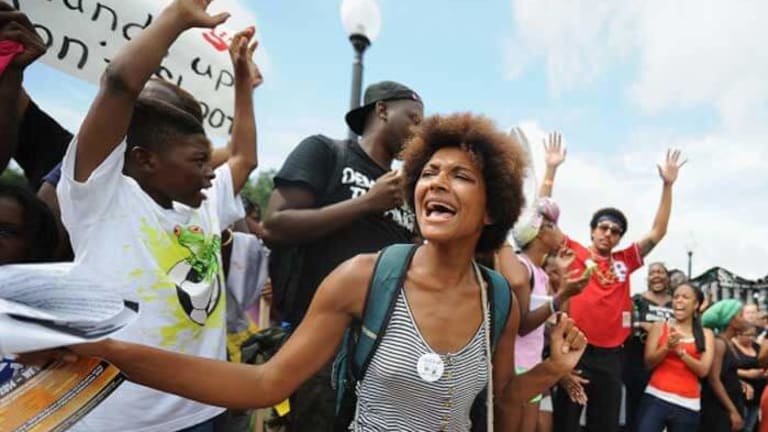 No Matter What Ferguson Grand Jury Decides
The leaders emphasized the group is determined to engage with law enforcement and elected officials on an ongoing basis in regard to how people of color are treated.
LA Clergy & Coalition Leaders Call for Systematic Change in Law Enforcement Regardless of Ferguson Grand Jury Verdict
Meeting yesterday at Holman United Methodist Church, Los Angeles clergy and community leaders announced their intention to press for systemic change in law enforcement practices and in law enforcement culture no matter what the Ferguson grand jury decides in regard to the Michael Brown shooting. At the same time, the leaders who met yesterday said they will work together to ensure that any protests arising from the non-indictment of Officer Wilson are both peaceful and powerful. Meetings between group leaders and LAPD commanders are already in process.
Rev. J. Edgar Boyd, senior pastor of the First AME Church, described a long-term project he has initiated that aims to analyze and transform law enforcement culture. "We are engaged in a marathon, not a sprint, with our eyes fixed on the prize: a more fair and just society," said Dr. Boyd.
"We are not content to keep riding the roller coaster of dealing with individual incidents that keep happening and that have been happening through generations because of the deeply-embedded racism running like a bright and often bloody red thread through American culture and American history," added Rev. Kelvin Sauls, the senior pastor at Holman Church and the meeting's host. "We will continue to be peacemakers without doubt. But we know that true and lasting peace can only be achieved through justice, and we are thus solidly among the protesters when it comes to crying out against institutional injustice at every level."
The group agreed on a primary plan in the event of a non-indictment of Officer Wilson that involves a two-day sustained protest. If a non-indictment is announced prior to 3 p.m. Pacific time, people who wish to protest in public space are invited to gather at Martin Luther King and Crenshaw. If news of a non-indictment comes later, the main rendezvous point will be Leimert Park.
On the second protest day, the rendezvous point at 3 p.m. will be the Roybal Federal Building at 312 North Spring Street. In addition to these opportunities for public protest, the group will soon provide a list of confirmed safe sanctuaries for prayer and strategic conversation. These will be primarily houses of worship where people can gather to grieve and to organize.
"Righteous indignation is called for not just in the wake of a particular injustice but in relation to the entire apparatus that perpetuates injustice," said Rev. Lewis Logan
Community leaders identified a range of issues related to law enforcement that will be taken to elected and appointed officials regardless of the Ferguson verdict. These include the massive militarization of local police agencies, the routine shielding of the identities of officers engaged in racially-charged incidents, the near-absence of appropriate racial sensitivity training for law enforcement officers, and the refusal of many in law enforcement ever to acknowledge that race is always an issue when the enforcers are white and the alleged offenders are people of color.
"Righteous indignation is called for not just in the wake of a particular injustice but in relation to the entire apparatus that perpetuates injustice," said Rev. Lewis Logan, II of the Black-Brown Clergy Coalition. "This includes the racism embedded in law enforcement, as well as the racism embedded in anti-immigrant sentiment," he added. This righteous indignation is not just felt strongly by youth but by all age groups of our community said Chembuko Chembo,of Organization US and BCCLA
Mark-Anthony Johnson, who works with Dignity and Power Now, noted that the two days of action in Los Angeles are aligned with the national call for 48 hours of sustained action around the country. This call comes from local groups in St Louis. "Black Communities and allies from around the country will be engaged in coordinated and collective actions that unmistakable denounce the persistent racism and anti-black violence that pervades a national culture of law enforcement." he said.
Other groups represented at today's gathering included the Black Clergy Community & Labor Alliance (BCCLA), the Urban Issues Roundtable, Clergy and Laity United for Economic Justice (CLUE), the National Action Network, Rainbow/PUSH, the Community Coalition, the Southern Christian Leadership Conference of Southern California, Justice Not Jails, and Interfaith Communities United for Justice and Peace.
For more information, please contact: Pastor Sauls at 323-731-7285