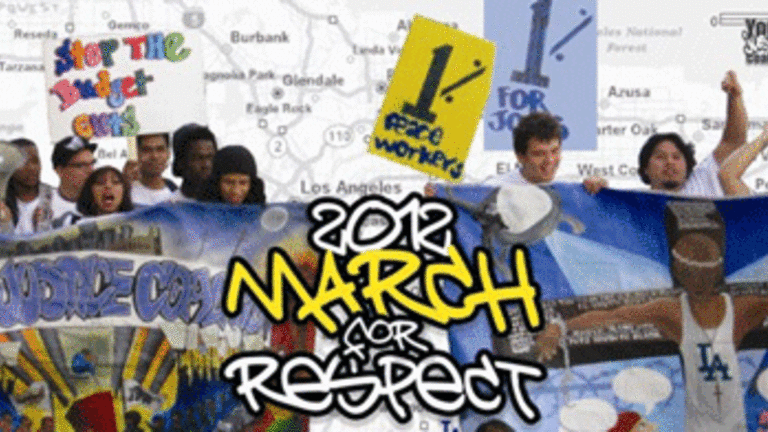 Does California's Gang Database Unfairly Label Young Black and Brown Men?
Dan Bluemel: Transparency and accountability are lacking in California's gang member database, according to a recent report written by the Youth Justice Coalition.
Transparency and accountability are lacking in California's gang member database, according to a recent report written by the Youth Justice Coalition.
The report, called "Tracked and Trapped," outlines a system of secret surveillance that targets alleged gang members, many of whom have not been arrested or accused of a crime. Some in the database are as young as 10 years-old.
Because the database, called CalGang, is secret — only law enforcement can view it — there is no way for an alleged gang member, or their parents, to find out if they are in the statewide computer system. There is also "no opportunity to appeal or clear and consistent opportunities for removal" from the database, according to the report.
The report was published as part of the Youth Justice Coalition's "March for Respect," which ended on December 13. Lasting four days, the march spanned 50 miles across Los Angeles with stop offs to attend several meetings with county supervisors, LA County Sheriff Lee Baca and others.
Due to loose requirements for determining gang membership, along with the secret nature of CalGang, the database can have "tremendous impact, both reputation-wise and materially, on a person's life," said Anna Muniz, a co-author of the report, as well as an organizer and research coordinator for the Youth Justice Coalition.
Muniz cites an instance where a young man didn't find out he was filed in CalGang until he was the victim of a shooting.
"Because he was put in the gang database, even though he has never been gang-involved, … he was denied victim assistance" by the state, she said. "It takes instances like this for us to know that someone is in the gang database. We don't know until it is too late and something like this happens and it has already impacted somebody's opportunities."
The Youth Justice Coalition, or YJC, is seeking to reform CalGang, as well as certain public policies regarding gang suppression. They are also calling for a bill of rights for youth and their families in concert with their goals.
"What we are demanding [is to have] these basic checks in place: the right to notification, the right to an appeal process and the right to a removal process," said Muniz.
It was the LA County Sheriff's Department that first began a gang database in 1987. Back then the database was called "Gang Reporting, Evaluation and Tracking System" or GREAT. Ten years later, CalGang was launched as part of a statewide attempt to track alleged members of street gangs. Within CalGang are a suspected gang member's physical description, any tattoos they may have, their associates, locations, vehicles they own, activities and criminal histories.
There are currently 201,094 people in California who are in the CalGang database, which is down from 2000 when the database held over 250,000 individuals. Nearly 40 percent of those filed today in CalGang live in LA County.
Among those in the database, 94.8 percent are male. Hispanics make up 66 percent of CalGang files; blacks comprise nearly 20 percent of the database as well. Whites make up a significantly smaller number in the database — a little over a quarter of a percent.
This racial disparity caused the report's authors to note that even though much methamphetamine production in California has been done by white biker gangs and white supremacy groups, they are not similarly targeted by law enforcement.
Kim McGill, a YJC organizer and one of the report's co-authors, said only one predominantly white neighborhood, that of Palos Verdes Estates, has a gang injunction on it. A gang injunction allows law enforcement to target people for non-criminal activity, such as breaking a curfew, possessing a pager or cell phone or associating with alleged gang members.
"It is racist in its nature when this applies particularly to black and brown communities," she said.
It wasn't long before CalGang was up and running that some in the law enforcement community were touting its benefits. In less than a year, the number of end-users went from 366 to 1,600, according to a 1998 report by Government Technology magazine.
The magazine cites one case where three girls were rapped by 14 male gang members. They report the crime may not have been solved if it were not for CalGang. At the very least, it would have taken much longer to solve the crime without the database.
"[CalGang] helps solve cases — what more can you ask?" said investigator in charge of CalGang for the California Dept. Of Justice, Don Mace, to Government Technology.
Though it may be effective, some sticky points still remain with CalGang. One particular point of contention is how gang members are identified.
The Street Terrorism Enforcement and Prevention Act, or STEP Act, which was passed in 1988, defines gang membership. According to this law, police can label someone a gang member based solely, for instance, on a person's tattoos and clothing.
Guilt by association is another method of determining alleged gang membership. A2009 report conducted by USC's Gould School of Law noted how otherwise innocent people are swept up into CalGang, as cops and prosecutors "often made erroneous assumptions that led them to mislabel defendants as gang members."
"People with childhood friends or acquaintances who later became gang members may cause them to be mistaken as gang members themselves," states the report. "They may even dress like their gang member neighbors, even if they themselves are not gang members."
It is for this reason why some in troubled neighborhoods have no names attached to the phone numbers on their cell phones or choose not to appear in photographs with gangs members. They fear law enforcement may use it against them.
The constitutionality of the STEP Act has been challenged several times based on the First Amendment's right to free association and the Fifth Amendment's right to due process. In each case the STEP Act was upheld by the courts.
According to the YJC report, being labeled a gang member could result in the accused being more easily detained by law enforcement, as well as more severely sentenced if ever charged with a crime. The USC report mirrors this claim, which states that when increased penalties are applied because of alleged gang affiliation, called gang enhancements, the very mention of them in court can sway jurors.
The YJC report is part of a larger, ongoing study. The organization plans to look into the effectiveness of CalGang, the effect on minority communities that experience saturation policing and how being in the CalGang database or on a gang injunction can impact the way people are perceived by schools and other public institutions.
"There has never been comprehensive research or data collection on this issue, and never by people who have been directly effected by it," said McGill. "So we are hoping, as we roll out these reports, we can get more and more hard evidence on the discriminatory impacts of gang suppression."
Dan Bluemel
LA Activist
Monday, 17 Decmeber 2012