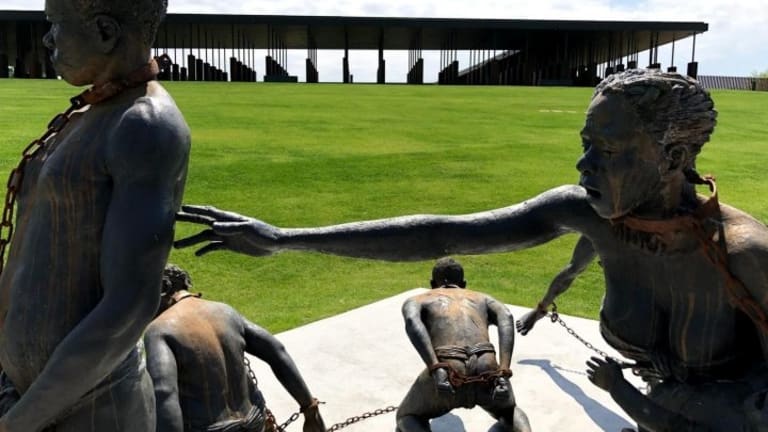 Shall We Wait Another Century Before Giving African Americans Reparations?
Robert Earl Price: Any legitimate effort toward recompense and reconciliation would have the U.S. admit that American "exceptionalism" is the direct result of the horrors inflicted upon African slaves and their progeny.
Amid revived calls for reparations to benefit the descendants of United States slavery, reports have emerged recently that experts have found the wrecked slave ship Clotilda in waters near Mobile, Alabama. The Clotilda is the last known slave ship to reach the United States. Descendants of the Clotilda's owner and the descendants of the human cargo aboard that ship continue to reside in areas of Alabama near the located shipwreck. Some local residents say that the family members descended from the owner of the Clotilda have always known the location of the ship's wreckage and they report several attempts by that family to destroy the evidence of their importing of African slaves—which was a crime in 1860, the year that the Clotilda offloaded African slaves and was scuttled near Mobile.
Today, the descendants of the ship's owner enjoy land ownership, wealth and societal privilege vastly superior to the meager holdings of the descendants of the slaves who were unloaded from the Clotilda. The Associated Press report states, "the slave ship Clotilda may offer one of the more clear-cut cases for slavery reparations, with identifiable perpetrators and victims." However, if reparations for the wealth, power and privilege gained by the U.S. from the African slave trade are to only be meted out to those cases with "identifiable perpetrators and victims," then the attempt to gain reasonable recompense for a debt long owed to the African American community is a bust before it gets underway.
Any legitimate effort toward recompense and reconciliation would have the U.S. admit that American "exceptionalism" is the direct result of the horrors inflicted upon African slaves and their progeny.
Merely compensating those who can draw a direct link to the slave trade, as clearly as is the case of the descendants of the Clotilda affair, fails to address the national issue of a debt owed to 4 million imported slaves and their centuries of unpaid labor that contributed to subsequent amassing of power and wealth by whites in the U.S. Any legitimate effort toward recompense and reconciliation would have the U.S. admit that American "exceptionalism" is the direct result of the horrors inflicted upon African slaves and their progeny. The privileges, riches and opportunities enjoyed by whites today are the result of the African slave trade, Jim Crow laws and continuing unprosecuted terrorism.
Blacks and whites often view reparations as an impossibility, failing to understand the national debt owed to slavery. Many white U.S. citizens are unwilling to accept that the main cause of today's racial disparity in the U.S. is directly linked to an issue that should have been resolved more than 150 years ago at the signing of the Emancipation Proclamation. There remains a great need for all citizens to understand the dehumanizing impact that slavery continues to have on U.S. citizens at every level of society. We must accept that U.S. world power has been obtained and maintained by the profitable exploitation of African Americans.
The idea of prosecuting a case for reparations on the basis of "identifiable perpetrators and victims" is less than a sincere effort to resolve the debt owed to slavery and the descendants of those who survived that cruel institution. It is difficult to understand how any rational human could draw a conclusion that denies the slave's uncompensated contribution to the building of this nation. When confronted with the facts and figures created by the U.S. slave trade, open-minded humans find it difficult to sincerely deny that the disparity in the quality of life between black and white citizens in the U.S. today is the result of continuing systemic racism, the byproduct of slavery.
Today, there are dozens of U.S. corporations, universities and institutions whose very existence is owed to the slave trade. Still, U.S. political leaders like Sen. Mitch McConnell continue to claim that emancipation was over 150 years ago, too long in the past to matter. After all, slave descendants have civil rights bills that have been the law for more than 50 years, and the U.S. has elected a black president. Other detractors in denial declare that the U.S. could never determine who among blacks currently residing here should be made whole or how such a recompense would be dispersed, thus denying the possibility of compensating African Americans for slavery and the repercussions of Jim Crow and continuous discrimination. This state of denial is a sham excuse put forth by the white privileged touting their unwillingness to address an ugly aspect of the nation's history. These are men and women without empathy and not yet willing to make an effort to repay a valid debt; or else their delay is an example of effectively arguing off the actual point and feigning to question the unquestionable, rather than acknowledging this enormous atrocity and actively join in charting a path toward an equitable resolution of the debt owed to descendants of slaves for torturous and terroristic suffering inflicted by white U.S. citizens.
Some Americans don't seem to differentiate between reparations with reconciliation. I would like to suggest that they make the poets' choice, which says, "If asked to choose between two options, choose both." Africans forced into the diaspora by slavery deserve both reparations and reconciliation. To reduce reparations down to a check is both an insult and a diversionary tactic arguing issues that are off the point. Recompense is justified, and it can be delivered in a rapid and feasible fashion without resorting to individual payouts, avoiding the specter of ensuing tedium and bureaucracy.
Currently, few white Americans take the concept of reparations seriously, and, when pressed, black American lapdogs are hired to muddy rational arguments with provocative bourgeois nonsense. Meanwhile, blacks seeking damage repayment for life, land and labor stolen from them by the use of brutal force are depicted as demanding something undeserved. The interned Japanese Americans have been paid reparations for their damages. Surely the destruction that began with the African slave trade and continues in African American communities today is worthy of equal consideration. Ideally, a renewed discussion of reparations would quickly lead to a seriously financed plan for reconciliation that could be reasonably delivered expediently. As Dr. Martin Luther King Jr. said, "Justice delayed is justice denied."
A manageable body of knowledgeable, diverse and empathetic U.S. citizens could be assembled, elected, appointed and charged with devising a plan to a acknowledge, compensate and clear a road toward a time when the history of the slave trade in the U.S. will no longer influence the quality of life of any citizen.
Instructions to a reparations and reconciliation committee might include but not be limited to the following:
A balanced national slavery education for all U.S citizens, truthfully depicting the contribution of Africans to the creation of U.S. wealth and power. Such an education should not be confined to classrooms, but could instead be a broader program to educate U.S. citizens. Media campaigns could be developed and disseminated until an authentic understanding of the U.S. slave trade is understood and accepted by most of the nation's residents.
A path to racial justice past, present and future. Recompense and reconciliation for the atrocities heaped upon slaves and their descendants in the name of the law.
Undiluted enforcement of existing civil/human rights laws.
Monuments at Jamestown, Virginia, Sullivan's Island, South Carolina, and New Orleans marking these places as the "Ellis Islands" of the U.S. slave.
Endowments without restrictions for historically black colleges and universities (HBCUs) that are equal to the nation's most prestigious institutions of higher learning.
An African American Bank established and launched with reserves equal to any of the top ten banks in the U.S.
I write this certain that people of goodwill are capable of mapping a path to truth, reparation and reconciliation that would be empathetic to everyone including the rarely mentioned Native Americans.
Robert Earl Price
Independent Media Institute

Robert Earl Price is an African American screenwriter, playwright and poet. He is a recipient of the American Film Institute's William Wyler award for screenwriting, an NEA fellowship for poetry, a Cultural Olympics commission for theater and a Maryland Individual Artist Award. His play "Blue Monk" was produced in Johannesburg, South Africa. His 11 full-length plays include an adaptation of Claude Brown's "Man Child in the Promised Land" and a ritual play, "Black Cat Bones for Seven Sons." He has four volumes of poetry: Bloodlines, Blood Elegy, Blues Blood and Wise Blood.
This article was produced by Economy for All, a project of the Independent Media Institute.