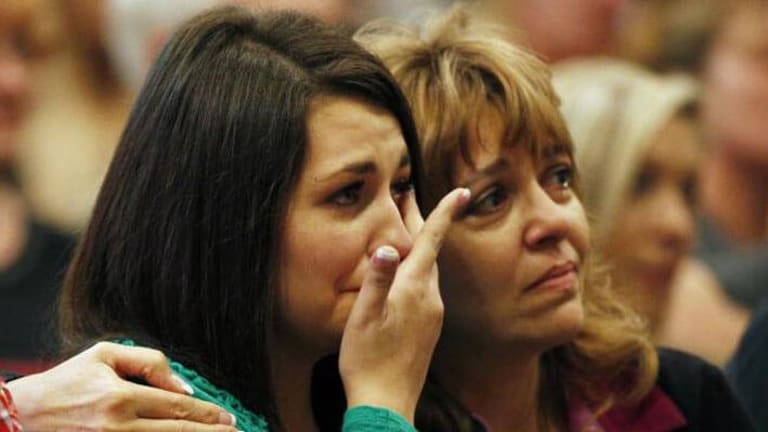 Mass Murders Are Good for Business
Walter Brasch: Several former NRA presidents and board members in a delusional descent into paranoia, have said the NRA and gun-toting Americans are what keep the federal government from invading the states and seizing authority.
Shortly after the mass murders at Umpqua Community College near Roseburg, Ore., President Obama predicted the extreme right wing would crank out press releases declaring the nation needs fewer gun control laws and more guns.
The pro-gun lobby didn't disappoint him.
Shortly after the mass murders in a Charleston, S.C., church in June, NRA board member Charles Cotton, an attorney who fired his first shot when he was four years old, had claimed if the Rev. Clementa Pinckney, a state senator "had voted to allow gun owners to carry their own weapons [into churches], eight of his church members . . . might be alive."
After the shootings in Oregon, Cotton said had the students been carrying guns, there would have been no mass murder. "How carefree do you have to be with all of the mass shootings that are going on throughout America to not have something as simple and convenient as a small knife when you go to class, let alone a gun with which to protect yourself?" Cotton asked.
The Republican presidential herd called for even more guns in a culture that has made Americans inured to violence. Presidential candidate Jeb Bush said, "Stuff happens."
The absurdity of arming all of America is that there are no requirements that anyone with a gun needs to know how to use that gun. The possibility of any one person with a hand gun being able to react faster than the shooter, be more accurate than the shooter, or not accidentally wounding or killing others is high. Heavily armed police, better trained in weapons than most Americans, did not kill the shooter, who wore body armor; the shooter killed himself.
The shooter's mother, who said she got all her knowledge about guns from her son, acknowledged he was autistic and a head-banger. In their house were 20 guns, including semi-automatic assault rifles; the killer used six of those guns at the college.
Those who believe in no gun regulation say the solution is better mental health counseling. That may be a small part of the solution, but there are numerous questions.
If a mother recognizes there may be a problem with her son but does nothing, who is responsible for compelling someone to see a counselor? Should the government step in to order counseling? Could this violate certain Constitutional rights?
If the gun-proponents want the government to intercede, how do they reconcile their conflicting belief of limited government intervention in all matters against mandatory mental health counseling? Equally important, if they believe in more mental health counseling, why have they refused to vote for or approve funds for more mental health clinics? One fact is not accepted by the gun-rights absolutists. "Only 3%-5% of violent acts can be attributed to individuals living with a serious mental illness," according to the U.S. Department of Health and Human Services, and those with mental illnesses "are over 10 times more likely to be victims of violent crime than the general population."
There are more than 310 million guns in civilians' possession in the United States. That's one for every person from birth to death, and the highest per capita gun ownership rate in the world. During the past decade, there have been about 301,000 Americans killed by guns; that is about 4,250 times greater than all deaths from terrorists in the United States.
In 1996, Congress blocked funding for the Centers for Disease Control to collect and analyze data about gun violence; it extended that ban this past July. In 2013, Congress had refused to pass common sense proposals to reduce gun violence. About 85 percent of all Americans want universal background checks, according to a non-partisan Pew Research poll in July. A majority of Americans want a limit on the size of ammunition magazines, and bans on assault weapons and civilians owning armor-piercing bullets. The politicians' greed and loyalty to gun manufacturers is greater than their responsibility to their constituents and, more important, to discovering the truth.
The gun manufacturers, which receive about $6 billion in income each year, help fund the NRA and other pro-gun organizations. It's simply a business decision. Nothing more.
Last year, the NRA spent $37 million on campaign donations and lobbying. In 2012, the NRA spent about $14 million trying to defeat President Obama in his successful run for a second term, according toThe New York Times. Failing to stop the President from a second term led to even more gun sales. "It's been off the chart, Gary Jessup of UT Arms in Kansas, told the Kansas City Star. About 4.7 million background checks were recorded in November and December 2012, according to the FBI, as the extreme right-wing descended into a cavern of fear, swathed by delusional paranoia.
The NRA isn't protecting the legitimate hunters and target shooters. Several former NRA presidents and board members in a delusional descent into paranoia, have said the NRA and gun-toting Americans are what keep the federal government from invading the states and seizing authority.
Former NRA president David Keene told the Daily Caller that the Second Amendment "was not written to protect squirrel hunters." Fred Romero, an NRA field representative, said the Second Amendment, which NRA and gun-rights organizations cling to as if it was Linus's baby blanket, "is not there to protect the interests of hunters, sports shooters and casual plinkers [but] as a balance of power. [It is] a loaded gun in the hands of the people held to the heads of government."
Former NRA president Sandy Froman believes, "We are at war" within America and "my fellow NRA members are at the heart of national defense." Most of the NRA staff and members of the board believe the president of the United States is a tyrant—some compare him to Hitler—who wants to disarm all Americans. It is this kind of thinking that forced former president George H.W. Bush to renounce his life membership in the NRA when the leadership declared federal agents to be "jack-booted thugs."
It is this paranoid fear that allows gun manufacturers to create more guns, where every shooting spurs profits at local gun stores, and which helps the NRA and similar organizations to throw money at politicians to assure that fear, re-elections, and profits are what matter, not lives.
Instilling fear into the people is what sells guns and buys politicians. Candi Kinney, owner of a gun store near Umpqua Community College, said the murders helped spur sales of guns, and ordered even more AR-15 semi-automatic assault rifles. "There's always a rush on them after a big shooting," she told the Guardian.
As World War II was coming to an end, and as the Allies began liberating the concentration camps where the Nazis murdered and tortured more than six million Jews, Gen. Dwight D. Eisenhower ordered his troops to bring the civilians from nearby villages to the camps. He wanted the villagers to see those who lived, whose possessions and gold teeth were torn from them, and whose flesh now barely hung on their bones. He wanted the civilians—most who falsely claimed they didn't know about the genocide—to see the crematoriums, whose smoke they had to have seen, whose odors they had to have smelled. He wanted the civilians to go to the edge of forests, where Nazis murdered hundreds of thousands of Jews, and where the nearby villagers gleefully watched their soldiers and collaborators shoot pistols and automatic weapons that would end the lives of infants and grandparents, shopkeepers and mill workers, and some of the world's most brilliant artists, writers, musicians, and scientists. Decades later, extreme right-wing militant Americans foolishly claim if the Jews had guns, the holocaust would never have occurred.
Let's now require all politicians, and all those who believe fewer gun laws and more guns will solve the murder problem, to go to the crime scene. Let every politician and gun-rights advocate within 25 miles of a mass murder walk where the victims once walked. Let them see the blood and bodies shredded by copper, steel, and lead. Let them witness the police and medical personnel trying to do their jobs, while doing their best to hide their own tears and rage. Let them hear the cries of the families and friends. Make them go to the morgue and watch autopsies on bodies that can talk only to medical examiners. Make them go to the funerals, to again hear the crying of the families and friends, who talk about lives lost decades too early.
The only thing most politicians want to do after every mass shooting is to say their thoughts and prayers are with the families of those killed and wounded. But, their words are as hollow as their logic. Let the truth ring true, that the politicians were bought and paid for by the gun industry, and that is why common-sense gun reform was voted down, and the violence continues.
Walter Brasch
Wanderings
Assisting on this column was Rosemary R. Brasch. Walter Brasch is an award-winning author/journalist, whose latest book is Fracking Pennsylvania, a look at the health, environmental, political, and economic issues affecting the American population.