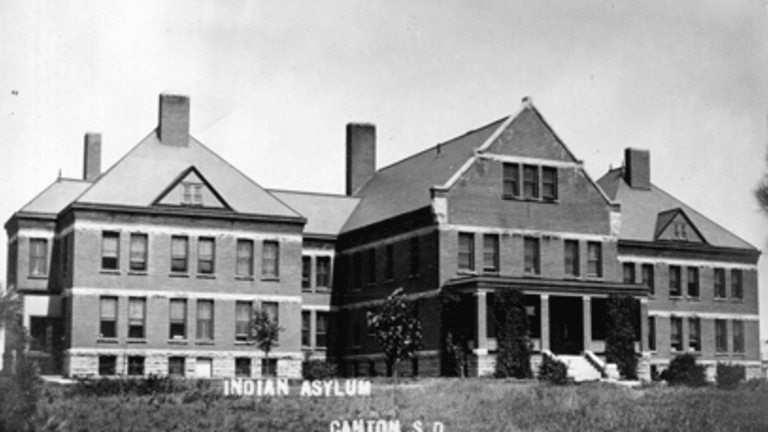 Hiawatha Asylum for Insane Indians: The Parallel of Honor
Dana Lonehill: If they were not mentally ill before they entered the Canton's Hiawatha Asylum for Insane Indians, they soon would be after laying in darkened rooms with windows nailed shut for days at a time.
The rain fell softly, gently, and in a peaceful way on Sunday, May 19th, 2013. It was a sporadic sprinkle, as if to let us know the heavens cried, too. I went with my brother and sister-in-law to an honoring ceremony held on a golf course in the small town of Canton, South Dakota. The southeastern corner of South Dakota had two honoring ceremonies, two memorials this past weekend.
The first one was in Sioux Falls, South Dakota, at a beautiful park called Falls Park, where just a few months before a28-year-old Lakota man, Lyle Eagle Tail and 16-year-old white female Madison Wallace, who never met each other, jumped in the foamy waters to save the life of the young 6 year-old-child who was the girl's younger brother. While they saved his life, they both sacrificed their young lives. So far there has been an unsuccessful campaign to rename the park after them or erect memorials in their honor.
However, a 10-foot bronze statue made by sculptor Darwin Wolf was dedicated in a grand ceremonyon Friday. A ceremony celebrating the accomplishments and joy of the life of South Dakota's first Senator, R.F. Pettigrew. Senator Pettigrew was known for shaping the state's economy, often donating land for development and recreation himself.
Just two days later, after I watched the honoring of Pettigrew on the news, I found myself traveling just south of Sioux Falls to the small town of Canton to witness another honoring ceremony. Except this one was not one where you clap your hands and praise someone for all they did to shape your state. While it still involved Senator Richard Pettigrew, it did not sing praises to Pettigrew. Not unlike the way the movie Lincoln never depicted how Honest Abe ordered the execution of 303 Dakota men and hung 38 of them one day after he delivered the Emancipation Proclamation.
In the late 1890s, Senator Pettigrew traveled to Washington, DC to push for an institution in South Dakota to be built for Indians from across the nation who had gone mad. But history also tells us that most of these Indians were not insane, they had just not conformed and assimilated to living the way of the white man. The government thought it would be a step forward in improving upon the "savagery ways" of Native Americans and Pettigrew had his supporters to push it through.
If they were not mentally ill upon arrival before they entered the Canton's Hiawatha Asylum for Insane Indians, they soon would be. Their living conditions included lying in a darkened room for days at a time with windows nailed shut. One patient reportedly lay in the same room for three years straight. Some patients lay in straight jackets for hours, one as young as ten years of age.
The chamberpots these "patients" had to use often went unchanged and urine and feces flooded the only room they knew. If any patients escaped, they were hunted down by an armed escape party. Babies were born and died at the asylum; there are no details as to how they were conceived to patients or how they died.
The conditions at the insane asylum were so horrible even by the standards of 1929. When Dr. Samuel Silk, the Clinical Director at America's premier psychiatric hospital, St. Elizabeth's in Washington, DC, visited that year he had this to say;
"Three patients were found padlocked in rooms. One was sick in bed, supposed to be suffering from a brain tumor, being bedridden and helpless...a boy about 10 years of age was in a strait jacket lying in his bed...one patient who had been in the hospital six years was padlocked in a room and, according to the attendant, had been secluded in this room for nearly three years."
He also realized that most patients were not insane but had clashed with white men;
"Would not the United States, if it could be held liable at all, be liable in these cases for enormous damages? The records of the asylum itself show them to be perfectly sane. They are known to be perfectly sane, to the director of the asylum Dr. Hummer. But he assumed the position that these people were below normal - mentally deficient - and they should only be discharged after they were sterilized, and as he did not have any means of doing this, there was nothing left but to keep them there."
The insane asylum was closed in 1933 under Franklin Roosevelt, much to the disappointment of local Canton residents who took the case to federal court to keep their main employer open. Ten years later, the government sold the 100-acre property to the city of Canton for one dollar. No one in the city thought it was strange to build a golf course around the graveyard. They never told anyone until the "Indians found out," according to the Craig Brown, who was the attorney for the land sale that the time.
So when we pulled up to a golf course -- the first time I ever went to a golf course in my life -- I saw young men dejectedly walking away with their golf clubs. The groundskeeper told them they had to wait until 3 p.m. to play. The club had closed the course for the ceremony. The ceremony was held on a somewhat rainy spring Sunday, honoring those who passed away and lived out their days with a broken heart -- lived their days out not knowing whether they would ever go home -- and were buried in a ground with no honor, no remembrance, and nothing to mark their graves. They did not get a ten-foot statue.
I was saddened to be there, to hear the names of even babies called out, and I tied a ribbon on the shoddy fence that doesn't keep golfers out but only warns them to not hit their balls out of the cemetery. (They get a free drop to play the ball outside the cemetery. Still, they have to walk on top of those whose names were forgotten for years to get their ball.)
I will never forget Mary Pierre. I did not know her. I don't know if she had children, had a favorite color, or if she looked at that Canton sky and dreamed of home. But I know I tied a black ribbon to the west for her. She died there on May 16, 1917. And I will never forget that. Or the lives of the 121 Native Americans who represent 49 nations that lie in unmarked graves between the 4th and 5th fairway.
Dana Lonehill
Monday, 20 May 2013