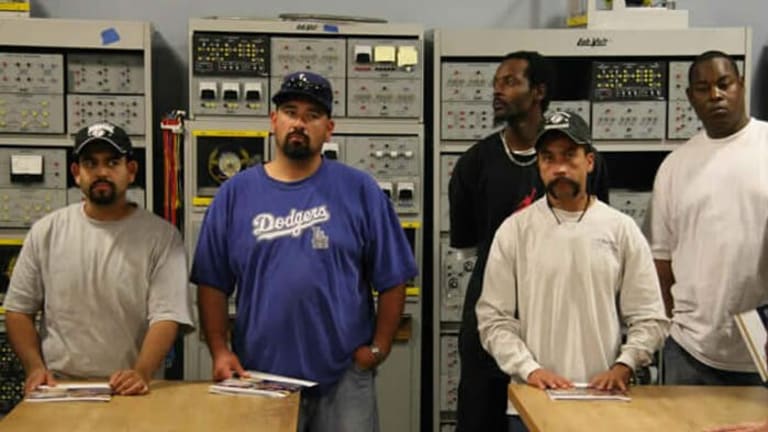 There Are Proven Ways to Reduce Violence
Brian Biery: With recidivism rates hovering around 60% in California, the strategy of locking people up has not eliminated the problem - it has just made it invisible.
Hint: They Don't Involve Arresting and Imprisoning People
The city of Pasadena, California has experienced an alarming spike in violent crime during the past two months. Numerous shootings and at least one homicide have led many in the community to call for expanded enforcement tactics and a greater police presence on our streets. In the run up to Pasadena City Council elections, for which I am a candidate (District 1), concerns around violence are taking center-stage.
While certainly helpful and even necessary at moments like these, I am convinced that increasing the number of patrols and arrests are not long-term solutions.
Thankfully, it seems as though Pasadena Police Chief Phillip Sanchez agrees. At a recent town hall meeting he stated, "We cannot arrest our way out of this situation." He is right. We cannot afford the extra police presence in targeted neighborhoods for long periods of time nor would we want an occupying force to be stationed there forever.
So what can we do to stem violence when it occurs and, even more importantly, to head it off before it happens?
The good news is that there are solutions that are proven to work.
The public health model for violence prevention views violence as a disease that can be treated like one, complete with inoculation (prevention), blockage of transmission (intervention) and treatment (reintegration). I did not create any of these techniques but I know that they work because I have personally helped implement them for nearly 8 years in the city, through my work as the Director of Community Organizing at Flintridge Center.
Prevention
Last year all 8th graders in Pasadena Unified School District were given the Search Institute's Developmental Assets survey. One of the questions assessed how much the community cared for them. Shockingly only 21% felt that they were cared for. Imagine if 79% of the kids in your town thought that adults didn't think they had any value!
One crime prevention method is to show young people that they have value by mentoring them, i.e. matching a teen or pre-teen with a caring non-family adult who listens, supports, connects, and guides that young person through adolescence. If all the kids in your town who wanted a mentor could have one, imagine the soaring self-esteem and zest for life they would have.
The Flintridge Center's mentoring design has been to involve city staff, firefighters, police officers, and even professional basketball players to mentor youth. But those aren't the only options as every community has a treasure-trove of talented adults who would make terrific big brothers and big sisters.
Intervention
It is always more effective to offer incentives when attempting to change behavior, as opposed to punishment. And when working to help folks to change their lifestyle, it is important to provide an alternative. In my work with former gang members, many have told me that there were times when they wanted out of the gang, but just didn't have any options.
Our society makes it pretty tough for those who want to transition to lawful employment but cannot because of a criminal past. In such circumstances, finding a 'felony friendly' employer is imperative. There are some options like oil refineries, truck driving, culinary arts, or drug treatment counseling. In the work I have done in Pasadena, we decided to focus on construction because of the earning potential and benefits, so that people can acquire a career, rather than just a job.
"I used to destroy this town - now I want to help rebuild it!" This is a statement I have heard numerous times by men who have graduated from our pre-apprenticeship course. A former felon who I encountered last week told me, "I thought I was going to have a life of poverty. I thought I would struggle just to get by. But that all changed when I became a union apprentice."
More than five years ago we went to labor unions with a proposal. We asked them, if we had a group of men and women who were ready to change their lives and work hard to get ahead, would they be accepted into your union? They responded by saying 'yes', if we trained them!
Through our training courses, we have placed hundreds of graduates who have long rap sheets into apprenticeships with Carpenters, Pipefitters, Electrical Workers, Operating Engineers, Sheet Metal Workers, and many other unions.
These foster not only stability, but self-esteem. One of our graduates told me that when he was unemployed and drinking beer on the couch, his kids would avoid him and never talk to him. Now that he is a 3rd Period Apprentice with the Carpenters Union they ask him every day what he built and learned on the job. To me, this is the definition of community harmony and safety. We need more well-paying, stable jobs that offer satisfaction, not more people behind bars.
Reintegration
What if I told you that you had to live in Siberia for five years and that when you returned you would have to find a place to live, kick your drug habit, obtain legal advice, remove your visible tattoos, arrange for transportation, figure out health care, and stay out of trouble, with no money or family to help? Add to that the difficulty of finding a job or housing because of your record. Most of us would find such a situation to be impossible.
Now imagine what it would be like if you could go to a 'one-stop shop' that would provide help on all these fronts, and connect you to community based organizations and government agencies that serve the formerly incarcerated population. Currently there are only seven regular resource fairs around L.A. County that specialize in helping people who have served time in prison or jail. These fairs provide connections to case management, education, legal aid, job development/placement, drug treatment, housing, tattoo removal, and a litany of other services.
But there are not nearly enough of them. We need to have such resource fairs in every corner of the county in order to meet the needs of the thousands of people who are coming home to our neighborhoods each year.
Unfortunately, rather than funding such constructive and proven programs of violence prevention, intervention, and reintegration, our society often tends to emphasize law enforcement and incarceration. With recidivism rates hovering around 60% in California, the strategy of locking people up has not eliminated the problem - it has just made it invisible.
We can never enforce our way to healthy, peaceful communities. But we can reduce violence in the long term by treating the causes of this disease and not just the symptoms. And that means seeing people who have served time in jail or prison as they really are: members of our community.
Brian Biery
Biery for District 1