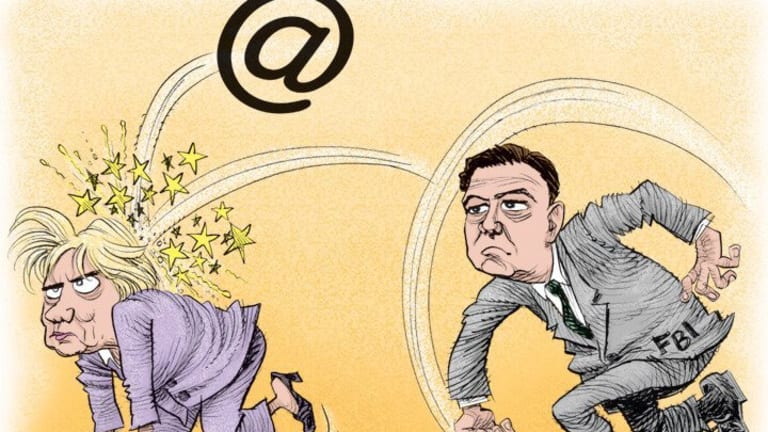 Hillary's Emails and the Comey Effect
Ted Vaill: What is not widely known is that the State Department's email system, when Hillary Clinton became Secretary of State in early 2009, was very antiquated and not reliable.
The latest "October Surprise", FBI Director James Comey's letter to seven Republican heads of Congressional committees (cc'd to the seven Democratic ranking members), stating that more emails have been found (but not yet reviewed) on Clinton aide Huma Abedin's home laptop, has impacted the Presidential race. But there may be nothing there.
What is not widely known is that the State Department's email system, when Hillary Clinton became Secretary of State in early 2009, was very antiquated and not reliable. The Republican Congress had starved the State Department's budget over the years of the Bush Presidency, and upgrades of things like its email system had not happened. Colin Powell complained about it, and his successor Condoleezza Rice did not use email, perhaps in part because the system was so unreliable.
So when Hillary became Secretary of State, and saw the pitiful state of the State Department's email system, she decided to use her own private server, which she believed was much more reliable. She consulted Colin Powell and perhaps Condoleezza, and their hatred of the State Department's email system buttressed her decision to use her own private server. She probably did not think through the ramifications of having classified data on her private server.
And this should be noted: UNLIKE MANY OTHER FEDERAL GOVERNMENT EMAIL SYSTEMS, THERE IS NO EVIDENCE THAT THE EMAILS IN HER PRIVATE SERVER WERE EVER HACKED.
Huma's Emails
As a loyal, long-time assistant to Hillary, almost her "second daughter", Huma Abedin (the daughter of Indian Moslems educated in the U.S. and later U.S. citizens) was Hillary's eyes and ears, and did a lot of the heavy lifting for her during their frequent travels to over 110 countries over her four years as Secretary of State.
Huma also married Rep. Anthony Weiner in 2010, and they lived mostly in his district in New York City. She got special permission while Hillary's assistant at the State Department to work from home, and after her marriage to Weiner, and her 2011 pregnancy, would often print things out from her home laptop to her home printer when she wanted to preserve a hard copy of the email. So she devised a system of sending and receiving emails via her private email number.
At this time, starting in 2009, when she was unmarried, this home laptop was probably hers, and after her marriage to Weiner in 2010, at some point Weiner started using the laptop too. Weiner, as a leading Democratic Congressman, also had a high security clearance, so if he ever saw classified emails during this time, there was no security breach.
After Weiner's sexting scandal forced him to resign from Congress in 2011, he probably spent most of his time in their New York City home and not in D.C., and at some point, Huma stopped using the old laptop which had the State Department emails on them. In early, 2013, Hillary resigned as Secretary of State, and Huma was no longer working for the U.S. Government, but was a personal assistant to Hillary, now a private citizen. Huma and Weiner continued to live in New York City, near Hillary's home in Westchester County and the Clinton office in Harlem and later Brooklyn.
What emails will the "Comey-kaze" agents find on the private laptop?
Copies of documents already existing on State Department email systems, and on Hillary's private server, presumably already reviewed by the FBI, sent or received by Huma on her home laptop to read and/or print out. And there is no indication that any of these copies contained classified information.
Personal emails between Huma and Weiner.
Emails between Hillary and Huma, presumably already reviewed by the FBI when they reviewed the emails on her private server.
Sexting by Weiner, probably done after Huma was no longer using the laptop. After 2010, the iPhone became really popular, replacing the clunky Blackberry. And if an email was reviewed on an iPhone, it might be sent to a laptop in order to print it out.
Huma's State Department-related emails not sent or copied to Hillary.
It is likely that Huma started using another email account after Weiner resigned from Congress, and never saw any of his sexting. None of those other emails would be on the laptop seized by the Comey-kazis, but probably have already been reviewed by them.
Comey's Background
I have met Comey, a towering figure (6'8") who is a fellow graduate of the University of Chicago Law School (Class of 1985), and a man who has spent much of his legal career in public service, as a federal prosecutor, an official in the Justice Department, and with the FBI. From 2005-2013 he was General Counsel of a large defense contractor, Lockheed Martin, and then General Counsel of Bridgewater Associates, which ran several hedge funds.
He was also a Republican, and a high official in the Bush Administration's Justice Department from 2003-2005, as the deputy to Attorney General John Ashcroft (also a graduate of the University of Chicago Law School). He switched to Decline to State in his party registration after he became FBI Director in 2013, appointed by President Obama to a 10-year term.
It is a little disconcerting that Comey would refuse to sign onto the statement by Homeland Security and the Director of Intelligence on October 7 that Russia was hacking into American email systems to try to influence the Presidential election in favor of Donald Trump because it was too close to the election, and then do his "October Surprise" re Huma's laptop three weeks later.
Prominent Democrats have stated that this action by Comey violated the Hatch Act, regarding a federal bureaucrat doing something to influence a federal election outcome within 60 days of that election, but Comey will probably dodge this charge. The Hatch Act exempts someone appointed by the President with the advise and consent of the Senate, who is in a policy position, and Comey should qualify. In addition, all he did was send a letter to 14 Congressman advising them of the new information which he received about the Hillary email matter. However, it was disingenuous of him not to believe that the letter would be leaked out by at least one of them, and Rep. Jason Chaffetz (R-UT) did just that.
Conclusion
One thing that is probably true is that Hillary knows everything about this matter, from her undoubtedly detailed conversations with Huma. She also could check all her emails with Huma, to and from, on her server and evaluate these emails, just as the FBI has done. And if Huma still has her laptop (the FBI may have copied her hard drive and returned the actual laptop to her or Weiner) they could check out all the "pertinent" emails on that laptop.
Of course, Hillary would not do this herself: she has experienced lawyers on her staff or retained by her who will do this. As a lawyer who has supervised such detailed document searches in the past, I know that it can be done effectively and thoroughly in a relatively short period of time, much quicker than the FBI agents can do it.
After all, they reviewed ALL of Hillary's 50,000 or so emails on her private server, and produced relevant ones to the FBI. Lawyers have gone to jail for deleting relevant emails or not producing relevant documents in federal proceedings in the past.
In one case I handled, a Federal Judge issued a $1,000 "obstruction of justice" fine to an opposing insurance company lawyer for not producing relevant emails in a bad faith insurance case I was handing for the plaintiff. He went to jail for a short time until his law firm could come up with the $1,000 fine.
This latest "email scandal" is a tempest in a teapot.
Ted Vaill