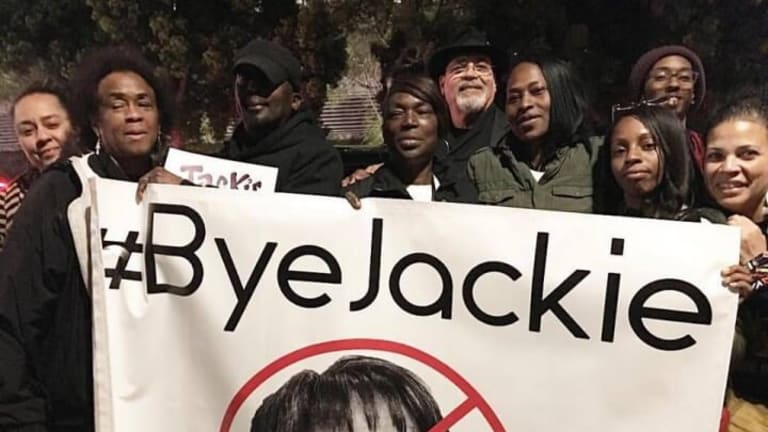 Failure To Launch: Jackie Lacey's 2020 Campaign Party Disrupted
Melina Abdullah and Dahlia Ferlito: Lacey has opposed all measures for reasonable criminal justice reform efforts in the county, even such widely supported measures as marijuana conviction resentencing.
Jackie Lacey must go...Jackie Lacey must go….We know it's your birthday, but you still must go….
(to the tune of "Happy Birthday to You") chorused a crowd of roughly 200 community members outside the "Hall of Justice" on Wednesday, February 27th. The circle was significantly larger than the regular 50 or so folks who have been gathering on Wednesdays for the last 73 weeks to center the stories of those killed by police in Los Angeles County and demand that the District Attorney Jackie Lacey step down for her refusal to prosecute the police who commit murder.
Jackie Lacey has been in office for six years now. When she initially ran, many in Black communities and those who consider themselves progressive supported her as a Black woman candidate from South Los Angeles. We closed our eyes to the fact that she was mentored by outgoing DA, Steve Cooley, a conservative, that she has spent her entire life prosecuting mainly Black, Brown, and poor folks, and that she is rumored to be a Republican. (Los Angeles elections are non-partisan.) She is the first Black person and first woman to hold the Los Angeles District Attorney's seat because her politics align with most in the sea of White conservative men who held the office before her.
Lacey has opposed all measures for reasonable criminal justice reform efforts in the county, even such widely supported measures as marijuana conviction resentencing.
Lacey has opposed all measures for reasonable criminal justice reform efforts in the county, even such widely supported measures as marijuana conviction resentencing. While the District Attorney's role as county prosecutor is inherently problematic in that, by definition, she is invested in the prison industrial complex and tied to the police state, she could offer modest reforms and a willingness to provide some balance by prosecuting police when they kill and violate residents. Instead, Lacey consistently positions herself with Nixon-era "law and order" policies.
Every Wednesday, rain or shine, even on holidays, the families of those killed by police, supported by Black Lives Matter-Los Angeles and allies, gather in front of Jackie Lacey's office to demand that she prosecute the police who kill our people or step down. As each week passes another killing by law enforcement emerges in the County, and inevitably there is no justice for the families. 460 County residents have been murdered by police or killed in custody since Lacey took office, and countless others brutalized by law enforcement.
Only after more than a year of pressure did Lacey decide to press charges against LAPD Officer Luke Liu in the murder of Francisco Garcia in San Pedro. That leaves at least 459 other killings where she has refused to prosecute police. It's not just police though, Lacey has upheld a larger system of privileging White wealth as exemplified by her refusal to prosecute wealthy White political donor Ed Buck in the murders of #GemmelMoore and #TimothyDeane, found dead in two separate incidents in Buck's apartment.
Lacey ran unopposed in the 2016 election. Despite weekly protests, the delivery of a petition signed by more than 10,000 Angelenos for her to #ProsecuteKillerCops, being challenged at public meetings, regular calls and faxes to her office, a public meeting that confirmed our call that #JackieLaceyMustGo, a protest at her home in the early morning hours on October 25, 2018 (marking one year since the start of our protest), and growing dissatisfaction with her in an increasing number of circles, JackieLacey.com began taking donations for her 2020 reelection bid at the top of the year and the official launch of her campaign was set for February 27th.
The people had other ideas in mind. We gathered, poured libations, five families...of #JohnHorton, #GrecharioMack, #KishaMichael, #AngelSoriano, and #WakieshaWilson...gave testimonials, we sang, and chanted...and then we marched...for blocks, passing scattered sheriff deputies, City Hall, and LAPD headquarters, on bullhorns we yelled "Jackie Lacey must go!" and finally we arrived at the wrought iron gates of the Redbird Restaurant.
As we descended on the entrance, security, staff and attendees were caught off guard. They wrongly assumed that they could pull up to valet parking in their Teslas and Porsches, whisk past grieving mothers, and gain entrance to the exclusive gathering without consequence. The overwhelmingly White, apparently wealthy, guest list was telling of her donor base and who she aims to please with her politics and policies.
As protesters shamed attendees at one entrance, security soon shepherded guests to another. The preservation of comfort for the wealthy was prioritized by security and law enforcement. Many attendees were so committed to gaining access that they violently pushed, shoved, and elbowed their way through the crowd. The families remained steadfast, leading chants and sharing stories about their loved ones, forcing Jackie Lacey to contend with the faces of the people whose lives were shattered by police brutality and who she blatantly disregards.
As we held both entrances, some gained access to the inside, met with physical assault by restaurant staff. When attempting to gain entrance, one protester said to a restaurant employee "I am just here to make sure I have a chance to speak to my DA." To which they replied, "You can go to her office." If only he knew that we tried that suggestion for more than one year. If only he knew that with each passing week, she became less willing to meet with us—forcing us to find other ways to communicate with her. As the protester walked upstairs, the restaurant staff member pushed him against a wall.
The protester asked others in the space, "Do you know this guy is pushing me against a wall?" Bystanders stood silent... The campaign launch party consisted of approximately 30 people—mostly White and over 50—engaging each other around a series of small tables. One protester overheard that $70,000 was the kind of donation that got this sort of invitation.
Guests of this intimate event wanted this disruption to end and the physical removal of protesters in their exclusive space. Some pulled out their cell phones to record the assault that ensued and salivated at the hostility. Others, with more of a conscience, looked on horrified, yet they were unwilling to intervene. Calls for support—"A little help!"—were met with inaction. This staff member continued his attempts at physically removing the protester, at one point by trying to pull his legs from under him, then kicking his feet, and eventually placing a "citizen's arrest."
We witnessed a dozen officers rush the main entrance and shortly thereafter, forcefully eject three protesters. One of whom spent the evening in jail on trespassing charges. Once again, protest is criminalized, as law enforcement who kills remain free. We never saw Jackie Lacey enter or exit the restaurant. We heard from a would-be attendee that she was not going to show up because there was no "safe" way for her to gain entry. We made our presence felt and now she knows we're watching. We refuse to allow her comfort, whether it is at her home, her office, or on the campaign trail promoting her 2020 bid.
The Spirits of those on whose behalf we fight demand that we call their names and do all we can to stand up for them. May Jackie Lacey's failure to launch her campaign be indicative of more to come.
Melina Abdullah and Dahlia Ferlito
LA Progressive
Melina Abdullah is Professor and Chair of Pan-African Studies at California State University, Los Angeles and immediate past campus president and current Council for Affirmative Action Chair for the California Faculty Association. Melina serves on the leadership team for #BlackLivesMatter and is committed to ending state-sponsored and police violence towards all people, and especially
Dahlia Ferlito is a co-founder of White People 4 Black Lives (WP4BL). WP4BL is a white anti-racist collective and activist project of the Alliance of White Anti-Racists Everywhere (AWARE-LA) and operates within a national network of white anti-racists called Showing Up for Racial Justice (SURJ).