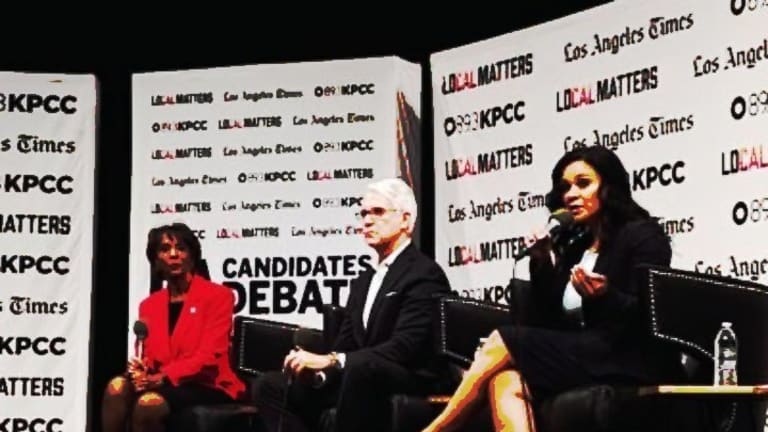 Jackie Lacey's Turncoat Reign of Terror
Sikivu Hutchinson: Faced with two strong challengers, Lacey has scrambled to paint herself as a criminal justice reformer while presiding over a ballooning police state bureaucracy and the mass incarceration of the mentally ill.
I'm Black and I grew up in Los Angeles." Without a hint of irony, embattled two term District Attorney Jackie Lacey uttered these defiant, fighting words midway through last week's D.A. debate. Moderated by KPCC and the L.A. Times, Lacey squared off against challengers former San Francisco D.A. George Gascon and former public defender Rachel Rossi. In the run-up to the March 3rd race, Lacey has faced a firestorm of community pressure and criticism about her authoritarian law and order reign.
The litany of misconduct allegations against Lacey are long, deep, and well-documented: During her tenure, she has
failed to prosecute killer cops while cowering behind the code of legal authority and ducking the community's calls for accountability,
refused to support the realignment Proposition 47 on the grounds that African American and Latinx folks in L.A. County were more likely to be victims of violent crime,
has refused to prosecute big name sexual predators (Ed Buck, Harvey Weinstein, Bikram Choudhury) and opposed cash bail and marijuana sentencing reforms.
Faced with two strong challengers, Lacey has scrambled to paint herself as a criminal justice reformer while presiding over a ballooning police state bureaucracy and the mass incarceration of the mentally ill.
Faced with two strong challengers, she has scrambled to paint herself as a criminal justice reformer while presiding over a ballooning police state bureaucracy and the mass incarceration of the mentally ill.
Lacey's attempt to play the Black authenticity card is significant because Black folks have been her staunchest critics. Black Lives Matter L.A. has denounced Lacey's refusal to bring charges against police guilty of using deadly force, confronting Lacey with the families of victims slain by the LAPD and LASD. Over the past eight years, community groups such as the Youth Justice Coalition, ACLU, Community Coalition and the L.A. Urban Policy Roundtable have blasted Lacey's inaction and called for her removal. Lacey has also been challenged by deputy D.A.s in her own office who charge that she has further institutionalized Black and Latinx criminalization.
Last Wednesday, Lacey attempted to silence her many critics by smacking down her opponents' records on crime, mass incarceration, mental health diversion, and police shootings. Lacey assailed Gascon for being hypocritical in his failure to charge killer cops. She dismissed Rossi as an out of her depth neophyte. Her lies, smears, and deflections were met with deafening pushback from BLM and other audience members. Yet, Lacey also had her own amen corner of sycophants who fawned over her Robo Cop tough-on-crime posturing.
Neither Gascon nor Rachel Rossi support the death penalty, and both oppose the use of gang enhancements to increase the sentences of Black and Latinx defendants ensnared in the CalGang database. They support removing police misconduct investigations and oversight from the D.A.'s office through the creation of an independent prosecutor's office or "Civil Rights Division". In 2014, Gascon co-authored Proposition 47, which was designed to reduce the number of individuals who were sent to prison for non-violent offenses and mitigate the odious impact of Three Strikes mandatory minimum sentencing. Lacey vehemently opposed Prop 47.
Thus, while progressive reform prosecutors are rising in D.A. offices across the nation, Lacey remains steadfast in her support of killer cops and serial abusers in law enforcement. In a boost to her election bid, the corrupt Police Protective League has poured over a million dollars into an anti-Gascon PAC. Other establishment Lacey endorsers include most of the L.A. County supervisors and a good chunk of L.A. City Council, State Assembly, and U.S. Congress members.
During the evening, Lacey touted the advances she's allegedly made in diverting mentally ill individuals into treatment facilities and away from prison. However, according to a recent report from the Rand Corporation, the Office of Diversion and Reentry (created in 2015) has only transitioned 4,305 "diversion-eligible people" to community mental health programs and facilities. The report recommended that approximately sixty eight percent of current county inmates should qualify for mental health diversion. In response to Lacey's reform claim, Gascon blasted Lacey's mental health division as a "joke", citing an 86% increase in the incarceration of the mentally ill during Lacey's tenure.
Indeed, while the D.A.'s office claims to be leading reform on mental health, a third of LAPD shooting victims have been mentally ill. Moreover, police criminalization of unhoused mentally ill folks has been a major point of contention with activist groups pushing back against city and county-initiated sweeps of homeless encampments. At the debate, Rossi was critical of the high rates of street criminalization, emphatically stating that she would not prosecute the unhoused simply for being unhoused and vulnerable. She also stressed that she would not criminalize sex workers, noting that the majority of those who are prosecuted, convicted, and jailed for sex work are women of color. Rossi's attention to this issue is important, because of the systemic pipelining of Black sexual abuse victims into juvenile facilities and adult prisons.
According to The Appeal, Lacey's surrogates have been busy vilifying Gascon for his record on street crime in San Francisco. They allege that he presided over a surge in property crimes and petty theft, bucking the statewide trend of declining crime rates. San Francisco Mayor London Breed and City Attorney Dennis Herrera have criticized Gascon for dropping the ball on street crime, citing it as one of the ostensible reasons they're backing Lacey. Gascon has pinned the blame for the spike on the SFPD's refusal to arrest offenders.
Gascon's record in San Francisco has not been perfect, and Lacey made repeated reference to his failure to prosecute the SFPD officers who shot and killed residents Mario Woods and Luis Gongora Pat in 2015 and 2016. In both cases, Gascon cited his inability to prove "beyond a reasonable doubt" that the officers' use of deadly force wasn't justified as his rationale for not prosecuting. If he defeats Lacey, his complicity with the status quo in San Francisco bears scrutiny.
On the flip side, his pursuit of decriminalization, reduced sentencing rates, ending cash bail, and support for the original version of last year's AB392 bill ( which revised the standards for police use of deadly force), demonstrate that he would be an antidote to Lacey's destructive police state tenure. Ultimately, the election of either Gascon or Rossi will put an end to Lacey's reign of terror. On March 3rd, voters will have the rare opportunity to right historic wrongs and send turncoat Lacey packing.
Sikivu Hutchinson
BlackFemLens