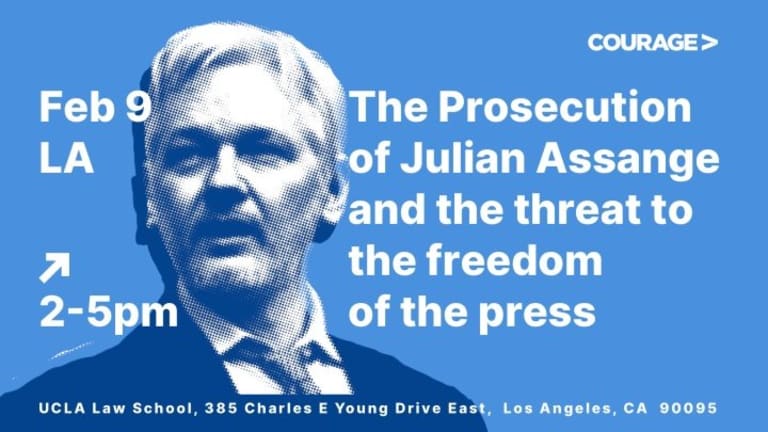 LA Committee for the Defense of Julian Assange Forms
On February 9, at UCLA Law School, the LA Committee for the Defense of Julian Assange presented "The Prosecution of Julian Assange and the Threat to the Freedom of the Press," a three-hour program examining the major political, legal and constitutional issues surrounding the Assange prosecution
The Prosecution of Julian Assange: And the Threat to Freedom of the Press
On February 9, at UCLA Law School, the LACommitteefortheDefense ofJulianAssange presented "The Prosecution of Julian Assange and the Threat to the Freedom of the Press," a three-hour program examining the major political, legal and constitutional issues surrounding the Assange prosecution, putting it in context with the US-lead campaign to punish whistleblowers such as Chelsea Manning and Edward Snowden.
Here are links to an edited version of the event; the Ellsberg, Chomsky and Assange interviews; resources posted by the Courage Foundation and letters of support. Here is the event materials page prepared for the event.
The speakers included
Bianca Bagatourian Bee, Gaslighting playwright
Marjorie Cohn, National Lawyers Guild
Robert Corsini, Documentary Filmmaker and Producer
Vincent De Stefano, ACLU Pasadena/ Foothills Chapter
Jim Lafferty, National Lawyers Guild-Los Angeles
Margaret Kunstler, co-editor, In Defense of Julian Assange
Sharon Kyle JD, Publisher, LA Progressive
Barry Pollack, Julian Assange's US attorney
Stephen Rohde, Constitutional scholar, ACLU SoCal
Alveena Shah, UCLA Law School, Moderator
Carey Shenkman, First Amendment lawyer
With the integration of exclusive interviews with Daniel Ellsberg and Noam Chomsky, and a rarely seen interview with Julian, substantial information was presented about Julian:
his role as a journalist on a wide range of important international issues
the concerted efforts of the US, the UK, and Sweden to demonize him and spread false and misleading information
the atrocious conditions of torture and cruel and Inhumane conditions to which he has been subjected
the intolerable conditions of incarceration he faces in the US based on how Chelsea has been and is being treated
the importance of the information published by Julian, include the shocking evidence of war crimes depicted in the CollateralMurder video
the unprecedented indictment which has been filed by the US, making Julian the first publisher or journalist to be charged under the Espionage Act of 1917 for revealing leaked documents which the government claims are secret
the history of the infamous Espionage Act and the threat it poses to freedom of speech and the press if this prosecution is allowed to go forward
the nature of the extradition proceedings pending in the UK and the importance of the exception for "political offenses."
The LA Committee for the Defense of Julian Assange will continue to work on this important cause and will keep you fully informed.
Please consider donating to these nonprofit efforts to help us fund our continuing work.