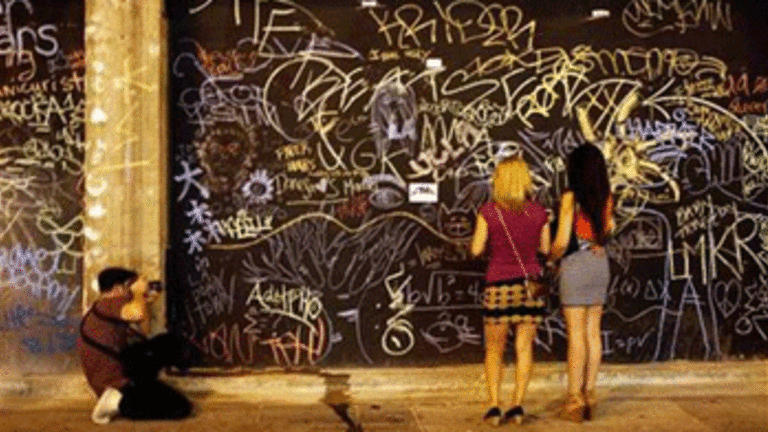 Occupy LA Confronting City Hall on Police Chalk Abuse
Cheryl Aichele: Chalk Walk activists say they want to know why LA City Council ignored their requests for help with chalking arrests before the Council went on recess.
Activists say City Council Ignored Their Pleas for Help before Art Walk Incident
This Tuesday morning, participants of Occupy LA's Chalk Walk return to City Council chambers after a two week recess of council sessions. Chalk Walk activists say they want to know why LA City Council ignored their requests for help with chalking arrests before the Council went on recess.
Videos of Public Comment and copies of public records show the Occupiers contacted City Hall about two weeks prior to what the LA Times dubs the "Art Walk Melee".
Activists say the unfortunate violence by Los Angeles Police Department could have been avoided if City Council would have taken action weeks earlier.
"A group of us attended the last two City Council meeting before they went on recess," says one Occupier who attended both Council meetings and the Chalk Walk event, "We told the council what the LAPD had been doing, shared case law and civil code, and not one stood up to help".
In addition, Occupiers blame Mayor Villaraigosa, some members of City Council, the LAPD and the media for making false, misleading, hypocritical, and inaccurate statements about Occupiers and the events which took place at Art Walk on July 12th.
"The Mayor said chalking is not protected by the Constitution and has always been considered illegal vandalism," said another Chalking Activist— called a Chalktivist— "Yet, he doesn't say that he handed out chalk to be used on Sunset Blvd for Lance Armstrong's art campaign sponsored by Nike."
In 2009, Villaraigosa joined a couple of City Councilmembers to pass out boxes of yellow chalk to the public. The boxes encouraged people to "show commitment" by "filling sidewalks, driveways, and any blank canvas".
From photos of the event, it appears people did just that in the middle of the street with traffic. Activists say there were no cops in riot gear or rubber bullets at this event. It even appears the LAPD assisted the Mayor's chalkers.
Chalk activists say Councilman Jose Huizar, whose district now includes most of Downtown, may have spoken too soon to reporters after the Downtown LA Art Walk incident without knowing all the facts of the case.
"If public safety is a concern of the LAPD then why would they fire rubber bullets into peaceful crowd made up of members of the public?" asked a Chalk Walk Organizer, "Huizar says he supports the actions of the police officers but the LAPD was the 'small group' on the corner of Fifth and Spring Streets that were jeopardizing public safety, not Occupiers or Artwalkers."
Occupiers maintain that the LAPD were the only ones jeopardizing public safety that night.
Activists say that Huizar's office has yet to contact them about the Art Walk incident, even though his office had successfully contacted Occupiers in the past regarding the new park-hours and tent ordinance, after the Mayor asked Huizar's office to draft it.
Occupiers will also speak during public comment at the LAPD Board of Police Commissioners meeting on Tuesday morning to follow up on the complaints they made at last week's meeting.
Cheryl Aichele
Occupy LA
Posted: Monday, 23 July 2012