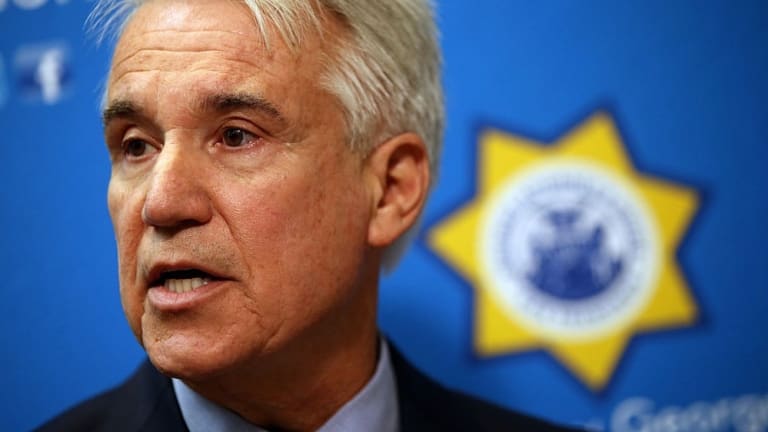 LA's Divisive District Attorney Race
Joe Rihn: Tension between Lacey and protesters spiked when Lacey's husband pointed a gun at Black Lives Matter activists at the couple's home.
What happens in one DA's race could set the course for the future of law enforcement in America.
As a summer of unrest draws to a close, the contest to lead the nation's largest district attorney's office is heating up. The two candidates running for Los Angeles district attorney are incumbent Jackie Lacey, who took office in 2012, and George Gascón, who served as San Francisco's chief of police before taking over as San Francisco's district attorney in 2011, when Kamala Harris became California's attorney general. After squaring off against Lacey and public defender Rachel Rossi in last March's primary, Gascón took home just over 28 percent of the vote, forcing a runoff with Lacey, who received just under 49 percent. As highly visible acts of police violence, including the killing of Dijon Kizzee by L.A. County sheriff's deputies on August 31, continue to spark protests, the election is closely tied to the debate over police reform.
Although he is best known as San Francisco's previous district attorney, the Cuban-born Gascón grew up in Southeast Los Angeles and served as assistant chief with the Los Angeles Police Department from 2003 to 2006. Lacey is from South L.A.'s Crenshaw District. Despite being Los Angeles County's first woman and first Black district attorney, Lacey has drawn more ire from Black Lives Matter than anyone in L.A.
Although the weekly protests outside Lacey's office have swelled, they have been going on since October of 2017, calling attention to the hundreds of people killed by police in L.A. County since Lacey assumed office, and questioning why the officers responsible haven't been prosecuted. "As the first African American DA, it has been difficult for me and my family to be targeted in this way," said Lacey in a statement to Capital & Main. "I have been subjected to racism in this campaign by white people who seek to lecture me about racism in America and my own experience with it."
Lacey campaign coordinator Walter Koch is skeptical of portrayals of Lacey as part of the law enforcement establishment given her opponent's many years on the force. "DA Lacey enjoys a good working relationship with law enforcement in order to tackle issues like gun safety, homelessness and mental health reform. George Gascón is the candidate that should be questioned on being the preferred choice of problem officers on LAPD discipline boards," he said.
Tension between Lacey and protesters spiked when Lacey's husband pointed a gun at Black Lives Matter activists
at the couple's home.

Citing her efforts to expand de-escalation training, dismiss marijuana convictions and divert nonviolent offenders with mental illnesses away from jail, Lacey maintains that she has worked consistently to "drive meaningful change that reduces the inequities that have existed in our criminal justice system for generations."
However, activists feel she has not done enough to shift the course of law enforcement. "I don't think anybody set out to want to make Lacey the object of protest or anger or anything, but unfortunately she's kind of earned that from the community," says Lex Steppling of Dignity and Power Now, a criminal justice reform organization started by Black Lives Matter co-founder Patrisse Khan-Cullors. "Jackie Lacey has been no different from those who came before her, and has not been accountable to the community."
Tension between Lacey and protesters spiked in a highly publicized incident at her Granada Hills home just before the March election, when Lacey's husband pointed a gun at Black Lives Matter activists.
Will the energy behind police reform give Gascón, who co-authored Proposition 47, an edge? "It's an unusual situation. You have someone moving down from San Francisco to run for DA in L.A. I think in the beginning people assumed that that was a nonstarter," says Bob Shrum, director of the University of Southern California's Dornsife Center for the Political Future. Data from Tulchin Research commissioned in July by Gascón's campaign found that he has a three-point lead over Lacey.
But in San Francisco, Gascón had his own trouble with protesters. In 2018, he filed a restraining order against a demonstrator who Gascón says came to his home multiple times. A video shared by Frisco Copwatch shows one such incident outside Gascón's residence. Protesters were there to criticize Gascón's decision not to file charges against the San Francisco officers who shot a Black man named Mario Woods 21 times.
National Football League player Colin Kaepernick has said the killing of Woods drove him to kneel during the national anthem, sparking a debate on racism, police brutality and protest. In addition to his run-ins with demonstrators, Gascón had a gun controversy of his own. The City of San Francisco paid $400,000 in 2018 to settle a suit in which a whistleblower claimed retaliation after alleging that Gascón carried firearms on commercial flights multiple times while district attorney.
In a region where a pandemic still rages, with a growing homelessness crisis and a sheriff's department riddled with internal gangs, L.A.'s next DA will have a powerful position at a pivotal time. As a polarized nation wrestles with the notion of defunding the police, what happens in Los Angeles could set the course for the future of law enforcement in America.
The race is "a mirror of the larger issues facing the Democratic party nationally. It's the progressives versus the establishment," says Sherry Bebitch Jeffe, a professor of the practice of public policy communication at USC's Sol Price School of Public Policy. Both candidates have been challenged by activists, but they each have powerful backers as well. Gascón secured coveted endorsements from Gavin Newsom, Kamala Harris, Bernie Sanders and Elizabeth Warren. In June, Adam Schiff withdrew his support for Lacey, while Mayor Eric Garcetti, who is still listed among the sitting DA's endorsements, said in an interview that the DA's office might be ready for a leadership change.

In a twist, some Bay Area politicians who worked with Gascón are putting their weight behind Lacey. "Throughout her career, she's effectively navigated the delicate balance between keeping our communities safe and enacting meaningful reform" says a statement from San Francisco Mayor London Breed.
Lacey also has endorsements from U.S, Senator Dianne Feinstein, four of five L.A. County supervisors and a long list of police unions and associations. In fact, while Gascón is getting a boost from more progressive Democrats eager to appease calls for change, the law enforcement community is firmly backing Lacey.
"I suspect that in Los Angeles there is a strong desire to see genuine police reform and genuine reform of criminal justice, and really that helps Gascón," says Shrum.
Lacey claims she is in agreement with Black Lives Matter that "people of color have been over-incarcerated" and that she wants to build on a "bold platform of reform while continuing to prioritize community safety." But it is not clear that L.A. County police forces feel the same way. Recent stories of gangs operating within the sheriff's department reveal a culture at odds with accountability.
In a union publication, the Los Angeles Police Protective League's outspoken director Jamie McBride wrote, "The latest push from the Marxist-based Black Lives Matter movement is to abolish the police. Make no mistake. Black Lives Matter couldn't care less about George Floyd or anyone else."
McBride also shared his thoughts on Gascón. "We are facing an uphill battle," he wrote. "If that failure of a San Francisco District Attorney, George Gascón, gets elected here, we will have a whole host of problems." Lacey has also accepted money from law enforcement associations across the state.
Although anti-reformers like McBride are backing Lacey, the DA's campaign strategy has involved discrediting Gascón's dedication to police accountability.
In Lacey's words, "Mr. Gascón has come to L.A. and presented himself as a reformer. The truth is he has a failed record of regressive incompetence. As an LAPD commander who chaired discipline hearings, he had a reputation for going easy on fellow officers who committed misconduct. As San Francisco Police Chief, officer-involved shootings spiked to a 20-year high under his watch. As San Francisco DA he failed to prosecute a single officer for shooting a civilian."
But according to Gascón, leniency toward police wrongdoing characterizes Lacey's time in office. "The issue of police accountability is a major problem nationally, but it's really acute in L.A. County. What we have seen is a DA who consistently is willing to look the other way even in some of the most egregious cases where you have unarmed [people]—usually men of color—getting shot by police," Gascón told Capital & Main.
Gascón also criticized Lacey's use of the death penalty. According to an ACLU report, 22 people have gone to death row under Lacey—all people of color.
"L.A. County continues to practice the death penalty even though county voters have voted down the death penalty twice in the last few years, at a huge economic cost to the county and the state," says Gascón. He plans to stop the DA's office from seeking the death penalty in the county immediately. Lacey has said she believes the death penalty is the appropriate punishment for certain crimes.
Gascón says he will focus on reducing the county's high rate of incarceration. "People often forget that there is a price for incarceration. There is a social price when you're breaking down families, when you're criminalizing people who then later on are less likely to be able to get employment, get housing and all the things that are likely to get their life together," he says.
He also says he would end the prosecution of children as adults, explaining, "We know that the science is very clear in this area and that human brain development isn't actually completed until you're in your mid-twenties. Over-incarceration and early criminalization of youth actually almost guarantee a life of criminality and dysfunctionality."
While Lacey has the law enforcement establishment firmly on her side, she also stated her goal of reducing incarceration in Los Angeles County, where 13,723 people are currently behind bars. "My office has had a laser focus on reducing incarceration rates for those where an alternative is appropriate," said Lacey.
Both candidates have ideas about how the system should deal with mentally ill individuals. "I remain dedicated to expanding my historic mental health reforms that have resulted in the diversion of thousands of nonviolent offenders out of incarceration and into community housing where they can get the care that they need," said Lacey. "I want to enhance the free de-escalation program that has already trained over 2,000 peace officers on how to de-escalate incidents involving people in a mental health crisis."
But according to Gascón, "Very seldom do people get mental health diversion, and often when that occurs, it occurs in spite of the DA's office." He says his plans include immediately beginning to "work with the county and nonprofit organizations to create very strong diversion programs for those who are mentally ill or dealing with substance abuse, which often impacts poor people and people of color."
With both candidates speaking the language of reform, their political backers may reveal more about the race than the candidates' own words. But to activists, the most important thing is change.
For Steppling of Dignity and Power Now, that means putting positive outcomes ahead of political allegiances, and "beginning to make common sense decisions that will make our communities safer, that will save our county money and that will operate in the interest of at least beginning to chip away at the amount of waste and trauma and harm that officials like DA Lacey have helped perpetuate."
According to Shrum, the events of this summer have likely already begun to make a mark. "I think we'll see a measure of reform here no matter who wins," he says.
Joe Rihn
Capital & Main