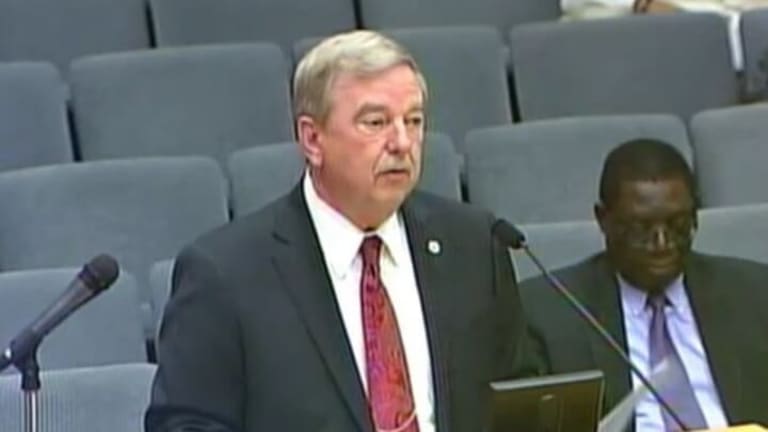 LAUSD Watchdogs Outrun Misconduct, Live to Offend Again
Cheryl Dorsey: How is it that these two very powerfully placed, former law enforcement officers could be accused of serious misconduct, forced out of their respective positions and come out unscathed?
The Los Angeles Unified School District (LAUSD), Office of the Inspector General in 2018 was roiled by controversy. This office was responsible for investigation fraud, waste and abuse as well as the District's internal workings.
Imagine than if you will, on March 9, 2018, Frank Cabibi, Deputy Inspector, Investigations, was forced to resign in lieu of termination amid allegations of having made racially and sexually tinged comments and shortly thereafter, he lands a job at Amtrak as an investigator.
Then, just a few short months later, in June 2018, Inspector General Kenneth Bramlett's contract isn't renewed amid allegations of failed leadership and fostering a hostile work environment. Bramlett wiggles his way over to Albuquerque, New Mexico where he became their Inspector General in January 2019.
How is it that these two very powerfully placed, former law enforcement officers could be accused of serious misconduct, forced out of their respective positions and come out unscathed?
How is it that these two very powerfully placed, former law enforcement officers could be accused of serious misconduct, forced out of their respective positions and come out unscathed?
There was certainly plenty of documented evidence, available on the internet, that should give a perspective employer pause.
Here are the reported claims according to Laist/Kyle Stokes
"Two OIG employees' complaints alleged Cabibi — their direct boss, and the organization's second-in-command — made discriminatory remarks about Latinos and gays.
Two complaints alleged that Cabibi told an OIG employee she "needed to get laid" to "knock the cobwebs out of there."
According to [LAUSD OIG former employee Walt] Finnigan and memos by three other OIG employees, OIG investigator Donald "Rusty" McMillen allegedly showed lewd images from confiscated computers and cell phones not only to Cabibi, but to other investigators who had no work-related need to see them. One of the photos McMillen and Cabibi are alleged to have described was a sensitive image of another OIG employee.
Some complaints named Inspector General Bramlett (Cabibi's boss) as being at the root of a troubled working environment. According to the complaints and other records, some employees maintained that Bramlett — an ex-police captain and state official in Georgia — gave Cabibi free reign and enabled the alleged mistreatment."
Despite these public pronouncements both found it possible to outrun these allegations and land new, powerful positions a short time after leaving LAUSD.
These facts have been succinctly laid out in several print articles by K-12 Education reporter Kyle Stokes at Laist documenting the misdeeds and misconduct of both Frank Cabibi and Kenneth Bramlett.
According to Stokes,
"Between late 2017 and mid-2018, at least four OIG employees filed formal complaints with either LAUSD's Equal Opportunity Section or with California's Department of Fair Employment and Housing. Their complaints targeted either then-Inspector General Ken Bramlett or his top deputy, Frank Cabibi, alleging a hostile workplace culture, sexual harassment and racial discrimination; two of the employees who complained also requested whistleblower protection from LAUSD or a state agency.
KPCC/LAist has obtained copies of these four formal complaints against Cabibi and Bramlett, along with other government records that describe the allegations, including contemporaneous notes, memos and written statements submitted to higher authorities or district officials as part of the complaint process; these records add greater detail to the allegations employees leveled against Bramlett and Cabibi."
None of the above even included the mismanagement and lack of leadership documented in the handling of investigations supervised by Frank Cabibi under Bramlett's command.
Stokes went on to report in part that,
"As LAUSD's official watchdog, the Office of the Inspector General had a hand in all of these cases, and many more. The auditors and investigators in the OIG are charged with holding LAUSD officials accountable for how they spend more than $9.6 billion each year.
But in recent years, the OIG reported a sharp drop in the number of cases its investigative unit completed, according to a KPCC/LAist review of the office's annual reports.
 In 2013, the year Ken Bramlett was hired as LAUSD's Inspector General, the office closed 58 investigations. In 2014, the year Frank Cabibi was brought aboard as a deputy IG in charge of the investigative team, the OIG closed 27 cases.
 Five years later, in fiscal year 2018, the office reported closing just five full-fledged investigations.
Meanwhile, pending cases piled up. Last year, the OIG reported 95 cases "still in progress" up from just 15 in 2013."
Understanding that both left a trail of purported incompetence and ineptness the question that begs to be answered is, "how did they do it?" How Did Kenneth "Ken" Bramlett successfully compete against two other, presumably taint-free candidates for the position of Inspector General in Albuquerque, New Mexico?
And how did Amtrak background investigators miss Frank Cabibi's alleged sexual harassment and retaliation claims by two female investigators at the LAUSD OIG? I have questions.
Bramlett's selection may have had something to do with the fact that he "touted his [LAUSD] credentials" during a Albuquerque City Council meeting; leaving out a few key details.
According to the Albuquerque Journal,
"Albuquerque's inspector general runs an independent city government office and reports to the Accountability in Government Oversight Committee. The inspector general conducts impartial investigations and aims to "prevent and detect fraud, waste and abuse in city activities" and "deter criminal activity," according to city ordinance."
I see the potential for problems given Bramlett's purported sub-standard performance as the LAUSD Inspector General.
My guess is that Kenneth Bramlett wasn't completely honest during his presentation and neglected to inform the Albuquerque City Council during that January 2019 meeting the real reason for his departure from the LAUSD; which was as a result of non-renewal of his contract.
I don't imagine that Kenneth Bramlett suggested that the Albuquerque City Council contact the LAUSD Board Members for verification of those touted credentials. Clearly, the City Council would have declined to select Bramlett given what's been reported in the L.A. Times and Laist.
It was reported that at least one of the Los Angeles Unified School District Members, Nick Melvoin opined that Bramlett's " work product wasn't up to a quality that I would expect."
In a closed-door meeting in June 2018, LAUSD board members declined to renew Bramlett's contract. Bramlett left LAUSD shortly thereafter. Nick Melvoin further acknowledged in an interview that his concerns about Bramlett's ability to manage the office's culture and caseload played a role in that decision.
So, how then is it that both Frank Cabibi and Kenneth Bramlett managed to outrun these very serious allegations?
Was it a failure on the part of background investigators at Amtrak to thoroughly vet Cabibi?
Did the AlbuquerqueCity Council assume that Bramlett's "touted credentials" were enough and failed to validate the veracity of Bramlett's claims?
Either way, it is reasonable to assume that a second look is warranted regarding the viability of both Cabibi and Bramlett in their current positions when weighed against the liability that each brings to their positions.
As a veteran, retired law enforcement officer much like Frank Cabibi and Kenneth Bramlett, I recognize that dishonesty is not only a terminable offense but also a disqualifier for any other similar investigatory position.
I will give both Amtrak and the Albuquerque City Council the benefit of the doubt that they each overlooked these potentially disqualifying factors; but now that you know better, you must do better.
Cheryl Dorsey