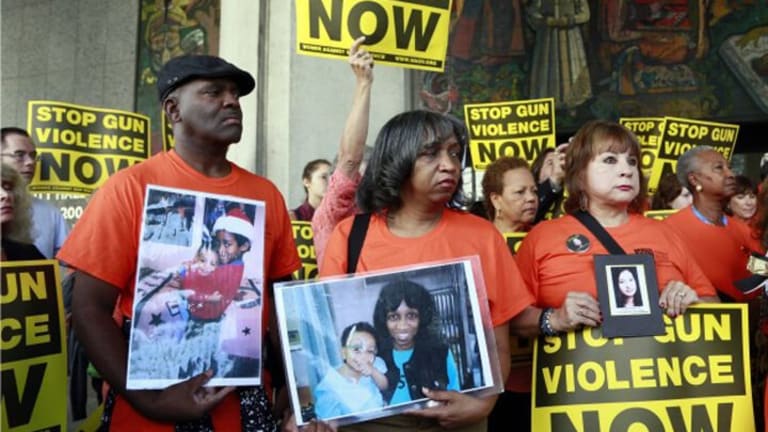 Gun Control: Whose Ways and By What Means?
Rosemary Jenkins: Next Tuesday will be another Council meeting which not only will hear the amendment but will vote on another measure that involves safety and protection: proper and safe storage of firearms.
Gun Control: One small step for Los Angeles. One giant step for sanity!
The decision this week by the Los Angeles City Council was unanimous in supporting its gun control measure prohibiting possession of large-capacity ammunition magazines (11 or more rounds). In addition, owners will be expected within a time-certain deadline to turn over those larger magazines to the police (or other appropriate agencies) or to other organizations with the authority to receive them.
There is one caveat, however: Mitch Englander—CD 12 (the same member who is the only one to have voted against raising the minimum wage in Los Angeles) asked for consideration of an amendment (to be taken up next Tuesday) to exempt retired police officers and those with concealed carry permits from the regulations by which everyone else must abide. I got the feeling when I attended the session that the other Councilmembers present were not all that enthusiastic about his request but were willing to have it heard.
This concern must receive careful deliberation:
Retired officers are rightfully concerned that ex-felons and/or their cohorts might seek to retaliate against those who put them in prison in the first place (and/or at least managed to cut down on their nefarious "enterprises").
Next Tuesday will be another Council meeting which not only will hear the amendment but will vote on another measure that involves safety and protection: proper and safe storage of firearms.
I happened to see a Dateline episode last night that was a perfect example of the problem. It coincidentally dealt with the very conundrum this measure would present:
A judge was caught on video stealing three computer monitors from the courthouse and was appropriately punished for his indiscretion. In retaliation, he shot the prosecutor in the face and two month later shot and killed the DA and his wife. He was eventually caught and sentenced to death.
Although LA's measure might not have prevented these gruesome events from transpiring, I can understand the concern by retired police officers and other concealed carry permit citizens who might also be subject to similar retaliation because of the jobs they used to hold.
On the other hand, the rest of us might argue that we also have the same right to protect body and home from such violent attacks. Why exemptions for the "privileged" few?
Next Tuesday (try to attend or at least offer your input through your Council offices) will be another Council meeting which not only will hear the amendment but will vote on another measure that involves safety and protection: proper and safe storage of firearms. Too many of our residents have become victims of gun violence in the home or at a business—whether intentional or accidental. It looks likely that this proposal will pass as well (hopefully with unanimity).
A summary of this second ordinance is relatively simple: owners must "lock up handguns [and /or] use trigger locks when the weapons are not being carried which could prevent accidental discovery and shootings, particularly by children."
I believe that Mr. Englander (and perhaps Mr. Buscaino) will offer a similar amendment to that motion for the same reasons.
At the same time that last Tuesday's meeting was taking place, LA County was hearing testimony regarding imposing greater oversight over the Sheriff's Department, one whose violations have been a blight on our County (a Department which has become notorious across the nation for what can be called its felonious conduct). Final decisions will be made in the near future
As a phrase often used, these are issues whose time has come. History has repeated itself in too many instances. Whether it is Sandy Hook or military venues or movie theaters or churches and synagogues, there is always a lot of chatter over the horrors of these events and a demand to do something. . . until the words finally die out in a distance echo.
It is time to move beyond our city boundaries to nearby cities and counties and ultimately across the nation to serve as models for what can and should be done to mitigate the dangers of these weapons. Surely, Congress will recognize the will of the majority of its constituents (including large numbers of NRA members) to regulate arms (not "a well-regulated Militia").
Forget the NRA! Once an organization set up to teach gun safety, it has distorted the true meaning and intent of the Second Amendment and has cleverly convinced thousands, if not millions, of others to believe these misrepresentations. NRA is beginning to lose its influence and will continue to do so as long as we stand up to them! We, as citizens, must retake our ability to make reasonable decisions that affect all of us.
It is time to take our country back (as so many ultra-conservatives like to rant)! Guns can be used for hunting for food (with strict adherence to the rules), not for trophy hunting (think of poor Cecil). Conservationists, however, do say that careful and judicious hunting to cut back certain animal populations actually saves the herds. Rarely, though, are guns actually utilized for self-defense (though many people make the claim that they need a weapon for protection--more often, these guns wind up being used to kill an innocent friend or family member).
Our Constitution was never meant to afford us freedom to do anything we wish (we all accept that a person can't cry "Fire!" in a theater when there is no fire). We must be rational and logical in our thinking and in our decision-making.
This is the time for Los Angeles (both City and County) to stand up and be counted. Hurray for us!
Rosemary Jenkins