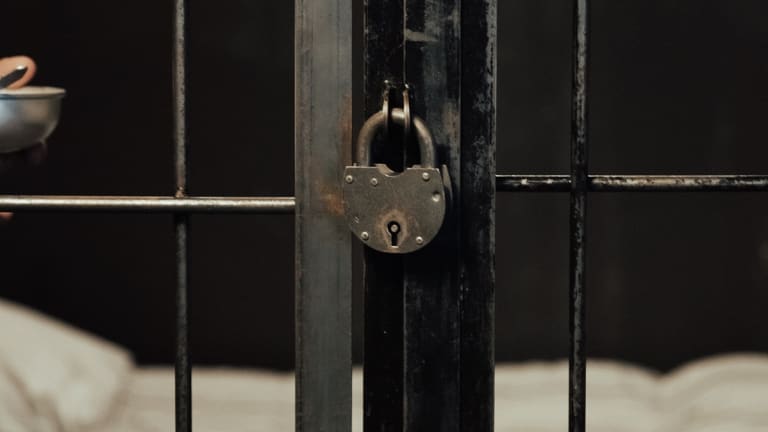 Man Held in Jail Starved to Death
The family of Larry Eugene Price, Jr. filed a civil rights and wrongful death lawsuit after he died in solitary confinement
The tragedy was set in motion in August, 2020, but, like probably many of you, I didn't learn the story until last week. That was when the family of Larry Eugene Price, Jr. filed a civil rights and wrongful death lawsuit after he died in solitary confinement in 2021 in an Arkansas jail. The 2020 arrest wasn't the first time Larry had encountered the police. After all, he was a Black man with multiple mental health issues who was often homeless.
As Newsweek reported, "Price's hometown police knew him well," "mostly for criminal mischief, squatting in buildings, disorderly conduct and for wellbeing checks when he, for example, would hurt himself." But when Larry wandered into the Fort Smith police station on August 19, 2020, and pointed his finger like a gun, "threatening and cursing," police "arrested him on a state felony – terroristic threatening in the first degree."
Bond was $1,000, but Larry did not have the $100 he needed for bail, and so he languished in a cage – for more than an year. Please note that no one was injured during the mental health crisis that provoked his arrest. Please especially note that Larry Price wasn't convicted of any crime; he was awaiting trial. And while he waited, he drew closer and closer to death. When emergency services arrived and tried to help him, Larry, who normally weighed around 200 pounds, weighed only 90 pounds. And though the Sebastian County Sheriff insisted that staff provided food and water each day, Larry's official cause of death was malnutrition and dehydration. The details are horrifying, so much so that, when the Fort Smith police spokesman learned the actual circumstances of Larry's death, he replied, "Oh dear God, that's horrendous
State inspectors making compliance checks had already noted more than once that this jail was overpopulated and understaffed. The lawsuit connects these audits with an inability of the jail to adequately meet the needs of inmates, especially those with disabilities and mental illness. 
From the information available, this seems to be tragically true for Larry Price. The lawsuit focuses on Sebastian County Detention Center, where Price was imprisoned, and Oklahoma City's Turn Key, the health care provider contracted with the jail. The suit notes that staff did not properly monitor and document Larry's mental health, medications, or nutrition. He was also not allowed his daily hour outside of solitary confinement, because his behaviors were erratic.
Despite obvious signs of deteriorating mental health and dramatic weight loss, staff "did not even alert a higher-level medical or mental health provider." And please remember that this was happening over the course of an entire year. Staff were required to check him every fifteen minutes, resulting in tens of thousands of basically meaningless log entries. According to the suit,
"Between August 1 and August 29, 2021, … jail guards logged over 4,000 consecutive wellbeing checks of Mr. Price, and each time they made the exact same entry: 'Inmate and Cell OK.'...In the last 48 hours of Mr. Price's confinement alone, they made this entry more than 300 successive times. They continued to log these same words, at least four times an hour, even in the hours and minutes leading up to his death — when Mr. Price was visibly malnourished, dying of starvation and dehydration. … Shockingly, … they made at least ten additional entries, 'Inmate and Cell OK,' after Mr. Price was pronounced dead." (Newsweek)
 It settles in me as a gruesome mantra to the horrors of our status quo: 'Inmate and Cell OK.' 'Inmate and Cell OK.' 'Inmate and Cell OK.'
Larry's death was a preventable, terrible tragedy. As the attorney representing Price's family put it, "I have never seen a case where a pretrial detainee, innocent in the eyes of the law, was held in solitary confinement for a year, without ever having his day in court, and was so neglected that he wasted away and died looking like a starving prisoner of war." (Newsweek)
This loss is also in stark contrast to the love and joy Larry shared with his family and friends. They are now left to grieve both how he was treated and the shocking failure of the system. Larry's brother, who works in corrections, believed the jail could even be helpful:
"Price was homeless and in need of mental health help. I thought the jail would at least provide a roof over my brother's head where he would be fed and watched over and where he might get some psychiatric help and treatment. And the family was kept in the dark about what was happening inside the jail. No one would provide answers when I called. And the jail would not allow anyone to visit."
Another friend lamented not being more active to help Larry, feeling like she could have done more. She tried to visit him many times, but was not allowed. She never learned that he could have been released by paying $100 bail. "They could have told me...I would have given up $100 to get him out of there so he didn't pass away like he did." (Newsweek)
There are layers and layers to this tragedy, and Larry's death is part of a larger story of how unsafe and unjust life is for countless human beings. He was criminalized and marginalized in so many ways: he was a Black man, developmentally delayed, mentally ill, and destitute. But instead of being met with compassion and given the resources and support he needed to enjoy a full life, he was criminalized and locked out of sight, left to die.
The painful reality is that we have managed to create a society where these kinds of tragedies happen with shocking regularity. The settings change: prisons, hospitals, schools, workplaces, religious institutions, homes. The relationships between the inequities and oppressive systems shift emphasis: race, gender, class and poverty, disability, age, sexuality, and more. And each person's story is unique. But these experiences also form a pattern. External factors, such as our living and working conditions, make it more difficult for many people to enjoy a full life.
Although we've been talking about aspects of the concept for hundreds of years, a useful framework for helping us understand this dynamic is called the Social Determinants of Health. The World Health Organization explains that social determinants "are the non-medical factors" that impact our health. These include issues such as income protection, access to education, food security, access to housing and basic amenities, "social inclusion and non-discrimination," structural conflict and issues of justice, and access to affordable healthcare.
"They are the conditions in which people are born, grow, work, live, and age, and the wider set of forces and systems shaping the conditions of daily life. These forces and systems include economic policies and systems, development agendas, social norms, social policies and political systems. … In countries at all levels of income, health and illness follow a social gradient: the lower the socioeconomic position, the worse the health."
Importantly, research has demonstrated that social determinants are often even more influential than individual health and lifestyle choices on a person's health. Studies put the impact of social determinants between 30% and 55%. The good news is that these social determinants are almost entirely within our collective sphere of influence. The bad news is that, though we've made progress, we still have a long way to go. The WHO explains that -
"Such trends within and between countries are unfair, unjust and avoidable. Many of these health differences are caused by the decision-making processes, policies, social norms and structures which exist at all levels in society. / Inequities in health are socially determined, preventing poorer populations from moving up in society and making the most of their potential. / Pursuing health equity means striving for the highest possible standard of health for all people and giving special attention to the needs of those at greatest risk of poor health, based on social conditions."
Social determinants give us one practical toolkit for both understanding the realities of social and health inequities and why it is essential for us to transform them. And its framework can help us link our actions in the community with larger policies and movement. But the scope of the social determinants can also be overwhelming; it is easy to feel powerless, both in the wake of devastating injustices we witness and experience, and in the face of monolithic systems that make these tragedies mundane. Even the most effective framework becomes useless if it cannot be translated into meaningful action.
David Lewis, analyzing the concept of civil society, encouraged exploring concepts "along two dimensions: "on the one hand, the concept … may be 'useful to think with' in the sense of supporting analysis which can help to make sense of political and social realities, while on the other it may be 'useful to act with', by helping to inspire action on the ground." The joining of these two things is key. If we only have understanding, we may just make ourselves more miserable. Understanding oppressive systems, for example, is vitally important, but only if we do not stop with understanding. That understanding must also empower us, to know how best to act.
Kristi Heather Kenyon and Regiane A. Garcia made this point again in 2016, that "social determinants can and should also be understood as processes of participation and engagement whereby individuals are able, through their own knowledge and actions, to improve health outcomes for themselves and others." Their table of "Types of Health Activism" is a great example of translating theory into practice, and a good model for how we can reflect on how our own actions can become part of powerful movements. This is what empowerment looks like: "claiming space and, in doing so, disrupting existing structures and the power they reflect and reinforce."
And even at the most mundane levels of daily life, we can also be paying attention. Social determinants can help us become more aware of the gaps in our own lives and communities. They can also help us become more aware of the things that are going well, where we find support and our needs are met. These supportive factors then can nourish our gratitude, teach us how to build community and social capital, and become sources of learning and strength to empower our activism and social change. If you live with others and get along with them, that is a great happiness. If they encourage you in establishing a practice that brings well-being in yourself and others, that is a great happiness. If they practice with you, that is a great happiness. Living with mutual care and support is both what keeps us going now and makes a pathway for greater wellbeing, equity, and justice in the future.
Instead of becoming passive and powerless, we can learn to be more collectively aware and intentional about how we interact with, resist, challenge, and transform the social forces that otherwise dominate our lives and deaths. It may be premature to say that we can make avoidable tragedies impossible, but we can keep working together to make them increasingly improbable. It's a change that will take all of us. It takes what Daniel Berrigan and Thich Nhat Hanh called "communities of resistance" in The Raft is Not the Shore. Thich Nhat Hanh remarked that:
"It is a resistance against all kinds of things that are like war. Because living in modern society, one feels that he cannot easily retain integrity, wholeness. One is robbed permanently of humanness, the capacity of being oneself. … And there are so many things like that in modern life that make you lose yourself. So perhaps, first of all, resistance means opposition to being invaded, occupied, assaulted, and destroyed by the system. … communities of resistance should be places where people can return to themselves more easily, where the conditions are such that they can heal themselves and recover their wholeness." (129)
We have inherited a long history of tragedies, and we are witnesses to, and too often complicit with, a society that manufactures new tragedies every day. If we are not to lose ourselves, we must be intentional about facing those tragedies. But that is not enough. We must also transform the witnessing into understanding. But that is also not enough. We must transform understanding into action, so that there will always be communities of resistance, places where we can return to ourselves, places where we "can heal [our]elves and recover [our] wholeness."