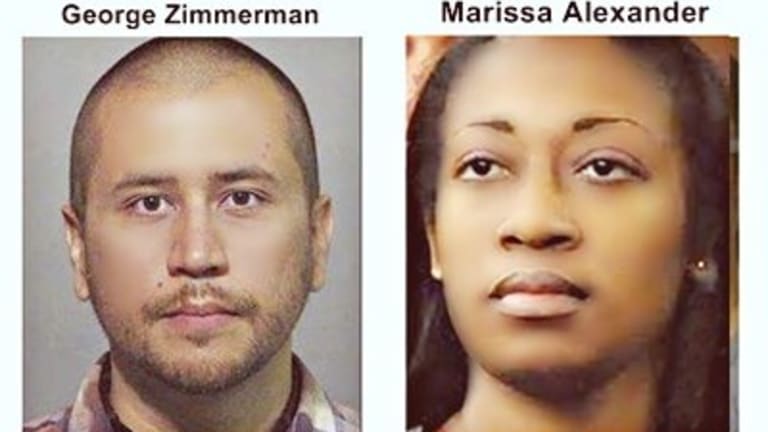 Marissa Alexander Facing 60 Years If Convicted
Sharon Kyle: Marissa Alexander came to the nation's attention around the time a spotlight was cast on another trial in Florida, that of George Zimmerman. But the outcomes couldn't have been more different.
The LA Progressive strives to bring light to important issues and stories mainstream media either ignores or gives scant coverage to. In keeping with this goal, we are partnering with several others to send Thandi Chimurenga -- a Los Angeles-based independent journalist -- to cover the trial of Marissa Alexander, which is scheduled to be heard in December in Florida.
Marissa Alexander came to the nation's attention around the time a spotlight was cast on another trial in Florida, George Zimmerman's. But unlike George Zimmerman, who was acquitted after shooting and killing Trayvon Martin, Marissa Alexander was convicted for aggravated assault with a deadly weapon after she fired a warning shot at her abusive husband, who walked away from the incident unharmed.
Here is a list of facts that led to Marissa Alexander's arrest, conviction, appeal and retrial:
Florida resident Marissa Alexander is estranged from violent husband Rico Gray, who beat her while she was pregnant.
Alexander seeks and is awarded an injunction for protection against domestic violence after Rico Gray's violence lands Alexander in the hospital.
Alexander gives birth to a premature baby.
Baby is placed in a neo-natal intensive care unit. The baby has to remain in the hospital when Alexander is released
Nine days after giving birth, Rico Gray attacks Marissa Alexander and threatens to kill her when she goes to the home they once shared to retrieve her belongings.
Alexander gets away from Gray and tries to escape through the garage, hoping to drive out but in her haste forgets that her car keys are not in the car but are in the house along with her cell phone.
Unable to get the garage door to open so that she can flee on foot, she grabs a gun she keeps in her car. She has been trained to use it and earned a concealed weapons permit.
Hoping her husband has left the house but still in fear for her life, she goes back into the house, this time carrying the gun.
Rico Gray sees her reenter the house -- charges after her.
Alexander stands her ground, firing a warning shot into the wall.
Gray immediately leaves the house and calls the police.
Marissa Alexander is arrested (Note: she has no criminal record and was defending herself against a man who she has a protective order against).
State Attorney Angela Corey suggests that Alexander cop a plea, offering her 3 years.
Alexander refuses the offer. Asserting that she was defending herself, standing her ground and in fear for her life - Alexander goes to trial.
Rico Gray's deposition corroborates Marissa Alexander's account of the incident
Ex-girlfriends of Rico Gray are not allowed to testify to his violence against them.
In 2012, Marissa was convicted of aggravated assault with a deadly weapon with no intent to harm. The charge carries a mandatory sentence of 20 years. Her insistence that she was in fear for her life and in self defense fired a warning shot at her abusive estranged husband was ignored. The testimony of several women who had dated Gray and who also were beaten was never heard. The testimony of Gray -- who admitted on the stand that he threatened Alexander's life, and "was so enraged that he did not know what he would do" -- was ignored. The sworn statement Gray gave where he admitted that he was the aggressor against Marissa was ignored. Marrisa Alexander was led away to serve her time.
Three years into her 20-year sentence and in part due to the publicity surrounding George Zimmerman's trial and the media focus on "Stand-Your-Ground" laws, Marissa Alexander appealed the verdict. The appellate court found that the lower court erred. In November 2013, the appellate court granted Marissa Alexander a new trial and released her on bail.
However, this time, Angela Corey the State's Attorney who prosecuted both George Zimmerman and the first Marissa Alexander trial, has vowed that this go-round with Alexander she will seek a 60-year sentence if Alexander is convicted.
On December 8, 2014, Marissa Alexander will once again be forced to defend her life and we want to be in the courtroom with her.
We're working to bring coverage of that trial to our readers. And so, we ask you to help us to send an award winning independant journalist and author, Thandi Chimurenga, to Florida and help to defray the cost of her travel and lodging. While in Florida, Ms. Chimurenga will attend the trial everyday, live tweet the activities in the courtroom, report daily updates and present special reports (webinar/Google hangout) as the case unfolds.
Please give to Ms. Chimurenga's crowd sourcing campaign. Click here to donate and please give generously.
Thank you,
Sharon Kyle
Fundraising with GoGetFunding