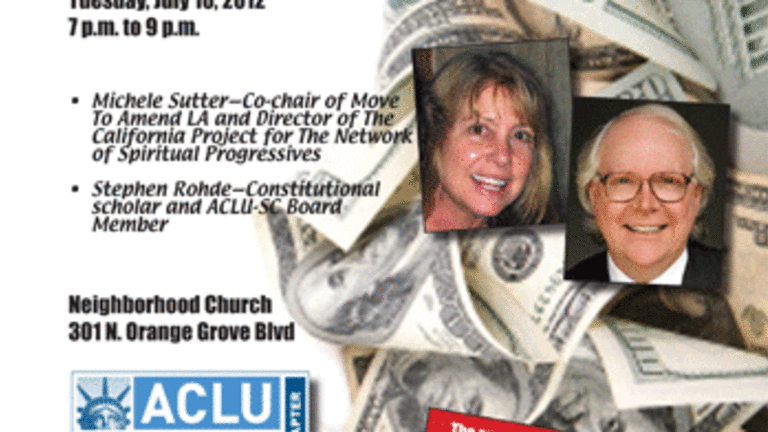 Getting Money Out of Politics: The Debate Goes On
Michele Sutter, Co-Chair of Move to Amend - LA, and ACLU-SC Foundation President Stephen Rohde, debated the Citizens United case and its affect on American politics.
Progressives Michele Sutter, Co-Chair of Move to Amend - Los Angeles, and ACLU-SC Foundation President Stephen Rohde, vigorously presented their views on corporations being allowed First Amendment free speech rights and virtual unfettered ability to contribute to political campaigns at the ACLU Pasadena/Foothills Chapter's July 10 forum.
The speakers were spirited in expressing their reactions and concerns regarding the Supreme Court's 2010 Citizens United v. Federal Election Commission (FEC) decision, in which the Court held that the FEC had infringed upon the First Amendment rights of a non-profit corporation when it ruled that the airing of a video that cast aspersions upon then presidential hopeful Hillary Clinton less than 60 days before the election violated the law.
The Citizens' United ruling has resulted in for-profit and non-profit corporations spending unprecedented amounts to influence elections. In reaction, Move to Amend (and its 131 affiliates around the country) seek the ratification of a 28th Amendment to our federal Constitution, which would be designed to:
Clarify that our Constitution protects only natural persons and that corporations may be regulated;
Money is not speech, so it is permissible to regulate campaign contributions; and
This amendment should not be interpreted to abridge the freedom of the press.
Sutter made it plain that all unions and non-profit corporations (whether or not they are membership organizations) would be covered. She also recommended curtailment of the ability of the courts' ability to declare unconstitutional or unlawful enactments of legislatures. A fuller statement of Move to Amend LA's mission is set forth at here.
Rohde admitted that, while he does not have all the answers for how to deal with significant and negative consequences of the Citizen United decision, he was skeptical of attempts to amend the Constitution that are designed to abridge the free speech rights of corporations. While deploring the misguided influence of for-profit corporate money in elections, he noted that the Move to Amend proposal would also impact the free speech of non-profit entities set up to protect the rights of unrepresented, unpopular and oppressed minorities.
Rohde noted that our democracy depends heavily upon such entities to be able to speak truth to for-profit corporate power. He recommended that instead of curtailing the substantive rights of natural and corporate entities to speak, we address the escalating cost of political campaigns and unequal access to money affecting electoral outcomes and undertake comprehensive reform of the financing of electoral financing. See a fuller statement on ACLU's positions here. See also Floyd Abram's article. .
Sutter noted that Move to Amend LA will convene a conference on November 17 designed to allow progressives to address the concerns, complications and consequences raised by the Citizens United decision and corporate financing of campaigns generally. For more information, go here
Michelle White and Kris Olkerhauser
President and Past President
ACLU Pasadena/Foothills Chapter
Posted: Saturday, 21 July 2012