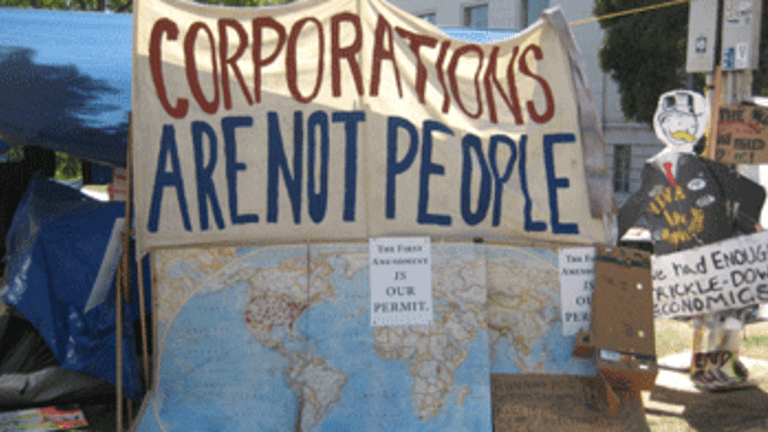 Occupy LA Backed Corporate Personhood Resolution as Eviction Loomed
Michael R. Evans: On the night that Occupy Los Angeles protesters were given as a deadline to begin vacating the land around City Hall, their general assembly unanimously passed a resolution to end corporate personhood through constitutional amendment
On the night that Occupy Los Angeles protesters were given as a deadline to begin vacating the land around City Hall, their general assembly unanimously passed a resolution to end corporate personhood through constitutional amendment, completing a process that had been underway since before the occupation began.
"Though I would like this to have passed earlier," said Chris Durian, who along with Suzanne O'Keeffe and other activists, shepherded the resolution through Occupy LA's time-intensive consensus process, "I find it a little poetic that this was passed tonight. If the encampment goes down tomorrow, it went down shouting out against corporate personhood with a unified voice."
Two nights later, the encampment was actually evicted and nearly 300 protesters were arrested by an army of Los Angeles police officers.
Neither the police raid nor the Occupy LA resolution, however, is the whole story. The doctrine of corporate personhood has been developed through more than a century of controversial legal precedent giving corporations incremental protections. The effect is that the legal basis for a corporation's existence has been slowly expanded. In the 18th century, a corporation was both legitimized and limited under a temporary state charter, but as a "person" with constitutionally protected rights, it may now operate with no fear of losing its charter.
The problem of corporate personhood has flown under most people's radar until January 2010, when the Supreme Court's ruling on Citizens United vs. FEC fueled widespread opposition. This 5-4 Robert's Court decision solidified a new level of how corporations may enjoy rights once afforded to human beings, namely the First Amendment protection of free speech.
And to make matters worse, a 1976 Supreme Court decision had partially established the expenditure of money as a form of protected speech.
So, the 2010 national elections became the first in which corporations could legally spend unlimited amounts of money as an exercise of their new free speech rights, a change that upended decades of Congressional campaign finance reform from the 1971 Federal Election Campaign Act to the 2002 Bipartisan Campaign Reform Act (known as the McCain–Feingold Act). The decision also threatens to overturn campaign finance reform laws in almost half the states.
Chris Durian has worked to oppose corporate personhood for more than 10 years, mainly with Program on Corporations, Law, and Democracy, as well as Move to Amend, a new national coalition organization. He was engaged by the message that an "understanding that the legal doctrine that treated corporations as persons was a critical system structure that was foundational to many societal ills."
Inspired by the Occupy Wall Street movement, Durian became active in Occupy LA committees as the occupation began two months ago and began working with Move to Amend LA and Common Cause LA , which visited the City Hall encampment regularly to present teach-ins, participate in General Assemblies, and collect petition signatures.
"My experience collecting signatures at Occupy LA has been very positive," said Jeremy Hyde, who began collecting signatures for the Move to Amend petition in mid-October. "Most people have responded instantly, agreeing that corporations are not persons and commenting on how ridiculous the Citizens United ruling was. They have been intrigued by our campaign and interested in learning how corporate personhood came about."
"Most if not all Occupiers agree on ending corporate personhood, and most of those agree on doing it via constitutional amendment," said Durian, pointing to a clear Occupy movement message rarely reported in mainstream media.
Also rarely reported is that any each Occupy message must be approved by 90% democratic consensus. Occupiers can submit proposals to the Objectives or Demands Committee, which does research before engaging in an arduous consensus-building process and finally submitting the demands for 90% approval among those gathered each night for organizational meetings in "General Assembly."
"The objective or demand of ending corporate personhood was submitted in writing many times," said Durian, who serves on the committee. Committee members say it was consistently one of the top three demands.
And when a City Council event related to abolishing corporate personhood was announced in General Assembly last month, the crowd responded by wiggling their fingers in the air, a gesture indicating support in the Occupy movement. "This is an opportunity for Los Angeles to do something bold and to set a strong model for the country to follow," said O'Keeffe.
This grassroots democratic trend toward abolishing corporate personhood stretches far outside the borders of Los Angeles County. Many Occupy movement cities have formally and informally adopted the abolition of corporate personhood as one of their main demands. A recent Washington Post-ABC News poll reveals that over 80% of Americans already oppose the idea of Corporate Personhood, opposition that cuts relatively evenly across the political spectrum.
Since the Citizens United decision, several local and state resolutions and ballot initiatives have been proposed, and some have already been passed this year. In April, Madison, Wisconsin voters became the first to approve a city referendum by an 84% majority. Dane County, Wisconsin, approved a similar county referendum. In November, Boulder, Colorado, and Missoula, Montana, each passed ballot initiatives. The Dane County, Boulder, and Missoula measures each passed by a landslide 3-1 margin.
Locally, the coalition is working with LA's City Council to make Los Angeles the first major city to call for the constitutional amendment. This summer, Council President Eric Garcetti proposed a resolution of "Support for legislative actions ensuring corporations are not entitled to the entirety of protections or 'rights' of human beings, specifically so that the expenditure of corporate money to influence the electoral process is no longer a form of constitutionally protected speech."
In November, supporters from all over Los Angeles rallied to attend a City Council committee meeting in which the Council resolution was being discussed. A crowd of over 100 packed into the meeting room, requiring that an overflow room be opened up. "We had more people than I expected," said Mary Beth Fielder who directs Move to Amend LA. She estimates that at least 40% were directly associated with Occupy LA. "It made me feel that this movement has a life of its own."
Speaking first, Fielder advocated that the committee "expand the resolution to call for an end to all corporate Constitutional rights and to clearly establish that only living human beings are endowed with Constitutional rights and secondly that money is not the same as free speech."
About 40 residents were heard by Councilmember Richard Alarcon, chairman of the committee, delivering a unified message that the resolution wording needs to go much farther than just opposing Citizens United and asking City Council to set the pace for other major cities to follow. Several times during the meeting, spontaneous wiggling fingers hovered above the room.
"For the first time in our history it seems that our government system is now been contained within the economic system instead of the other way around and I don't think that that's right," said O'Keeffe. "I don't think it's healthy for democracy because the economic system has clearly demonstrated that they have little regard for the community or the people that have only been used to serve their own profit motives."
At the end of the meeting, Councilman Alarcon offered his personal concerns about the effect of Citizens United. "Can a corporation run for president? If they can define themselves as human beings, then they could define themselves as a political candidate. And I believe the Supreme Court erred."
The committee adopted the stronger wording, recommending that the resolution move on to a full council vote in a meeting on December 6th.
On that day, Los Angeles Occupiers will turn out to publicly support one of their messages that corporations are not people and money is not protected speech, "and that constitutional rights will never again be granted to fictitious entities or to property." Along with democracy advocates all over the nation, many Occupiers say they will continue on to Sacramento and Washington in search of a constitutional amendment.
For more information about the December 6th meeting go here: www.MoveToAmendLA.org.
Michael R. Evans