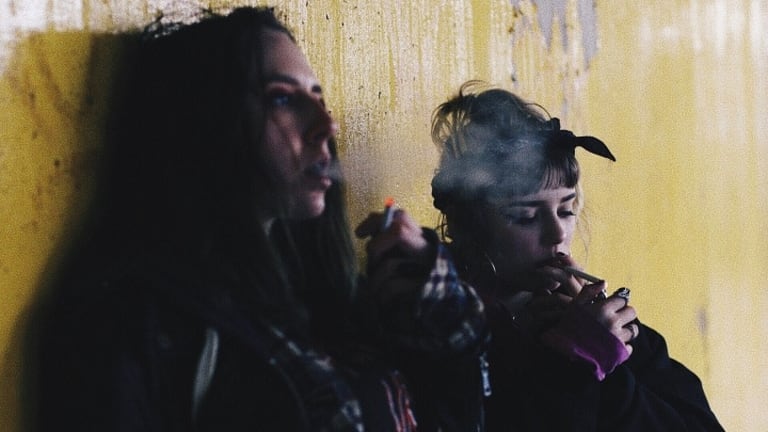 Overdose & the Disease of Addiction Festers
Maki Somosot: As for Stephanie Neeley, she doesn't seem concerned about politics or money right now. She just wants to make it to the next day without using and to help the girls under her care do the same.
Ohio's Forgotten Epidemic
Stephanie Neeley celebrated a different kind of birthday earlier this month.
August 6 marked the first whole year of sobriety for the 36-year-old mother from Norwood, Ohio. For someone who couldn't stay off drugs for even a few months since she started using, Neeley said her recovery felt like a blessing.
"I never expected it to be this good. It's just beautiful," Neeley said. She joined a sober living community run by the Cincinnati-based nonprofit New Foundations last year. "Things happen and I have bad days. But I no longer find it necessary to get high over that."
As for Stephanie Neeley, she doesn't seem concerned about politics or money right now. She just wants to make it to the next day without using and to help the girls under her care do the same.
She says she's grateful that she's not trying to get clean in the middle of a pandemic. Once addicted to opiates, Neeley now manages two living facilities for New Foundations and mentors other women with drug addiction issues. The nonprofit's houses are located in the largely white and working-class neighborhood of Price Hill in west Cincinnati, part of one of the city's hardest-hit areas during the pandemic.
The Trump Administration has repeatedly pledged to solve the national opiate crisis, committing billions of dollars each year to education, treatment, prevention and law enforcement efforts. In 2018, Ohio received $225 million in federal appropriations grants to combat opioid addiction in the state, which has experienced consistently high overdose death rates since 2010 and has become an epicenter of the opiate crisis in recent years. The federal government has since passed additional opioid legislation with the intent of boosting the money flowing to Ohio and other states.
Many of the worst-hit regions in Ohio have suffered from economic uncertainty,job loss and poverty for decades. In 2016, the majority of non-college-educated, white Ohioans from these areas voted for Trump. As we head into November, the opiate crisis in this key battleground state has only gotten worse, amplified by a pandemic that shows no sign of stopping. Overdose deaths are rising in the shadow of an administration that threatens to rescind Medicaid even as it trumpets its successes in fighting the opioid epidemic.
COVID-19's continuing economic shocks have also resulted in unforeseen disaster for recovering addicts like Neeley.
"The pandemic hit our community pretty hard because it's where desire meets opportunity," Neeley said before taking a deep breath and closing her eyes. "That stimulus check provided the opportunity."
Hamilton County has the third-highest number of coronavirus cases in Ohio, and overdoses in the area have seesawed up and down since the start of the pandemic, with overdose deaths suddenly spiking near the end of May. The majority of these deaths have involved opiates. Advocates think this was due to addicts having lower tolerance after a period of social distancing, leaving them unable to handle the relative strength of drugs once the economy reopened and the global drug supply chain resumed.
"A lot of our clients work in restaurants and different service areas. Hotels were shut down," New Foundations Executive Director Mikella Christman said. "So it was very, very hurtful to our program." She adds that 21 people have relapsed at New Foundations compared to 11 in the previous three months.
With Congress now at a standstill over whether to extend additional unemployment benefitsthrough the end of the year and the next stimulus bill up in the air, Hamilton County's recovering communities are left to ponder an uncertain future. Trump's recent directive, which halves the benefits previously available to out-of-work Ohioans, has yet to result in cash payments for the state's unemployed.
Part of the Trump Administration's opioid efforts in Ohio last year included giving Hamilton County a multimillion-dollar grant to investigate opioid addiction rates and deaths. Economic growth in the Cincinnati area has mostly stalled since 2016; in 2018, it grew by only 0.6% percent compared to far stronger growth in Cleveland and Columbus. Median household income in Hamilton County has not recovered from the Great Recession, and wages still have not caught up with national levels. And while the city itself has banked on its diversified business scene to weather most economic crises, the benefits have not trickled down to thousands of local workers and residents.
Even with a bipartisan push to improve access to opioid treatment, overdose deaths have been rising since before the pandemic, experts say.
"There's been some steps in a positive direction, but I would say it's been a disappointing few years in the sense that we still haven't had a really cohesive national strategy and the money required to substantially change," said Brendan Saloner, a health and social policy researcher at the Johns Hopkins Bloomberg School of Public Health. "At the same time, we've seen a decline in the number of people who have health insurance – efforts by the Trump White House to roll back the Affordable Care Act. All of these things have been net negative for the response to the opioid crisis."
"COVID hit during a time when we weren't really making a huge amount of progress," Saloner noted. "Some people saw the 2018 national overdose statistics where overdose rates kind of went down for a year. But the reality is that it hasn't been sustained. 2019 has been the worst year on record and 2020 is shaping up to be even worse."
According to the Ohio Department of Health, unintentional drug overdose deaths in Ohio rose about 7% in 2019 after a slight dip in 2018. So far, records show that 4,030 Ohioans died from drug overdose in 2019. However, official counts for the year are still pending, leading some experts to believe that 2019 may soon surpass 2016 as the year with the second-highest death rate since Trump took office. An analysis of chemical composition in Ohio's drug supply indicates the overall increase was due to carfentanil, said Dennis Cauchon, president of drug policy nonprofit Harm Reduction Ohio.
Carfentanil, a synthetic opioid analogue that the DEA deems 100 times more powerful than fentanyl, is in a league of its own. Since drugs laced with carfentanil arrived in Cincinnati in 2016, law enforcement and area agencies have struggled to keep up, at one point dealing with 200 overdoses in a single week because carfentanil and fentanyl are both in circulation, according to Newtown Police Chief Tom Synan.
Synan is responsible for a small community of over 2,000 just outside of Cincinnati. He notes that the area was one of the first in the country to see carfentanil on the streets. Although he claims carfentanil rates have largely dropped off since 2016, overdose rates have remained high. On average, he says Hamilton County now has 50 to 70 overdoses per week – more than twice as many as when fentanyl first hit the scene in 2012.
"We have never been the same," Synan adds.
With COVID-19's social distancing protocols in place, however, advocates like Cauchon hoped that overdoses would go down. Some homeless people returned to their family homes to seek shelter. But "The challenges that made them homeless or struggling in the first place did not go away," he said. And for those with service industry jobs, they no longer had the income or friends to support them during an emotionally stressful time.
"The 'Never Use Alone' maxim went away," Cauchon said.
"One of the things that we need is better naloxone distribution for the people who are going to be the true first responders, and that's people who use drugs," added Blyth Barnow, harm reduction manager for Faith In Public Life Ohio. Naloxone, or Narcan, is widely considered the standard of treatment when it comes to reversing an overdose.
A Christian minister who also identifies as queer, Barnow has held "Naloxone Saves" faith services throughout Ohio since 2017, when drug overdose deaths peaked across the country. "We see that when people who use drugs have adequate access to naloxone, they've revived more people than the police and paramedics combined, because they care about themselves and they care about their loved ones." Barnow lost a partner and several friends to drug overdose in the early 2000s.
Barnow wants federal dollars to go towards harm reduction groups that provide naloxone kits with no strings attached, particularly at a time when the pandemic is exacerbating overdose rates. "Unfortunately, the vast majority of that money is going to places like law enforcement and public health departments that don't have meaningful relationships with people who use drugs, and embody roles and positions in the community that are often dangerous for people who use drugs," Barnow said.
"A lot of people who have addiction issues are incarcerated, which is a challenge right now with COVID basically tearing through jails and prisons," Saloner noted. "It's a massive problem for everybody who's incarcerated, but it's going to be especially difficult for people who are coming out of jail and trying to start some treatment."
Overdose rates have also been rising in minority communities, and Black men in Ohio have experienced the highest rate of overdose deaths since 2017. Hamilton County also saw a slight increase in Black people dying from overdose last year. "A lot of that has to do with the fact that opioids have been seeping into the drug supply of cocaine and methamphetamines, and that has disproportionately impacted Black Americans and Native Americans," Saloner said. "Drug use among minorities has always been more criminalized, and when they do go to treatment, it's more likely to be under legal coercion."
Synan thinks law enforcement should not be expected to handle systemic issues alone. He said that poverty contributes to drug addiction, and that the federal government should prioritize treating its root causes rather than falling back on the criminal justice system or naloxone.
"What we should be doing is holding people accountable for their recovery, giving them the support systems and allowing them to fight to be able to get into recovery," Synan notes. He helped found the Hamilton County Addiction Response Coalition, a local group that advocates for holistic drug treatment, after seeing up close several generations of a Newtown family die from drugs.
"I tried everything," Synan recalled. "We offered them money, we paid for hotels, we did all kinds of stuff. And none of that worked. And I realized that as a law enforcement officer, I don't have the ability to solve these chronic social issues."
"The underlying issue is that this is not treated as a chronic mental medical health condition. It's still treated as a crime," he said. "And because of that, we continue to throw people back into the cycle. [Like] this young man, the third generation who is addicted, who's begging us to give him his drugs back just so he won't get sick again. That person should be going into the hospital system and given medically assisted treatment."
The stigma of addiction, Synan believes, cuts across race and politics. "I always tell people, they're always ripping on whether you're liberal, Democrat, conservative, right-wing, or Republican: Your politics don't matter."
"It's who has the money," Synan clarified. "Who's going to get the money, and who's going to give you the money?"
As for Stephanie Neeley, she doesn't seem concerned about politics or money right now. She just wants to make it to the next day without using and to help the girls under her care do the same.
"With coronavirus, it's just like, no matter what. No matter if there's a pandemic, epidemic, whatever."
"No matter if I can't pay my bills, no matter if my roommate in sober living relapsed and has to leave, no matter what." She pauses.
[dc]"N[/dc]o matter what: We don't get high."
Maki Somosot
Capital & Main