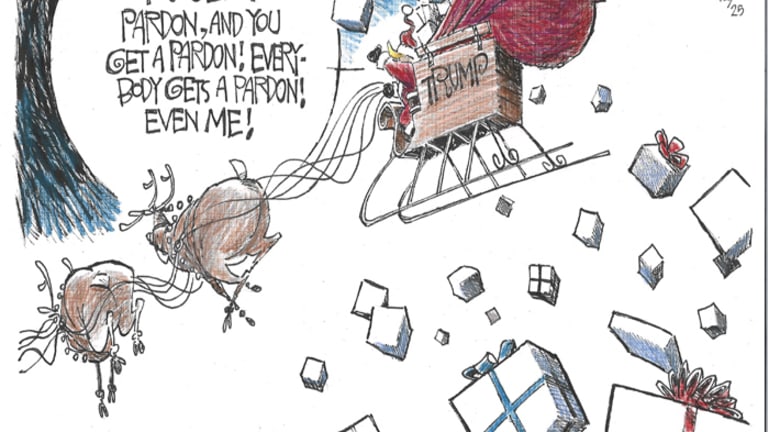 Pardoning the Ugly Americans
A pardon is supposed to be an act of forgiveness, not a desperate reach for vindication by a criminal office holder.
t-Rump's abuse of his pardon power is a gross expression of his vindictiveness and grievances towards the civilized world. He doesn't realize that by pardoning the American war criminals from Blackwater, he has placed every American and service person abroad at greater risk than ever. It's like when Reagan was running for president, I often said, "If he's elected it will be real difficult for Americans to travel abroad safely in the near future." Then came Achille-Lauro as a direct consequence.
Steve Cohen (D-TN) is one of the most effective progressive members of Congress. While he represents part of Memphis, the rest of the city is represented by t-Rump licker David Kustoff (R-TN). https://www.laprogressive.com/two-nice-jewish-boys/ Cohen introduced legislation three years ago to limit the imperial pardon power that t-Rump has wielded to subvert and corrupt the justice system. Too bad that didn't pass, because t-Rump is using pardons to discredit the Mueller investigation, and absolve people he identifies with like the Blackwater war criminals. A pardon is supposed to be an act of forgiveness, not a desperate reach for vindication by a criminal office holder.
He is rewarding criminals who did their best to disrupt and derail the Mueller investigation and impeachment inquiry. All these cases amount to a massive "obstruction of justice," especially with Paul Manafort, when he publically discussed pardoning him, while he was being pressured by prosecutors to cooperate.
A pardon is supposed to be an act of forgiveness, not a desperate reach for vindication by a criminal office holder.
He pardoned Jared Kushner's father for tax evasion and illegal campaign contributions. In his effort to escape accountability, Pere Kushner had blackmailed his own brother-in-law by hiring a sex worker to frame him, then sent a tape of it to his sister. Cohen's bill would have made it illegal to use the pardon power to obstruct justice or as a method of bribery. The Justice Dept. has guidelines for pardons, none of which were honored in any of t-Rump's abuse of privilege. It calls for a five year waiting period upon completion of a sentence, and an "expression of responsibility, remorse or atonement." I'm sure t-Rump and Barr laughed out loud at that one, if they read it. It also calls for a "thorough review and detailed inquiry," not a capricious act of hasty vindictiveness.
Congressman Cohen said, "Rather than a tool to better pursue justice, he is using it to circumvent justice." But t-Rump has used it to subvert justice, and further protect himself with self-dealing. NOT what the framers had in mind. When Manafort was indicted in 2017, Cohen introduced the bill saying,"It is not supposed to be a way for presidents to put themselves, their families and members of their administration and campaigns above the law. Monday's indictment of President Trump's Campaign Chairman Paul Manafort demonstrates how important it is for Congress to act." Had Cohen's red flag legislation been passed in 2017, this discussion would not exist. But enabling Republicans chose not to act, and wimpy Democrats failed to act.
So now more American military personnel, tourists and business workers working abroad are at risk for violent ends, because t-Rump pardoned private military thugs, who killed women and children because the company is owned by Erik Prince, the brother of Betsy DeVos the queen of public education destruction, and notorious abuser of charter school provisions to promote racism and bigotry. The Ugly American has never been uglier.
H. Scott Prosterman