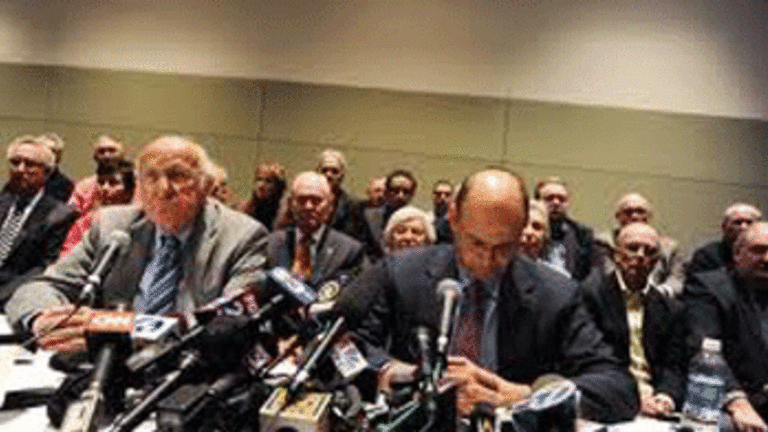 More Jokes From the Penn State Trustees
Walter Brasch: The Penn State Trustees, clueless as most college trustees are, could have learned about the allegations and taken action to protect the university and children.
Whenever I need a couple of laughs, I turn to the bumbling self-aggrandizing antics of the Republican wing of Congress.
However, in the past few months, the Penn State Board of Trustees has done the near-impossible; they have provided more laughs than the menagerie in the capital.
To call either the Legislators or the Trustees "clowns" would demean the hard work of the circus performers who spend significant time to develop and execute comedy routines. There is no evidence the Trustees even have a thought process before they make outrageous and just plain silly statements.
The latest Trustee joke is that the reason they really fired Joe Paterno abruptly on November 9, 2011, is because of "a failure of leadership." The Board released what it called a "report," but which is nothing but a press release of rehashed statements. This "report" claims the Trustees fired Paterno after they read the Grand Jury report that outlined a series of allegations against former defensive coordinator Jerry Sandusky, whose name is now known among more Americans than anyone who ever won a Nobel Prize.
Marianne Alexander, one of the trustees, told the media the Board's intention "was to clarify, because everyone's been asking for clarification." This, of course, is the same Board of Trustees that, mouthing the prattling of the ethically-challenged Gov. Tom Corbett, had condemned Paterno for being "morally corrupt," or "not doing enough," or whatever phrase they could quickly find in a Thesaurus of Blame.
Even children barely able to read a newspaper know the basics of the issue. A graduate assistant had seen or heard (it's still not completely clear) Jerry Sandusky, who was no longer employed by Penn State but who used the university fields and showers, possibly molested a child. The assistant told his supervisor, Joe Paterno. The legendary coach whose ethics and morals were never questioned in six decades as a coach and member of the faculty, followed university policy and procedure and told his superiors, one of whom oversaw the university police force. (Sandusky, of course, was later convicted on 45 counts that should keep him in prison for life.)
Some claim that Paterno was "morally wrong" not to "do more" and use his power at Penn State to have Sandusky immediately arrested. These Monday Morning Know-Nothings fail to understand that to "do more" would have been nothing less than interfering with a police investigation.
Corbett, attorney general at the time, could have conducted a thorough investigation, but allowed the latest accusations to simmer for more than two years while he campaigned for the governorship and took more than $200,000 in campaign funds from current and former board members of Sandusky's Second Mile charity.
The Trustees, clueless as most college trustees are, could have learned about the allegations and taken action to protect the university and children. They did not do so. They did not do so even after a Grand Jury was convened and reported about in the local newspaper. They apparently didn't even have a crisis communications plan should anything happen about anything.
And so, when the festering sore of university ineptness became infected, they tried covering it up with band-aids. And then everything blew open, catching the Trustees by surprise—or at least that's what they seemed to want us to believe.
In quick order, they continued to violate the state's Sunshine Law—they never really obeyed it to begin with—had secret meetings, and violated their own policies and state requirements on personnel actions. When all the hand-wringing was completed, they decided the best way to deal with a child predator was to fire the best-known football coach in America—who was never under any suspicion of having committed any crime—and to do it during the middle of a football season after Paterno announced his retirement.
While the media, always hungry for salacious news content, and a few hundred thousand sanctimonious pretend-fans were yelling, "Joe Must Go!" millions supported Paterno. This, of course, caused more problems for the Board That Couldn't Think Straight.
As individuals and blogs began condemning the Board for its actions—and especially for what it didn't do—the Board (composed primarily of high-level business executives, farmers, and assorted professionals who should have known better) continued to come up with lame and mostly laughable excuses of why it did what it did. Several trustees even stupidly told the media that people should withhold judgment on the Board's actions until all the evidence was available. The irony was lost on the Board but not upon millions who were rightfully indignant about why the Trustees could take abrupt and unexplained action against Paterno, but wanted everyone else to withhold judgment about its own reasons.
In an effort to placate the alumni and several million Americans still outraged at the Board's incompetence, the Board (or whoever writes the Board's public statements) issued its "report," beginning with a trickle of crocodile tears about sharing "the grief of the entire Penn State family at the passing of Coach Paterno," and then praising both his and former President Graham Spanier's "lasting contributions."
The Board declared it "has always been" its intention to "to fulfill [Paterno's] employment contract and to name him head coach emeritus." Considering that the Trustees had fired Paterno illegally, they had no choice but to honor the contract. The title of "head coach emeritus" is window dressing.
A more fitting title, although it would never assuage the pain the Board caused Joe Paterno and his family, would have been to name him "professor emeritus," which does carry privileges and would recognize that Paterno, a member of the faculty, was far more than a coach. Almost as an after-thought, the Trustees in the latest statement casually tossed a one-liner that "other options" to honor Paterno "are also under consideration."
Trustee Marianne Alexander said the latest "report" was made because "We're trying to be responsible to our constituents."
If the Board of Trustees really wants "to be responsible," it would stop violating the state's Sunshine Law, would agree to be included in the state's Right-to-Know Law, would stop issuing silly statements to justify their own incompetence, reverse the firing of Joe Paterno (and possibly that of Dr. Spanier), and then resign.
Walter Brasch
Wanderings
Posted: Friday, 29 June 2012