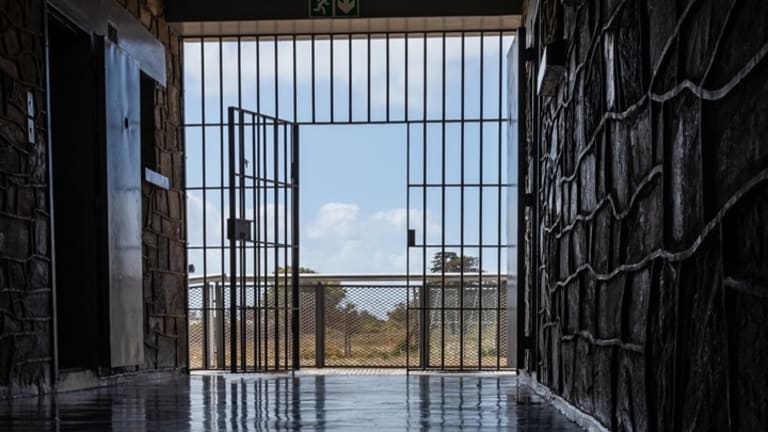 Prop 47 Five Years Later
Initially blasted by critics as a "get out of jail free card," Prop 47 was a long-shot that even supporters deemed likely to go the way of other reform efforts: nowhere.
Five years later: How a California prop changed national discourse on criminal justice reform
In 2015, 31-year-old Ingrid Archie was released from prison under California's Proposition 47, an unprecedented measure that reduces certain non-violent felonies to misdemeanors. Ingrid had been incarcerated for leaving her sleeping child in the car (um, something I recall my parents doing all the time) while she ran into Dollar General to buy baby formula—a mistake that cost Ingrid her freedom and her daughters, who were turned over to the foster care system.
Prop 47 just celebrated a fifth anniversary and, in this short time, California has gone from home of some of the harshest sentencing policies and the world's largest prisons to an innovative leader in compassionate reform. Also in this short time, Ingrid fought tirelessly to regain custody of her children, attended community college, and became a civic engagement coordinator and Prop 47 specialist at the South L.A. re-entry program for women, A New Way of Life. And I'm envious of her ease as she spoke so eloquently to a banquet hall of hundreds at A New Way of Life's annual gala—a skill she honed as part of her rehabilitation process. Without Prop 47, she'd have languished in prison for years. Is Ingrid exceptional? Sure, but she is hardly the exception.
Initially blasted by critics as a "get out of jail free card," Prop 47 was a long-shot that even supporters deemed likely to go the way of other reform efforts: nowhere.
Initially blasted by critics as a "get out of jail free card," Prop 47 was a long-shot that even supporters deemed likely to go the way of other reform efforts: nowhere. But 47's success has exceeded even its founders' ideals, and is now primed to be a nationwide model for effective and humane criminal justice reform.
The roots of 47 began in 2012 with Lenore Anderson, a 40-year-old attorney and the policy chief for San Francisco District Attorney George Gascón and previously Kamala Harris. Lenore was approached by philanthropists seeking to fix California's severe criminal justice crisis, resulting from decades of Tough on Crime policies that packed prisons and locked up a disproportionate number of people of color, especially for low-level offenses. A year earlier, the U.S. Supreme Court (in Brown v. Plata) ruled the extreme overcrowding in California prisons violated inmates' Eighth Amendment rights, and ordered the state to decrease its incarcerated population by nearly 50,000 inmates. The only result was a lot of shuffling around, but no sensible, long-term plan. The philanthropists were looking for someone capable of enacting a statewide solution, and—the truly daunting part—someone who could first come up with a solution.
A new mother, Lenore knew it wasn't ideal to leave a stable government job and try to be the little train that could against what, year after year, had proven an ill-fated track. Having previously worked in the Oakland and San Francisco mayors' offices, where she instituted violence prevention and gun buy-back programs and founded a juvenile justice task force, she knew the criminal justice system intimately—and knew it wasn't serving citizens or increasing public safety.
One in five California inmates was behind bars for a low-level offense (at a cost of around $80,000 per inmate per year), the punishment the same for simple drug possession or petty theft as for a violent or heinous crime. Lenore realized that coming up with an effective and compassionate statewide solution—or, at least attempting to—was a once-in-a lifetime opportunity.
A self-described "military brat" born in Waco, Texas, Lenore drifts into an occasional Southern lilt and operates at a high-energy, fast-thinking, fast-talking clip, though she's immediately disarming in her enthusiasm and no-nonsense, no-ego way of explaining complex issues and getting to the core of what needs to be done.
She left the D.A.'s office and formed the nonprofit Californians for Safety and Justice, then set about coming up with an entirely different approach to issues that had dogged the state for decades. There was no shortage of evidence for what hadn't worked: a graveyard of common-sense bills, including a failed 2012 attempt to change simple drug possession from a felony to a misdemeanor and a subsequent watered-down effort that offered prosecutors discretion in charging a drug possession offense.
Lenore believed these bills were stifled by politicians' lingering fear of being labeled "soft on crime," a holdover from the War on Drugs, even though her research showed California voters widely supported both drug law reform and alternatives to incarceration for low-level crimes. "What was clear was a big chasm between elected officials and the public," Lenore said. Because California is among twenty-one states with a citizen-initiated ballot process, Lenore decided to avoid the legislature and take the vote directly to the people.
She crafted four major tenants of Prop 47, entitled the Safe Neighborhoods and Schools Act: 1) Downgrading six low-level, nonviolent felonies to misdemeanors (simple drug possession, and under $950 of petty theft, shoplifting, receiving stolen property, forgery, and writing a bad check) 2) Allowing inmates serving felony sentences to petition a court for release from incarceration after reducing qualifying offenses to misdemeanors 3) Allowing people to remove old felony offenses from their criminal records, and 4) Reducing incarceration and reallocating the savings in state prison budgets to community-based mental health treatment programs, school programs for at-risk kids, and crime victim services.
She found early support and co-authorship from George Gascón, who'd started his career as an LAPD beat cop (he's currently in the race for L.A. District Attorney) and then-San Diego Police Chief Bill Landsdowne. Nothing on this scale had been attempted before, and they had formidable opponents, such as the District Attorneys Association and the Police Chiefs Association, threatening spikes in crime and rapists on the street.
Lenore rebutted with, of all things, empathy. "Prop 47 would mean a big change in how these folks will do their daily job," she said. "So their concern is understandable." She was also buoyed by a rare victory: the Three Strikes Reform Act (Prop 36) had passed overwhelmingly, removing California's mandatory 25-years-to-life sentence for a third nonviolent offense—one of the toughest policies in the nation that had packed prisons with Californians serving life sentences for offenses as minor as marijuana possession. But the Act left a gaping hole when it came to two strikes for a nonviolent offense, which was still met with a mandatory double sentence. Lenore hoped that Prop 47 would clear that up.
Unique to Lenore's efforts was her approach to get out-the-vote, which included rallying communities, such as South Central L.A., that had been devastated by harsh and discriminatory sentencing policies, but were typically ignored because of historically low voter turnout. "Political advice be damned," Lenore said. "We're trying to build a movement, not just win a campaign." Lenore's team provided resources to grassroots, community-based organizations, such as California Calls and PICO California, for training in direct voter contact, community education and outreach.
Groups such as A New Way of Life dispatched its predominantly female and formerly incarcerated members—some of whom were still on parole and didn't themselves have the right to vote—to knock on the doors politicians avoided; to hand out fliers at grocery stores; hold community forums in Watts, Compton and Long Beach; and register voters in the men's and women's county jails, where inmates who were not yet convicted still had the right to vote, as did those serving time for a misdemeanor conviction (this equated to roughly half of L.A. County's jail population who were eligible to vote and likely wouldn't have been given the opportunity). In all, around 300,000 new and infrequent voters were mobilized throughout the state. Lenore also brought together unlikely allies in support of the campaign—conservatives and liberals, victims of crime and those who'd served time. "It's a myth that mass incarceration is what victims want," Lenore said. "Victims know best the failings of a system that doesn't rehabilitate, that tears communities apart and puts people back unprepared."
By the time Prop 47 was on the ballot, Lenore felt confident the proposed policies aligned with what voters wanted, and 47 received endorsements from the Los Angeles Times, the New York Times and support from a broad swath of notables, from John Legend to Newt Gringrich. But the dissent was loud with what Lenore described as fear mongering and scare tactics. She was nervous. "We didn't know what would happen," she said. "We just really didn't know."
Californians went to polls and voted Yes on reducing incarceration, spending less on prisons, and giving people a second chance, passing Prop 47 with nearly 60 percent of the vote statewide and 64 percent of the vote in L.A. County.
The first wave of implementation released over 4,400 people from state prisons, with the greatest impact for women prisoners, the majority of whom were incarcerated for low-level crimes. In some counties, one in three felony cases became misdemeanors. Eventually, Prop 47 reduced the number of incarcerated Californians by 15,000, is responsible for 50,000 fewer felony arrests annually, and has saved the state $800,000 per day in incarceration costs. So far, $103 million in prison savings has been reallocated to communities to fund mental health treatment, drug rehabilitation, programs for at-risk students, and trauma recovery services for crime victims. Prior to 47, California had only one trauma recovery/victim services center (a pilot program at University of California, San Francisco that operated without permanent funding). Now, thanks to Prop 47, there are twelve centers throughout the state.
A staggering amount of people living with old felony convictions petitioned under Prop 47 to have their records changed. When Lenore was drafting 47, it was difficult to ascertain how many Californians had prior criminal records. "We really didn't know the full scale of who this might impact," she said, citing that this type of data was both difficult to find and to reliably interpret. But she admits she had no idea it was as great as 1.5 million people. "To think all these Californians could have the opportunity to shed the collateral damage of living with past felony convictions," Lenore said, invoking what was often referred to as the Wall of No—being shut out from jobs, housing, child custody, and schools after having to tick the felony box on most applications.
After the first year, Stanford Law School released a Proposition 47 Progress Report, citing an "exceptionally low" recidivism rate of under five percent for those released under 47, compared to the average of over forty percent within a year of release. The report also noted that 47 had exceeded the prison reduction numbers stipulated by the Supreme Court—a year ahead of schedule.
But even before the first person had been released under Prop 47, accusations held it directly responsible for increased crime. In reality, crime rates remained at historic lows, and because 47 was implemented on different timelines in each county, it was virtually impossible to correlate any fluctuation in statewide crime with the new measure. In 2018, a University of California, Irvine study, the first to apply rigorous statistical testing to Prop 47, showed no increase in violent crime and that an uptick in property theft, mostly noted in San Francisco, had no link to 47.
Still, there were grumblings—that possession of date-rape drugs, gun theft, and identity theft fell into the catch-all of Prop 47. When posed with the criticisms, Lenore ticked off each one: "Using anything to sedate for the purpose of sexual assault is a felony. Possession of a stolen firearm is a felony, regardless of monetary value. Identity theft is already in the penal code and can be processed as a felony."
Even the opposition began to fall off as Prop 47 achieved tangible results. One of the most vocal critics, Alameda County D.A. Nancy O'Malley, who'd blasted the ballot measure as a "Trojan horse" that "exposes Californians to significant harm" changed her tune after her county received a Prop 47 grant of $6 million for rehabilitation services. She was, she said "…confident that the Proposition 47 services will be instrumental in reducing recidivism and crime rates in our county."
Ingrid Archie had been sitting in county jail awaiting her court date when Prop 47 passed. She faced up to a seven-year prison sentence, since at the time of her arrest for "child endangerment" outside the Dollar General store she was on probation after having served a month in jail for shoplifting two items of baby clothes. The theft was well under the $950 threshold, making Ingrid retroactively eligible for Prop 47, but her public defender failed to acknowledge this. Instead, Ingrid was advised to take a plea deal of a felony charge and three years in prison. A couple of months into her prison sentence, Ingrid saw a flier about Prop 47. She wrote to the court, requesting a petition. Eight months later she received approval and was granted a release date. During her combined incarceration time, Ingrid earned her GED, took a parenting class and voluntarily completed a substance abuse program, which helped her deal with the trauma of growing up with a drug-addicted mom.
Effusing warmth, Ingrid is always quick to offer a hug and has a smile that lights her face. Gentle-voiced, she speaks deliberately and thoughtfully, her presence engaging. Prior to Prop 47 she tried desperately to work, at last hired at a Verizon call center, only to be let go once a background check revealed her record. But once her charges were reduced to misdemeanors, she enrolled in community college, found meaningful employment, and was able to rent a two-bedroom apartment and bring her daughters home.
"So many people, like myself, engaged in crimes of survival," Ingrid said. "If someone can't get food stamps because of a felony record, they may steal food. Our prison system was fueled by funneling black and brown bodies from poor communities so stripped of resources that people have to fight for basic necessities in ways that are criminalized."
Ingrid now helps over 700 people annually at Prop 47 clinics she facilitates alongside attorneys. "People can see themselves in me and see their capacity in the world without a life-long label placed on them," she said. Though, she's quick to add, "But we can't just stop at Prop 47. We have to continue to knock down barriers so that people can live a sustainable life, that means earning a living wage and being able to take care of their family. The fight still continues for so many people who don't have a voice."
Lenore and colleague Robert Rooks, previously with the NAACP, have now formed the Alliance for Safety and Justice to enact Prop 47-like policies around the nation. So far, with California as the model, legislation has passed in five other states. But the impact of 47 has extended well beyond policies. Five years ago, very few voices were broadcast in support of prison reform and rights for the formerly incarcerated.
The bold Prop 47 campaign fomented a massive shift in how America—and not just certain parts—talks and thinks about criminal justice reform. Since, Bill Clinton has apologized for his role in mass incarceration, Kim Kardashian has become a prisoner rights activist, criminal justice is a consistent film topic at the Oscars, the list goes on.
[dc]"W[/dc]e're light years from where the debate used to be," Lenore marveled. "Criminal justice reform is now considered a mainstream issue that's opening hearts and minds, bypassing political lines and transforming approaches to public safety. So much has changed, it's eye watering."
Cari Lynn