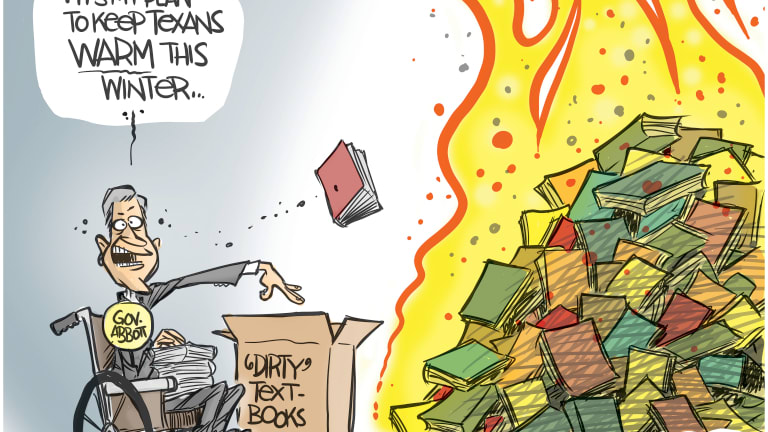 Proposed Censorship: Texas Plan to Ban
Cynthia McDermott: Historically, parents, board members, political and religious groups and elected officials, like Krause, have concocted lists of books that they claim meet some criteria that they oppose.
In Ray Bradbury's 1953 dystopian novel, Fahrenheit 451, his future American society had outlawed books. If a book was found, it was burned. The idea of censuring, banning or even destroying books has a long history. Ideas can be dangerous to those who disagree with their content. Throughout history and in many countries, attempts to limit or destroy ideas is not new.
Recently a letter from Texas Representative Matt Krause with a spread sheet of 850 challenged books was sent by him to the Texas Education Agency and superintendents across the state. His concern is apparently that students may feel discomfort, guilt, anguish, and other forms of distress because of their race or sex.
What he wants them to do is not clear and his letter was reported by NPR but is not on his website. His website does state that he is a "proud, faithful conservative fighter" who is running in a tight race for Texas Attorney General. As with many examples of censorship, it is quite difficult to imagine that he has read all of the books allowing him to have specific concerns for each.
As reported in the Texas Tribune, Texas State Teachers Association President Ovidia Molina said in a statement that the investigation is a "witch hunt" and that nothing in state law gives lawmakers the right to go after educators. "This is an obvious attack on diversity and an attempt to score political points at the expense of our children's education," Molina said.
Historically, parents, board members, political and religious groups and elected officials, like Krause, have concocted lists of books that they claim meet some criteria that they oppose.
Brandon Rottinghaus, a political science professor at the University of Houston, and reported in the Texas Tribune, said "it doesn't surprise him that Krause has taken initiative on a conservative item, especially since there is crowded field in the Texas attorney general race".
"He's not well known statewide, and so he needs to put down a pretty tall conservative flag to get notice," Rottinghaus said. "As a political statement, it certainly conveys the clear message that the Republicans are watching."
Rottinghaus said he doesn't recall a time in recent memory when legislatures have taken the role of investigating school districts.
Historically, parents, board members, political and religious groups and elected officials, like Krause, have concocted lists of books that they claim meet some criteria that they oppose.
As popular culture changes, so do the topics that are changed. What are the subjects of great concern this year? Anything that is interpreted as Critical Race Theory (CRT), LGBTQ stories, stories that provide a historical view of things like slavery or racism and of course sexual conduct as interpreted by the reader.
It is curious and one wonders how these lists are generated. Here are three books that many of us have read that are on many lists: To Kill a Mockingbird, Of Mice and Men and the Bluest Eye. Do you agree that they should be removed from library shelves? and these are just a few.
So, what can be done about these complaints? Fortunately, our brave librarians have come to the fight! The American Library Association (ALA) had a response more than fifty years ago to this kind of attack on free speech when their Office of Intellectual Freedom was created. Its tasks included providing support to teachers, librarians and others who were undergoing a challenge or a banning. They celebrate Banned Books week each year from usually from the end of September to early November. If you go to an independent book store the ALA would encourage you to buy a banned book.
As they report on their website (https://www.ala.org/, at their 1965 Midwinter Meeting preconference, the Intellectual Freedom Committee (IFC) recommended an ALA unit be established to "promote and protect the interests of intellectual freedom."
Among its interim objectives was to create "positive mechanisms" that could defend intellectual freedom, collaborate with state intellectual freedom committees, and establish relationships with other First Amendment groups. Their first director, Judith Krug once said, "It is our responsibility and indeed our privilege to stand on the First Amendment, to challenge censorship, to keep the light of liberty alive and by doing so, to push back a new dark age."
On November 29, 2021 the Executive Board of the American Library Association (ALA) and the boards of directors for ALA's eight divisions issued a joint statement regarding the increase in book challenges and removals from libraries and schools around the US. Here is part of their statement directly quoted.
In recent months, a few organizations have advanced the proposition that the voices of the marginalized have no place on library shelves. To this end, they have launched campaigns demanding the censorship of books and resources that mirror the lives of those who are gay, queer, or transgender or that tell the stories of persons who are Black, Indigenous, or persons of color.

Falsely claiming that these works are subversive, immoral, or worse, these groups induce elected and nonelected officials to abandon constitutional principles, ignore the rule of law, and disregard individual rights to promote government censorship of library collections. Some of these groups even resort to intimidation and threats to achieve their ends, targeting the safety and livelihoods of library workers, educators, and board members who have dedicated themselves to public service, informing our communities, and educating our youth. 

ALA strongly condemns these acts of censorship and intimidation.

We are committed to defending the constitutional rights of all individuals of all ages to use the resources and services of libraries. We champion and defend the freedom to speak, the freedom to publish, and the freedom to read, as promised by the First Amendment of the Constitution of the United States. 

We stand opposed to censorship and any effort to coerce belief, suppress opinion, or punish those whose expression does not conform to what is deemed orthodox in history, politics, or belief. The unfettered exchange of ideas is essential to the preservation of a free and democratic society.

This kind of attack continues and supporting our libraries and librarians, we can stand against the continued efforts to silence opposition. The research continues to be clear that neighborhood libraries create powerful opportunities for all users as well as supporting our First Amendment rights. Remember to visit your local library to help them stay in business.
Dominator culture has tried to keep us all afraid, to make us choose safety instead of risk, sameness instead of diversity. Moving through that fear, finding out what connects us, reveling in our differences; this is the process that brings us closer, that gives us a world of shared values, of meaningful community.