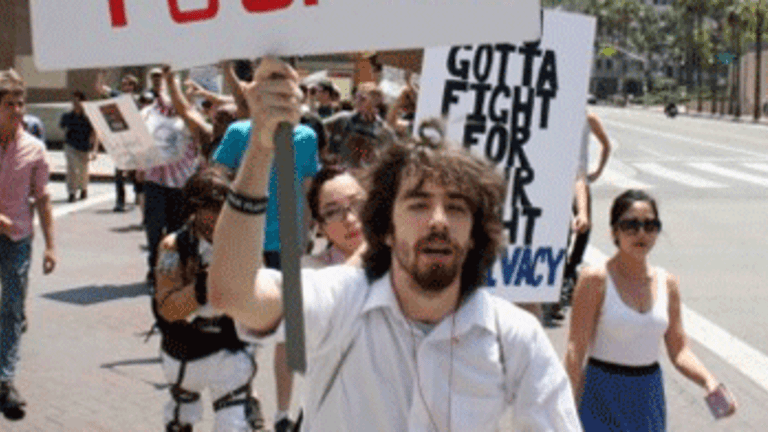 Protesting Domestic Surveillance
Dan Bluemel: Restore the Fourth's demonstration was the second of its kind in LA concerning Fourth Amendment rights since the NSA's actions were made public in early June.
Fourth Amendment advocates marched through downtown Los Angeles on July 4 demanding the government reign in its ubiquitous domestic surveillance.
Organized by Restore the Fourth, the action is part of a national movement that began in the wake of leaked top secret documents that revealed the NSA to be collecting vast amounts of Internet and phone data on Americans.
Jeremy Kauffman, an organizer for Restore the Fourth's LA chapter, challenged statements originally made by political figures, such as President Obama and Sen. Dianne Feinstein (D-CA), who attempted to downplay the significance of the NSA's spying."There is nothing modest about a total subversion of the Fourth Amendment," he said. "The whole function of this amendment is to prevent against this sort of dragnet, unaccountable surveillance system that has now been constructed."
Kauffman, a student at UCLA School of Law, warned against the consequences of insufficient government oversight, citing the FBI's smear campaign against Martin Luther King Jr. under its COINTELPRO program. In one of its most ignoble moves, the Bureau attempted to compel King to commit suicide by promising that certain embarrassing audio tapes would then never be made public.
"They bugged his house, church and hotel rooms," said Kauffman. "They then used that surveillance to try and discredit him. … Now for one second, consider how this history would have unfolded if they had the surveillance systems they now do."
The demonstration began at Pershing Square with about 180 protesters present. Several activists delivered speeches and the Declaration of Independence was read to those in attendance.
The action was Restore the Fourth's first demonstration. The protest movement was recently formed in light of the NSA revelations. According to the group's website, they aim to "end all forms of unconstitutional surveillance of digital communications by the U.S. government."
Xander Snyder, an organizer for Restore the Fourth, called the NSA's domestic surveillance a "disgrace to everyone who has fought and died for America." He urged people not to relinquish the rights bestowed to them in the Fourth Amendment.
"It's why our forefathers fought the Revolutionary War," he said. "So, when someone asks you, 'Why should I care? I'm not doing anything wrong,' tell them that people have fought and died for these liberties and you shouldn't be willing to give them up so easily."
Gen. Keith Alexander, head of the NSA and the Pentagon's U.S. Cyber Command, has defended the agency's surveillance programs, saying the spying has helped thwart some 50 potential terrorist attacks throughout the world, according to the Los Angeles Times.
"They assist the intelligence community efforts to connect the dots," he said.
But Snyder feels the arguments for massive surveillance are specious. Statistically, he said, Americans are more likely to die in a car accident or of drowning in a bathtub than to be involved in a terrorist attack.
"It makes no sense," he said. "It is truly irrational to be giving up such rights for such astronomically low-probability events."
After rallying for about an hour, an impromptu march was called and protesters headed for City Hall before moving onto Grand Park. Within minutes of entering the section of the park nearest to City Hall, a park employee alerted the park's armed security guards of their entrance.
"There's not much we can do about that," a voice replied through the employee's two-way radio.
Yet, when protesters attempted to enter the western most section of the park, between Grand Avenue and Hill Street, they were met by staff and security who physically attempted to bar their entry. LA County sheriffs on site did not intervene.
Security feared a disruption to a planned concert at the park, but protesters succeeded in breaking through. Though dogged by staff, security and sheriffs, their demonstration continued without incident.
"This is a public park. We have every right to be here," said Dee, who requested her full name be withheld. "We have rights and we are allowed to protest for those rights."
Earlier that day, an action in Santa Monica was conducted by Restore the Fourth's Venice chapter. There, activists were granted entry into the city's Fourth of July parade. The action was endorsed by Occupy Venice, Occupy Fights Foreclosures, Veterans for Peace and others.
Restore the Fourth's demonstration was the second of its kind in LA concerning Fourth Amendment rights since the NSA's actions were made public in early June.
Dan Bluemel
LA Activist
Photos: Dan Bluemel
Sunday, 7 July 2013