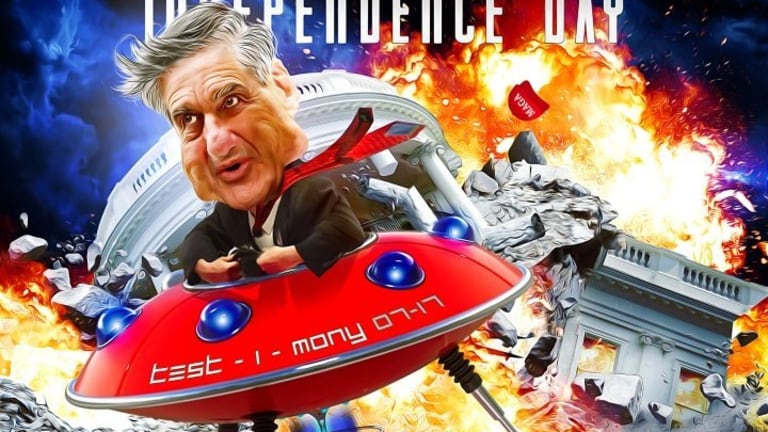 Questions to Ask Mueller
Ted Vaill: I thought I would use my 50+ years as a lawyer, prosecutor and criminal defense lawyer, to provide some guidance to our elected representatives in their moment of glory.
Members of Congress, many of them lawyers, should be able to ask intelligent questions of witnesses, but many of them get caught up in the spotlight of nationwide television and take their precious five minutes to tell the world how great they are, or to ask long questions that the witness won't answer or will give a meaningless reply.
As a result, I thought I would use my 50+ years as a lawyer, prosecutor and criminal defense lawyer, to provide some guidance to our elected representatives in their moment of glory. The following are questions and concepts which I have crafted from my reading of the Mueller Report several times. These questions are for the 24 Democrats on the House Judiciary Committee and the 13 Democrats on the House Permanent Select Committee on Intelligence, not the 17 Republicans (Judiciary) and 9 Republicans (Intelligence) on these committees, who will spend their five minutes on a clown show belittling Mueller and his Report.
I thought I would use my 50+ years as a lawyer, prosecutor and criminal defense lawyer, to provide some guidance to our elected representatives in their moment of glory.
It is noted that the Judiciary Committee includes the following members from California: Karen Bass, Lou Correa, Eric Swalwell, and our own Ted Lieu. On the Republican side are Jim Sensenbrenner and Steve Chabot (who were "House Managers" of the impeachment trial of Bill Clinton in the Senate in 1999), Louie Gohmert (called by some "the dumbest Member of Congress"), Jim Jordan and Matt Gaetz (who will use the occasion to put on ridiculous theatrics), and California right winger Tom McClintock, whom California Democrats would dearly love to retire in 2020.
The Intelligence Committee, chaired by the steady Californian Adam Schiff, includes fellow Californians Jackie Speier and Eric Swalwell, and Presidential candidate Sean Patrick Maloney of New York. Among Republicans on the committee, the only real clown is the infamous Devin Nunes, the Californian who was the former Chair. Since this committee deals with highly classified matters, most of the committee members are well regarded, other than Nunes.
The July 17 hearings are scheduled to consist of two hours (or more) of public testimony before each committee. It is also expected that Mueller will also testify behind closed doors before the Judiciary Committee, and Adam Schiff has stated that he expects to hold a private session with members of the Special Counsel's staff. It is also possible that the closed door session will be a joint one involving both committees.
Mueller has stated that he does not want to testify beyond the details included in his already published Report. However, some members of the committees have already seen many of the redacted portions of the Report, and questions may be posed regarding this redacted information in the closed session(s).
It is noted that if each of the 37 members of the Judiciary Committee take their full five minutes, that would total over three hours, plus any blustering and argument happening between questioning. The Intelligence Committee, with 22 members, could finish the public session in under two hours, but don't count on it.
The Mueller Report is divided into two volumes: Volume I relates to the interference by the Russians into the 2016 Presidential election, including the Russian "active measures" social media campaign, Russian hacking and dumping operations, and Russian government links to and contacts with the Trump campaign. Volume II relates to obstruction of justice by Trump and his campaign. Questions will undoubtedly relate to both areas.
1. The August 2, 2016 Cigar Club meeting
A major [unredacted] finding in the Report involved the August 2, 2016 meeting of Trump campaign manager Paul Manafort and his deputy Rick Gates with Konstantin Kalimnik, who has ties to Putin and Russian intelligence, at a New York City cigar club: "Manafort instructed Rick Gates…to provide Kilimnik with updates on the Trump campaign - including internal polling data…Manafort expected Kilimnik to share that information with others in Ukraine and with Deripaska [a Russian close to Putin]. Gates periodically sent such polling data to Kilimnik during the campaign." (Report, Vol. I, p. 129) "Manafort briefed Kilimnik on the state of the Trump Campaign and Manafort's plan to win the election. That briefing encompassed the Campaign's messaging and its internal polling data. According to Gates, it also included discussion of 'battleground' states, which Manafort identified as Michigan, Wisconsin, Pennsylvania and Minnesota." (Report, Vol. I, p. 140)
Trump ended up winning the electoral votes of the states of Michigan, Wisconsin and Pennsylvania by a total of less than 78,000 votes, and these victories provided him enough additional electoral votes to win the Presidency. Mueller determined that "The Office could not reliably determine Manafort's purpose in sharing internal polling data with Kilimnik during the campaign period…Because of questions about Manafort's credibility and our limited ability to gather evidence on what happened to the polling data after it was sent to Kilimnik, the Office could not assess what Kilimnik (or others he may have given it to) did with it. The Office did not identify evidence of a connection between Manafort's sharing polling data and Russia's interference in the election..", (Report, Vol. I, pp. 129-130).
Really? It seems as clear as day that providing this confidential internal polling information to a Russian operative close to Putin told the Russians exactly where to focus their election interference activities - the four Midwest states that were pivotal to Trump's election, three of which he won narrowly. This is "collusion" by Trump's top campaign officials with the Russians, or in legal terms, a "conspiracy" to swing the election to Trump. Congress does not need a ""beyond a reasonable doubt" determination to reach a decision that there was a conspiracy to collude with Russia to rig the election. And Mueller never interviewed Trump directly to determine if he had any knowledge of the Cigar Club meeting or the passing of campaign polling data to the Russians, or directed it to be done.
2. The June 9 meeting in Trump Tower
This infamous meeting organized by Brit Rob Goldstone for Donald Trump Jr., Jared Kushner and Paul Manafort, in Trump Tower just below Donald Sr.'s office, to meet with four Russians with ties to Putin, was a "nothing burger", to use the words of Donald Jr. However, the fact that they agreed to hold the meeting "to get dirt on Hillary Clinton" has to be considered an "endeavor" to conspire to collude with Russians. Much of the discussion regarding this meeting is redacted, so only those Members of Congress who have seen the redactions can pose intelligent questions.
Before the meeting, Trump trumpeted that the following week he would hold a major speech regarding Hillary Clinton. Trump had to know of and approve the holding of the meeting, which took place while he was in his office a floor above. And he had to have been told thereafter that the meeting was unproductive, as he did not deliver that Clinton speech the following week. But Trump was never interviewed under oath, nor was Don Jr. interviewed by Mueller. Trump, Jr. convened the meeting and would have been the one to communicate with Trump before and after the meeting. Trump's written responses to Mueller's questions stated the he had "no recollection of learning of the meeting or the emails setting it up at the time the meeting occurred or at any other time before the election…The President declined to answer questions about his knowledge of the June 9 meeting or other events after the election." (Report, Vol. II, p. 99).
Mueller concluded that Donald Trump, Jr. was too dumb to realize that "his response to the offer [to host the meeting] and the June 9 meeting itself violated the law". (Report, Vol. I, p. 188)
If Trump knew about and approved the June 9 meeting beforehand, he would have been part of an endeavor to conspire to collude with the Russians. The Special Counsel concluded that Trump endeavored to prevent disclosure of emails by senior campaign officials about the meeting, directing the White House response, even to the point of drafting a press release about the meeting. (Report, Vol. II, pp. 100-105) Mueller concluded this section of the Report by making a very weak analysis (Report, Vol. II, pp. 105-107) of the potentially obstructive act, its nexus to an official proceeding, and the intent of the President here.
Volume I of the Report concluded (p. 173) with this strange statement: "In sum, the investigation established multiple links between Trump Campaign officials and individuals tied to the Russian government. These links included Russian offers of assistance to the Campaign. In some instances, the Campaign was receptive to the offer, while in other instances the Campaign officials shied away. Ultimately the investigation did not establish that the Campaign coordinated or conspired with the Russian government in its election-interference activities." Based on what I outlined above, Mueller could easily have reached the opposite conclusion.
Congress, do your job and question Mueller carefully about how forcefully he and his staff sought to get to the truth here.
3. Other Substantive Areas of Inquiry
Fertile areas of questioning also relate to why the platform at the Republican Convention softened the wording calling for the armed support of Ukraine, dealings of Trump campaign officials with Russian Ambassador Kislyak, and Erik Prince's meeting with a Russian ally of Putin in the Seychelles. And another area of inquiry is certain to be the 10 areas where Trump obstructed justice.
4. Mueller's Failure to Finish the Collusion investigation
Mueller's marching orders from Congress were to investigate "any links and/or coordination between the Russian government and individuals associated with the campaign of President Donald Trump; and any matters that arose or may arise directly from the investigation". Mueller therefore was not charged to investigate Russians who contacted Trump and/or his campaign who were not part of the "Russian government", but were loosely associated with Putin and his thugs, such as oilgarchs and private Russian citizens who were spies or financial "consultants" with no direct current ties to the Russian government. At the same time, the Trump "campaign" consisted of a loosely organized, often chaotic assemblage of individuals who drifted in and out of the campaign at the whim of Trump and his family.
Much of Volume I of Mueller's report was a confession that he was not given the tools to do a complete investigation. Here are some of his admissions in this regard:
Trump, in his written answers, suffered from an extreme lack of recollection, contrary to his past boast that "I have one of the greatest memories". Yet Mueller did not press for an interview of the President under oath: "We weighed the costs of potentially lengthy constitutional litigation, with resulting delay in finishing our investigation, against the anticipated benefits for our investigation and report…we determined that the substantial quantity of information we obtained from other sources allowed us to draw relevant factual conclusions on intent and credibility, which are often inferred from circumstantial evidence and assessed without direct testimony from the subject of the investigation." (Appendix C, p. C-2) However, as Bill Clinton found out to his detriment in the Paula Jones matter, intensive questioning under oath, where recollection can be tested at length, usually gets the truth out. And Trump was known to be a bad witness, unable to control his tendency to lie.
Several pending cases, including Roger Stone's, have been transferred to other U.S. Attorney's offices, and 14 "ongoing matters" have also been referred to those other offices, particularly the Southern District of New York. (Report, Appendix D) 12 of the 14 matters (except the ones involving Michael Cohen and Geoffrey Craig), have been redacted out, but most likely they involve the Trump Organization's long history of laundering Russian money through Deutsche Bank and possibly the New York Mafia. This will be a fertile area for questioning in the closed session.
Mueller noted (Report, Vol. I, p.10) that "the investigation did not always yield admissible information or testimony or complete picture of the activities undertaken by subjects of the investigation" because they took the Fifth Amendment and were not considered appropriate candidates for grants of immunity. Mueller has finished his Report, and Congress could ask who these people were who took the Fifth Amendment and/or were not given immunity. Congress should decide to do it themselves now that the ball is in their court.
"Some of the information obtained via court process, moreover, was presumptively covered by legal privilege and was screened from investigators by a filter (or "taint") team." (Id.) Congress is not seeking to indict the President for criminal acts, but to determine if he abused power and committed "high Crimes and Misdemeanors". Get the damn documents…
Mueller complained that "internal Department of Justice policies" limited its pursuit of information known to attorneys or individuals claiming to be members of the media, or legally privileged information. (Id.) Congress also should ask Mueller who claimed the Fifth or claimed that they were members of the media, and try to verify if these reasons for non-answers were correct.
Mueller also noted that some witnesses provided information that was false or incomplete. Who? And can they be hauled before Congressional committees and required to answer?
"the Office faced practical limits on its ability to access relevant evidence as well - numerous witnesses and subjects lived abroad, and documents were held outside the United States". (Id.) OK, Congress, the DoJ went to England to interview the dossier guy, Christopher Steele. Why can't you locate and interview these subjects and witnesses living abroad, and go after the documents located abroad. You have money, and investigators. Find the data, and get it.
"the Office learned that some of the individuals we interviewed or whose conduct we investigated - including some associated with the Trump Campaign - deleted relevant communications or communicated during the relevant period using applications that feature encryption or that do not provide for long-term retention of data or communication records." (Id.)
Who were these persons who destroyed data, used encryption devices, or sent messages with short-term retention? Haul them before you and ask them what they deleted, and why.
Mueller concludes this section of the Report with an interesting statement:
"Accordingly, while this report embodies factual and legal determinations that the Office believes to be accurate and complete to the greatest extent possible, given these identified gaps, the Office cannot rule out the possibility that the unavailable information would shed additional light on (or cast in a new light) the events described in the report."
(Report, Vol. I, p. 10)
So, Congress, Mueller has asked you to finish his job and fill in the "gaps". Locate the "unavailable information", and over the next few months plug in the data and testimony that Mueller was unable to access, and impeach the bastard…
Ted Vaill