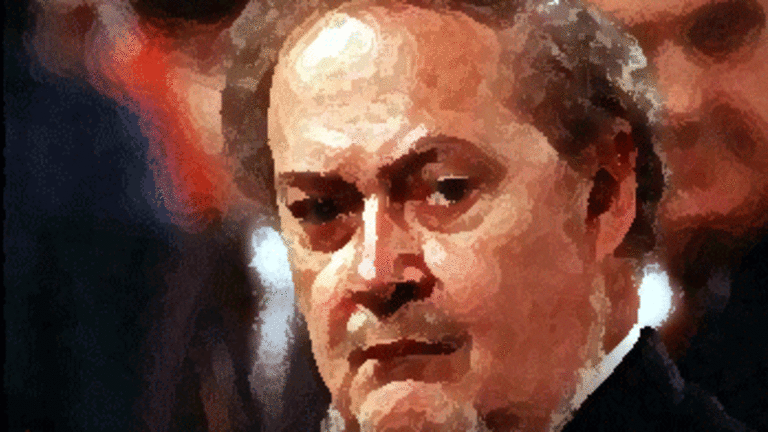 Robert Bork: A Pass on Watergate, Not 'Original Intention'
Stanley Kutler: Bork inevitably opposed judicial decisions favoring contemporary values and desires, readily attacking judges who found ample constitutional support for ruling on behalf of second-class citizens, whether they wanted to eat at any lunch counter or get an abortion.
The death of Robert H. Bork on Wednesday brings to mind his singular moment: the Senate's rejection of his Supreme Court nomination in 1987. The criticism and assault against him marked a sea change in the process of both nominations and confirmations. The 42-58 bipartisan rejection of Bork resulted from many reasons, including personal and ideological. Rarely has a Supreme Court nominee's record been so challenged, an inquiry Bork relished. The attack even coined a new verb: "Borked."
Within an hour of President Ronald Reagan's nomination of Bork to the Supreme Court on July 1, 1987, Sen. Ted Kennedy, D-Mass., delivered a blistering assault on the circuit court judge, with the benefit of national television cameras watching. Bork's Constitution, Kennedy alleged, would mean women would get sent into back-alley abortions, blacks would eat at segregated lunch counters, schoolchildren would not be taught evolution and so on.
Kennedy also said Bork's nomination reached back into the "muck of Watergate." Bork then, and later, never was able to shake his image as Richard Nixon's accomplice to the events of October 1973; specifically, Kennedy accused Bork of executing the president's "unconscionable assignment" of firing Watergate special prosecutor Archibald Cox, and said Bork contributed to "one of the darkest chapters for the rule of law in American history." Bork's Watergate moment offered significant basis for the opposition. Indeed, Bork carried that burdensome image for the rest of his life, but it was unfair and simply wrong.
Nixon ordered Attorney General Elliot Richardson to dismiss Cox. The special prosecutor had sought a subpoena for Nixon's Oval Office tapes, and at the moment the matter was pending at the appellate level. More than anyone else, Nixon realized the precariousness of his position, and he desperately sought to moot the matter by abolishing the special prosecutor's office. Richardson and his deputy, William Ruckelshaus, informed Solicitor General Bork, then third in command at the Justice Department, that they would resign rather than execute the president's order. Bork likewise announced his intention to resign, but Richardson urged him to remain at his post and carry out Nixon's order; Richardson feared that the chain of command would be broken and that the White House would send one of its lawyers to head the department and fire Cox. Thus, the event that became known as the "Saturday Night Massacre."
On Saturday, traditionaly a downtime in the news cycle, Richardson, Ruckelshaus and Bork walked to the Justice Department auditorium for a televised news conference. On the way, Bork claimed that he had asked Richardson to explain the decision to have Bork execute the president's order. According to Bork, Richardson agreed to do so but he never did. Subsequently, Richardson acknowledged and confirmed Bork's version of events. When I asked Richardson why he never defended Bork at the time—or later—his answer was classic Washington: "No one asked me."
Incidentally, Bork dismissed Cox but he did nothing to abolish the office and retained the special prosecutor's sizable staff. It remained in place for Leon Jaworski, who completed Cox's work and largely engineered Nixon's resignation.
Bork had to answer in 1987 and afterward for many of his views—not the least of which was in his article urging the application of the Constitution's "original intention" as the core for judicial rulings. Bork easily could reconcile his views to his discovery of original intention, contending that it was the sole marker for determining constitutional law. Consequently, Bork inevitably opposed judicial decisions favoring contemporary values and desires, readily attacking judges who found ample constitutional support for ruling on behalf of second-class citizens, whether they wanted to eat at any lunch counter or get an abortion. The idea of a "living Constitution" was anathema to him and his collaborator, Supreme Court Justice Antonin Scalia, who has attacked the concept's proponents as "idiots."
Bork's argument for "original intention" served his self-promoted philosophy of judicial restraint, and was a vehicle for imposing his own political and cultural preferences. Sadly, the senators and their staffs proved unwilling or unable to engage him in any meaningful way on the subject.
Bork's article was published without fear and without research, but was widely publicized and repeated in political circles unhappy with contemporary directions in constitutional law. It was also picked up by popular media, which believe any new viewpoint automatically supersedes previously held notions. After all, the article had appeared in the prestigious Yale Law Journal. It remains the "scholarly" underpinning for currently fashionable judicial rulings uttered in the name of "original intention."
Determining "original intention" is no scientific endeavor providing absolute clear answers, as Bork wanted us to believe. Pauline Maier's recent book, "Ratification," the most thorough examination we have of the constitutional understanding of 1787-89, demonstrates the multiplicity of views on almost any part of the Constitution and the futility of determining "original intention." No one can weigh the formidable ratification evidence, and share Bork's faith in original intention. Perhaps one might discover "original intention" on a Ouija board, but that is not history.
Stanley Kutler
Republished from Truthdig with the author's permission.
Saturday, 22 December 2012