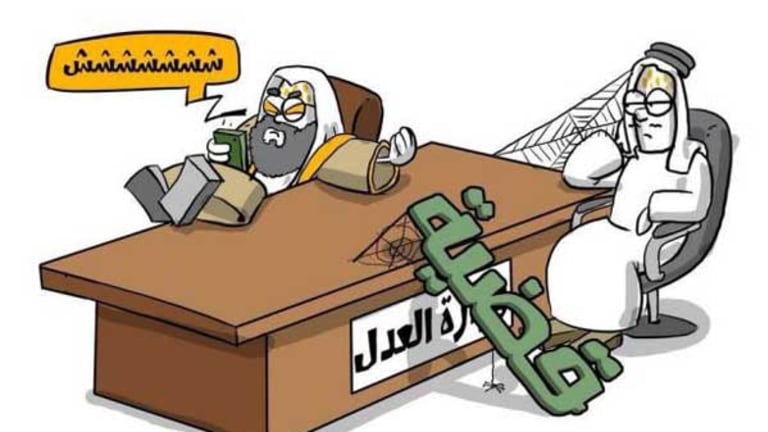 Besbb Taghreeda: Because of a Tweet
Rebecca Martin: As far as the current penalties are concerned, it's worth noting that earlier the Ministry of Justice had ruled to withdraw the lawyers' licenses—and fined them of amounts as high as 500 thousand riyals. [Their final penalty is six times that.]
Saudi Lawyers Convicted
A few days ago, a friend—I'll call this person "Anonymous"—sent me an article about the recent conviction of three Saudi lawyers. The lawyers were accused of tweeting comments critical of the Ministry of Justice—and as far as I know, their exact comments and how they warranted imprisonment have only appeared in Altagreer.com, an Arabic-language site based outside the Kingdom.
Anonymous's translation of the article is pasted below
As well, Al Tagreer (The Report) asked Anonymous to provide them with links to the translated article as it may appear elsewhere.
Anonymous—and the lawyers—are well aware of the dangers of questioning authorities in Saudi Arabia.
To provide a little context for how the punishment of the lawyers can be considered egregious, take the case of Fayhan Al Ghamdi, a religious scholar accused in 2011 of raping his five-year-old daughter. The child was admitted to hospital with a broken back, ribs, and left arm; a crushed skull, and burns and extensive bruising. "Raped everywhere," a hospital social worker said. After suffering from her injuries for nearly two years, the girl died in October 2013.
Al Ghamdi's case was initially dismissed on the grounds of his clerical status (he also claimed the child was having sex with others). But after the girl's death, he was retried and confessed to beating her with cables and a cane.
He was sentenced to 600 lashes and eight years in prison—a sentence reduced because he was allowed to pay blood money to the girl's mother.
Yet when Raif Badawi, the co-founder of the Free Saudi Liberals blog, hosted material stating his desire for a peaceful discussion of religious values, he was accused of apostasy—for which the punishment is beheading.
His case bounced from lower to upper and back to lower courts for two years. The apostasy charge was eventually dropped. But because there were no deaths involved in his case, paying blood money was not an option.
In May 2014, after Badawi appealed against an earlier more lenient conviction, his sentence was increased to 1000 lashes and ten years in prison. He also received a fine of 1 million riyals, about $267,000 U.S.
As Anonymous says, "This is a country where criminals get treated better than human rights activists."
Here is the article translated into English, with a few added explanations.
Because of a Tweet
On Monday morning, October 27, 2014, a court in Riyadh issued a verdict against three lawyers. The charges that were filed against them were drawn from their tweets and were formulated in the List of Public Prosecutions as "Contradicting the Superior" and "Court Contempt".
The lawyers were sentenced to five to eight years, and prohibited from writing and leaving the county.
Dr. Abdulrahman Alsubaihi was convicted of "contradiction" for his views on the Middle East when criticizing the Ministry of Foreign Affairs, and for posting tweets "insulting" the Ministry of Justice, that detainees of the court were being held arbitrarily.
He was sentenced to 8 years imprisonment: 5 years according to Article VI of Saudi Arabia's Information Control System [or Meta-data Crime as it is sometimes called, a set of rules the lawyers claim they've never heard of], and the remaining 3 years for contradicting the court superior. He is also prohibited from leaving the country for 10 years after his sentence is completed.
Abdulrahman Alrumaih, a former judge in Riyadh General Court, was convicted of information crimes, and a tweeted statement claiming that "The percentage loss of court documents and papers in the Ministry of Justice is 20%."
Alrumaih received a 5-year prison sentence, after which he is prohibited from leaving the country for 7 years.
Finally, Bander Alnogaithan, a Harvard graduate, was also convicted of information crimes under the same charge of tweeting criticisms of the judiciary. As well, he received a 5-year sentence and a 7-year travel ban.
The three lawyers are also prohibited from appearing in the press or writing in social media under any circumstances.
The final session ended with the objections of the defendants while the prosecutor demanded a maximum fine of 3 million riyal. [Nearly $800,000.]
A year of prosecution
On a different note, prosecutions against the lawyers had started in September 2013, when activists created the hashtag Moj_monitors_lawyerstweets, in response to a statement by Fahad Albakran, spokesman for the Ministry of Justice.
Albakran had stated, "There is no management or special department for follow-up and monitoring of lawyers. But we monitor their tweets and discussions about special cases when it is clear that the law is being violated."
Albakran also said: "Punishment will vary from a reprimand to a warning to withdrawing their license."
At the time, lawyer Alnogaithan wrote a series of tweets describing the spokesman's statement as foolish, and that the ministry is tripping [sic] after people who note the ministry's lack of achievement on the ground.
He added that honorable lawyers will not stand by and watch a ministry "out of order." He also called the penalty of license withdrawal "a childish threat."
The Ministry of Justice then filed a request to punish electronic publishing irregularities, and accused the three lawyers of abusing the Ministry's reputation. They cited tweets from the lawyers: "Worst and ugliest ministry in Saudi Arabia." "Lack of credibility in keeping oaths." "Smack talk." "Ministry news as if from Superman."
A number of charges by the Ministry were deemed unacceptable. For example, the ministry charged one of the lawyers for re-tweeting graphics by Saudi caricature artist Abdullah Jaber. [Yet Jaber himself was never charged.]
What do the actions of the Judiciary mean for those who dare to speak out now?
As far as the current penalties are concerned, it's worth noting that earlier the Ministry of Justice had ruled to withdraw the lawyers' licenses—and fined them of amounts as high as 500 thousand riyals. [Their final penalty is six times that.]
But the general system does not allow combining sanctions like both the former and current penalties.
Finally, it is important to mention that Monday's trial occurred in Riyadh's specialized criminal court, a court that was founded to prosecute terror suspects—and human rights activists.
Rebecca Martin and Anonymous