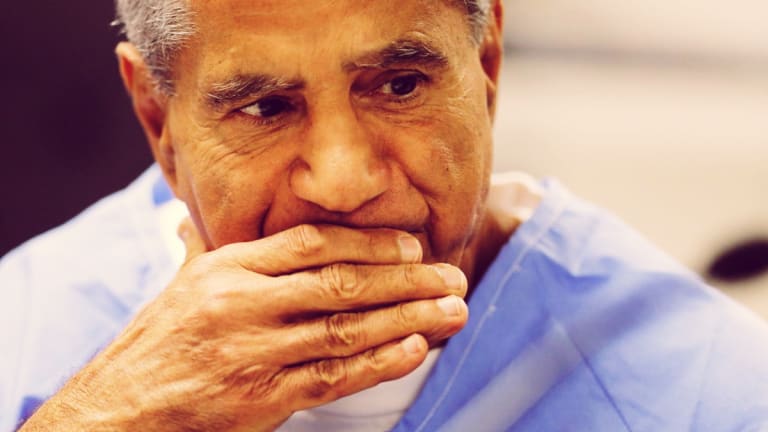 Sirhan Sirhan: Forgive the Man, Not the Assassination
Paul Kleyman: Assassination stands as a special circumstance that should obviate any individual indication of rehabilitation that would otherwise deem a political killer worthy of release from a life sentence.
Where is the line between crime and compassion, between what's dangerous and who seems benign? As a journalist who has long focused on the rapid aging of America, one issue I've covered with keen interest has been mass incarceration and the rapid aging of America's prisons. I've worked on many stories exposing the need for humanitarian release of older inmates, many held for decades beyond their capacity to perpetrate any reasonable threat to society.
One ACLU study showed how few former inmates ages 50-plus return to criminal activity. And over a 15-year period, those freed at age 65 or more accounted for zero new arrests.
But what of the heinous crime committed a half-century ago by a young adult, someone now age 77, a man long praised as a "model prisoner," was the assassin who killed Robert F. Kennedy? What if the man who presents to the state Parole Board as a soft-spoken senior with a gentle smile framed by puffy, apple-doll cheeks is Sirhan B. Sirhan? Should that make a difference?
I believe it should. Assassination stands as a special circumstance that should obviate any individual indication of rehabilitation that would otherside deem a political killer worthy of release from a life sentence.
California's aging prison population has benefitted from positive changes to the state's harsh parole practices in recent years. For instance, 2018 legislation requires previously rigid parole commissioners in the state to consider mitigating factors, such as an inmate's youth when committing the crime, current age, and the effects of childhood trauma.
Having come to the United States with his family from Jordan in childhood as a Palestinian Christian refugee, Sirhan had witnessed the brutal killing of a woman by an Israeli soldier. He grew up in Southern California and, as a community college student angered by Bobby Kennedy's pledge of military support for Israel, made his way to the Ambassador Hotel the fated night of June 6, 1968, snuck through the crowd of well-wishers and shot him dead, also wounding five others.
This year, August 27, a two-member committee of California's Parole Board stirred their sympathies for a kindly older man into a surprising recommendation that Sirhan be released now to live with his brother in Pasadena.
Their decision still must be approved or rejected by the full Parole Board by late November. And if they green-light Sirhan's parole, Governor Gavin Newsom would have 30 days to halt the order.
Newsom, though, sparked speculation that he might well halt the parole in September during his victory speech on prevailing in the recall election. He quoted "my political hero, Robert Kennedy" and his hope "to make more gentle the life of this world."
Despite my strong belief in parole, compassionate release for frail inmates, and other redemptive measures ending the imprisonment of those posing no individual threat to their communities, the announcement regarding Sirhan stopped me cold. Did the two parole commissioners consider the nature of assassination? Shouldn't the political drive behind the of crime he committed before the world at age 24 also be a factor, along with the apparent personal "improvement" noted by a parole commissioner?
For all of my sympathies toward "lifers," so many devasted by excessive mandatory sentences, and my criticism of the injustices contaminating the American justice system, I view the crime of Sirhan Sirhan as far more egregious and complicated than the impulsive killing of, say, a robbery victim a half century ago.
I'll also stipulate that I am Jewish — one who has long opposed Israel's destructive repression of Palestinians under Israel's right-wing leaders. Furthermore, in June 1968, I joined my fellow new lefties in not voting for Kennedy in his race for the Democratic nomination.
And in November 1978 I was staggered by the news that Harvey Milk, whom I knew and liked, was assassinated along with Mayor George Moscone by a killer, former policeman Dan White, who hated gays and liberals. White would be convicted only of voluntary manslaughter when San Francisco's District Attorney Dan Freitas failed so much as to mention the word "assassination."
That opened the door for White's defense to play on the all-white and straight jury with the "Twinkie defense." Prosecutors claimed White was distraught at losing his job as a county supervisor and suffered from "diminished capacity" fed by sugary junk food. The verdict triggered the "White Night" violence of cops attacking protesters in the city's LGBTQ Castro district. Freitas would be voted out of office. Dan White served five years and committed suicide. And this city remains haunted by the double homicide that was never called in court by its right name.
Yet, to my admissions, please join me in saying, "So what?" My personal sympathies for progressive causes, including many that Sirhan claimed to hold but served so destructively, and Gov. Newsom's stated reverence for Kennedy are irrelevant. Sirhan's political motivation and the terrible inspiration it may trigger among militants ought not be uncuffed in a charade of benevolence toward a harmless old man.
An assassin pulls the trigger on democracy itself; Sirhan's shooting of Bobby Kennedy, moments after he declared victory in California's presidential primary election, was an indelible attack on the American experiment that, for all its flaws, has survived many tests of violence, if barley, most recently on January 6. When I saw the news about Sirhan's recommended parole, I blurted at my screen, "What were they thinking?"
According to an Associate Press report, parole commissioner Robert Barton commended "'the improvement that you've made, and all of the other mitigating factors, and we did not find that your lack of taking complete responsibility' for the crime as proof of currently being dangerous to society." Huh?
Barton did raise concern that, if released, Sirhan could become a "symbol or lightning rod to foment more violence." To that, Sirhan replied that he is "too old" to involve himself in Middle East conflicts. He added that it's just as likely that he could become "a peacemaker and a contributor to a friendly nonviolent way of resolving the issue." Yet, assassination, the ultimate hate crime, breaths historically with a life of its own; its perpetrators need to be held accountable beyond any individual's future regrets or claim to wiser ways.
Sirhan says he was drunk when he killed RFK—a man he praised at the parole hearing as "the hope of the world." Claiming that he does not remember the shooting, Sirhan told the parole commissioners that he regrets the harm caused by "such a horrible deed, if I did in fact do that." Inebriated into a mental haze or not, what motivated him to pack a gun at Kennedy's election night rally and find his way through the adoring crowd along the candidate's kitchen exit path?
In most circumstances, I'd be sharply critical of any other attempt to inject a defendant's political beliefs into an adjudication. Assassination, however, is defined by its politics, and therefore its violence does not cease in the pierced chest of its victim; it smolders in the headlines, such as those that Los Angeles police records show Sirhan repeatedly asked about in the days after his arrest. He was hungry to know what the world thought of him.
Even in taking Sirhan at his word, mustn't the justice system ask, beyond his personal lack of risk as a danger to society, how his release may be regarded by those who embraced his act? Have authorities examined social media, for instance, that might still celebrate his crime and seek inspiration from him for further incitement to violence? Has he ever written or spoken about the value of non-violent action? His actions struck a blow against civil order. And he failed miserably to cease US military support of Israel.
In my view, the act of assassination is the gravest affront to democracy imaginable. Sirhan's violence was politically purposeful; he was not like John Hinckley, Jr., now 66, judged mentally deranged when he shot President Reagan in hopes of impressing the actress, Jodie Foster.
"Assassination" is a word that must be invoked in the case of Sirhan Sirhan. The arguments for freeing him have, so far, evaded the shadow of politics. The state parole commissioners' regard for him simply as a once-errant youth who made a terrible mistake grievously ignores the true harm of this highest of criminal acts.
News reports say the Kennedy family is divided on Sirhan's possible release. That's not surprising in a large family so immersed public policy debate.
The strongest voice, I believe, came from the late Ted Kennedy. After Sirhan was convicted and awaited sentencing, Kennedy, then age 36, having seen his two older brothers cut down by assassins' bullets, wrote California's attorney general to urge the state to spare Sirhan from the death penalty and instead sentence him to life.
Kennedy stated, "My brother was a man of love and sentiment and compassion. He would not have wanted his death to be a cause for the taking of another life. You may recall his pleas when he learned of the death of Martin Luther King. He said that 'what we need in the United States is not division, what we need in the United States is not hatred. What we need in the United States is not violence and lawlessness, but love and wisdom and compassion towards one another.'"
The judge, however, did sentence Sirhan to death, only to have California's Supreme Court strike down the lethal statute in 1972. Voters soon reinstated the death penalty, but a court ruling also halted Sirhan's journey to the gas chamber. His sentence was commuted to life, although curiously, with the possibility of parole.
But the humane spirit of Ted Kennedy should, in my view, prevail today. Allow the man his life, enabling him to continue the purposeful commitment he has demonstrated to assisting other, often younger inmates. In what better environment than a prison could he exercise his stated commitment to nonviolence?
More importantly, though, Sirhan's incarceration for the remainder of his years is necessary for our system's unmitigated rejection of political murder, especially at this time when our democratic process most needs reaffirmation. Forgive the man with his life, but condemn the crime against our democratic foundations.
It's my hope that the full Parole Board or Governor Newsom will reject the release of Sirhan Sirhan.