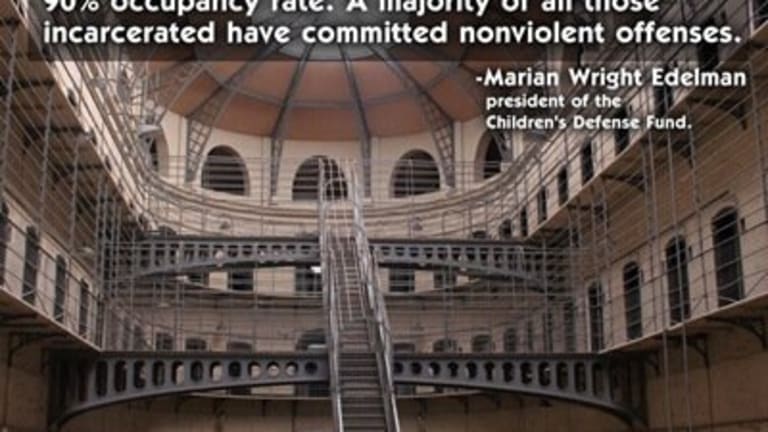 Six Shocking Truths about Prisons
Sharon Kyle: At least 37 states have legalized the contracting of prison labor by private corporations. Companies like Boeing, Motorola, Microsoft, AT&T, and Target are reaping major benefits from this captive labor pool.
Prison Profiteers Keep Getting Richer
Salon.com published an article about the ways in which private for-profit prisons are socking it to the taxpayer even though prison privateers claim that they help states to save money. Using data gleaned from a report published by In the Public Interest, a comprehensive resource center on privatization and responsible contracting, Salon put a spotlight on some things the privateers would rather you didn't know. In "Six Shocking Revelations About How Private Prisons Make Money", Salon.com reported:
65 percent of the private prison contracts In The Public Interest received and analyzed included occupancy guarantees in the form of quotas or required payments for empty prison cells (a "low-crime tax"). These quotas and low-crime taxes put taxpayers on the hook for guaranteeing profits for private prison corporations.
Occupancy guarantee clauses in private prison contracts range between 80% and 100%, with 90% as the most frequent occupancy guarantee requirement.
Arizona, Louisiana, Oklahoma and Virginia are locked in contracts with the highest occupancy guarantee requirements, with all quotas requiring between 95% and 100% occupancy.
Though crime has dropped by a third in the past decade, an occupancy requirement covering three for-profit prisons has forced taxpayers in Colorado to pay an additional $2 million.
Three Arizona for-profit prison contracts have a staggering 100% quota, even though a 2012 analysis from Tucson Citizen shows that the company's per-day charge for each prisoner has increased an average of 13.9% over the life of the contracts.
A 20-year deal to privately operate the Lake Erie Correctional Institution in Ohio includes a 90% quota, and has contributed to cutting corners on safety, including overcrowding, areas without secure doors and an increase in crime both inside the prison and in the surrounding community.
When asked, "So what's really behind the drive to privatize prisons, and just about everything else?", noted economist and New York Times Op-Ed columnist Paul Krugman responded:
One answer is that privatization can serve as a stealth form of government borrowing, in which governments avoid recording upfront expenses (or even raise money by selling existing facilities) while raising their long-run costs in ways taxpayers can't see. We hear a lot about the hidden debts that states have incurred in the form of pension liabilities; we don't hear much about the hidden debts now being accumulated in the form of long-term contracts with private companies hired to operate prisons, schools and more.
Aside from the lucrative contracts prison privateers have been able to negotiate, lots of other for-profit companies have hopped onto the bountiful prison bandwagon and are now reaping the benefits of another source of revenue. According to a recent study conducted by the ACLU, at least 37 states have legalized the contracting of prison labor by private corporations. Corporations that many Americans hold in high regard reap major benefits from this almost free, captive labor pool. Hmm... sounds eerily familiar.
According to the ACLU, among the list of companies raking in the profits are IBM, Boeing, Motorola, Microsoft, AT&T, Wireless, Texas Instrument, Dell, Compaq, Honeywell, Hewlett-Packard, Nortel, Lucent Technologies, 3Com, Intel, Northern Telecom, TWA, Nordstrom's, Revlon, Macy's, Pierre Cardin, Target Stores, and many more.
According to a recent study conducted by the ACLU, at least 37 states have legalized the contracting of prison labor by private corporations.
The ACLU states that, "All of these businesses are excited about the economic boom generation [sic] by prison labor. Just between 1980 and 1994, profits went up from $392 million to $1.31 billion."
Also covered in the ACLU report is a source of revenue the profiteers have come to rely on - immigration detention centers. Speaking of Immigration and Customs Enforcement (ICE), the federal agency that detains and holds in custody approximately 400,000 immigrants the ACLU report said:
ICE now intends to create a new network of massive immigration detention centers, managed largely by private companies, in states including New Jersey, Texas, Florida, California and Illinois.
Recently, the LA Progressive joined forces with A New Way of Life Reentry Project to put on a Justice on Trial Film Festival. One of the keynote speakers was a gentleman who had spent years behind bars for a nonviolent drug offense. Daryl V. Atkinson left prison with a determination to change his life and did just that. He went to college and then to law school, is now a practicing attorney and most recently was honored at the White House for his work helping formerly incarcerated individuals to reintegrate into society.
But one of the most chilling comments made by Daryl as he addressed the audience at the Justice on Trial Film Festival last month at the Cal State Long Beach University Theater was what he personally witnessed when an inmate was too sick to work. He told us that contrary to what prison officials tell you, in his state, working while in prison was mandatory.
Daryl told the audience that when an inmate fell ill and couldn't work, their wrists and ankles were shackled and they were locked in a stress position where they could neither fully stand, sit, nor lie down. In other words, they were forced into a crouching position and were left in that position for the entire day -- 8 to 10 hours.
We all need to know what our tax dollars are paying for and what is going on in America's prisons. The upcoming Criminal Justice Teach-In and Roundtable will provide attendees with an opportunity to learn more and to take action to dismantle this distructive system. Everyone is invited to this free event. Click here to learn more
Sharon Kyle
Publisher, LA Progressive