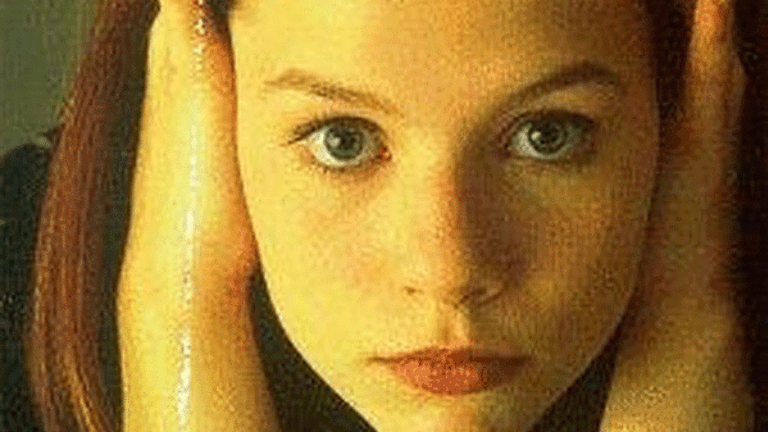 My So-Called Privacy
So-Called Privacy: The current surveillance state is not okay, and it should not be downplayed.
Like many awkward teenagers in the mid-90s, I was obsessed with the television drama My So-Called Life. But while some peers dyed their hair red and wore their fathers' flannels and others picked up sheet music to learn "Blister in the Sun" and "I Wanna Be Sedated" on their violins and oboes—or whatever they played in orchestra, I simply yearned for Angela's privacy.
I sat agog when she had her friends Rickie and Rayanne over and closed her bedroom door to stew in their hormone-drenched problems. At our house we had a strict open-door policy. And it changed our behavior: we didn't practice our curse words until they were second nature or loudly obsess over puberty or rail against our parents' rules. We behaved differently; we edited ourselves.
Perhaps my adolescent obsession with My So-Called Lifeexplains why it struck a chord when Director of National Intelligence James Clapper referredto the "so-called domestic surveillance programs" last month and when President Obamamentioned "sifting through the so-called metadata" last year. I learned from Angela years ago that the words "so-called" often cast judgment on whoever believes the whole sentence. I could see her eyes roll in the title and sense the whiff of pronominal doubt that hangs on the word "life."
It would be lazy to think that the president and Director Clapper were unaware of the connotation and were merely trying to explain or set off concepts in which the media and the American public were already steeped. Downplaying has been the name of the government's surveillance game. In reality metadata is breathtakingly revealing, and its mass compilation, which allows the government to contextualize our most private secrets, is a surveillance program—no qualifier needed.
Here are some other examples of the government downplaying in recent times:
Downplay: On June 7, 2013, President Obama called the collection of phone and Internet metadata "modest encroachments on privacy."

Reality: The Verizon order published in The Guardian two days before the president's downplay required Verizon to provide the National Security Agency with every single call record "on an ongoing daily basis." As ACLU's Jameel Jaffer noted, "It is as if the government had seized every American's address book—with annotations detailing which contacts she spoke to, when she spoke with them, for how long, and (possibly) from which locations." This is not a modest encroachment but the most invasive and widespread American domestic spying program in our history.
Downplay: "That's a very small number of times," Senator Dianne Feinstein said on June 17, 2013, in response to an intelligence statement that "less than 300 unique identifiers […] were queried" in 2012.
Reality: Sure, 300 sounds like a small number of times, but we know from John Inglis's testimony to the House Judiciary Committee last year that the NSA can see the call records of those within three hops of the person targeted. As this infographic shows, if you have only 40 contacts, three hops could include the phone numbers of 2.5 million people. Now, multiply that by the 300 queries and you have 750 million. Now, multiply that again by the seven years the program has been in place…you get the picture.
Downplay: In his speech on NSA reform in January, President Obama let us know that we frustrate him when we worry about being constantly misled. "And I'll admit," he said, "the readiness of some to assume the worst motives by our government can be frustrating."

Reality: President Obama is a constitutional law scholar and a runner on the platform of hope and change (ostensibly from the Bush administration, which instated the warrantless wiretapping program that the FISA Amendments Act ratified). We don't exactly know why he thinks the current spying programs need only minimal reforms, but he wants us to trust him on this. So tuck away any discomfort you might feel when you realize you don't know whether the government is collecting information on you or what the information is. Keep it to yourself when you fret about your information in the hands of the next Joe McCarthy or J. Edgar Hoover or Ashcroft or Nixon. Chill out if you think the separation of powers melts away when the executive branch knows everything about members of the other two branches. You don't want to frustrate the president.
The current surveillance state is not okay, and it should not be downplayed. Our government is not supposed to treat us like children with our doors open. President Obama's so-called reforms are not enough and neither are Director Clapper's so-called assurances. We need real reform and real assurance that the surveillance state can be rolled back. Good news: the USA FREEDOM Act does just that.
As of today, "The Day We Fight Back", the following 22 California representatives are not co-sponsoring the USA FREEDOM Act. Is your rep on this list? Take back your privacy now and urge your members of Congress to sponsor the USA FREEDOM Act. Then when it passes you can feel likethis.
| | |
| --- | --- |
| District | Representative |
| 5 | Mike Thompson |
| 8 | Paul Cook |
| 9 | Jerry McNerney |
| 10 | Jeff Denham |
| 11 | George Miller |
| 12 | Nancy Pelosi |
| 16 | Jim Costa |
| 21 | David Valadao |
| 22 | Devin Nunes |
| 23 | Kevin McCarthy |
| 25 | Buck McKeon |
| 28 | Adam Schiff |
| 29 | Tony Cárdenas |
| 31 | Gary Miller |
| 32 | Grace Napolitano |
| 33 | Henry Waxman |
| 34 | Xavier Becerra |
| 35 | Gloria Negrete McLeod |
| 36 | Raul Ruiz |
| 38 | Linda Sanchez |
| 39 | Ed Royce |
| 40 | Lucille Roybal-Allard |
| 41 | Mark Takano |
| 42 | Ken Calvert |
| 43 | Maxine Waters |
| 44 | Janice Hahn |
| 45 | John Campbell |
| 46 | Loretta Sanchez |
| 51 | Juan Vargas |
| 52 | Scott Peters |
| 53 | Susan Davis |
Jessica Farris
ACLU Southern California
Jessica Farris joined the ACLU of Southern California as policy and advocacy counsel in November 2013. She conducts legal and policy research and advocacy for privacy rights and criminal justice reform as well as all local issues for ACLU of Southern California chapters.