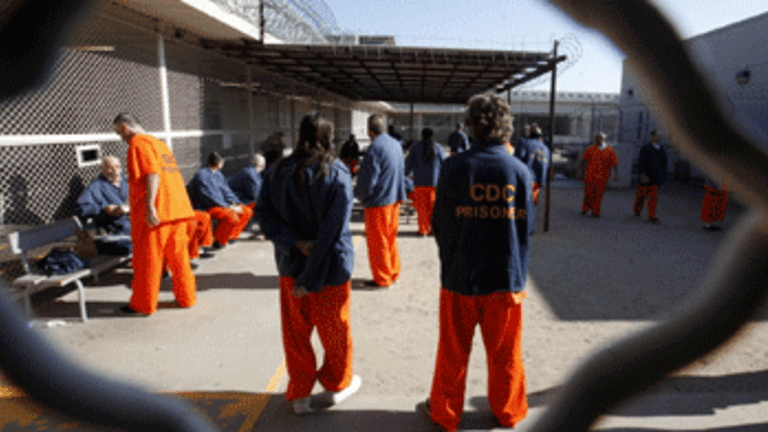 From State Prison to LA County: Ready or Not
Diane Lefer: There are angels among us. They understand that men and women who've been granted a second chance need something more: They need to be welcomed home.
As I write this Saturday morning, thousands of California prison inmates enter their fifth day of hunger strike to protest -- among other abuses -- long-term solitary confinement, otherwise known in the US and around the world as torture. Even after the CDCR (California Department of Corrections and Rehabilitation) threatened retaliatory disciplinary action, more than 7,000 persisted in refusing all sustenance.
I'm thinking of those brothers and sister even as I try to make sense of the organizational chaos now challenging everyone involved in or touched by California's criminal justice system. And I'm thinking of the men and women who are seeking real solutions.
AB 109 - "Realignment"
With our state under court order to reduce the prison population, rather than reform the machine of mass incarceration, the state's solution was AB 109, so-called "Realignment," a scheme to transfer non-violent, non-serious, non-sexual felons out of state facilities and back to the counties.
If you pay attention to statements by the Los Angeles Sheriff's Department and the LAPD, you are forgiven if you believe our crime rate has soared due to the mass release of felons, but as Peter Laarman put it at a meeting of the ACLU-SC Pasadena Foothills Chapter Public Forum on July 9th, Realignment does not release violent felons into the streets. It sends them to county jails. It's not about "changing the system, just changing the address." Laarman, who describes himself as the "administrative factotum" of Justice Not Jails, an interfaith campaign against mass incarceration, pointed out that 40-45% of people in California prisons are from LA County. As we send more people away than any other county, it stands to reason we see more people coming back. What do we do with them?
According to a report by the Public Policy Institute of California, by the end of March 2012, fully 27% of the county jail population was attributable to Realignment. Even before this influx, LA County administered the largest jail system in the world with approximately 15,000 inmates on any given night. Jails are meant to provide relatively short-term confinement for people serving short sentences for misdemeanors and for defendants awaiting what is supposed to be a speedy trial. In practice, individuals who have not been convicted of anything may wait months or even a year behind bars. Since Realignment? Add 5,000 to the jail population and it's no wonder the county facilities -- like the state prisons -- are overcrowded with old buildings in shocking disrepair.
But the problems in the LA jails go far beyond inadequate space. For years, the ACLU of Southern California has been documenting beatings and brutality perpetrated by sheriff's deputies. [2011 report available here] Accounts given by the prisoners themselves were not always taken seriously, but more recently, Esther Lim, ACLU-SC Jails Project Director, was able to present sworn statements from a chaplain and a prison tutor, and then she herself witnessed two deputies violently beating a man who lay unconscious on the ground.
That's hardly news to Patrisse Cullors. Her 19-year-old brother was beaten by deputies, regained consciousness in a pool of blood on the concrete floor, and was denied medical care while their mother was denied the right to see him. The experience inspired her to found the Coalition to End Sheriff Violence in LA Jails to advocate for civilian oversight empowered to do more than write still another report with recommendations that won't be implemented. Cullors, an artist as well as an activist, encourages people to shift perspective, including on the meaning of public safety. "What does safety look like?" she asks. "For some it's having food, it's not having a loved one taken away in a raid."
Lim thinks Realignment should have been the county's opportunity to shift perspective, to stop relying on incarceration. Counties have the option of "split sentencing," through which prisoners transferred under AB 109 spend part of their sentences behind bars and the rest under Post-Release Community Supervision (PRCS) with the Department of Probation mandating participation in community programs that have proven track records in rehabilitation and education. Not only does such an approach save money and cut down on the need for jail cells, but data shows its worth in affording felons a secure and structured reentry into the community and a law-abiding life. The LA Times, hardly a bastion of radical thought, strongly endorsed split sentencing but while the practice is widely used elsewhere, here in LA County the option has been employed for only 4% of returning prisoners.
Then there are all those people locked up awaiting trial, many of whom will see charges dropped altogether. A 2011 study by the Vera Institute, the independent, nonpartisan, nonprofit center for justice policy and practice, noted that "In L.A. County, most detention decisions are not based on an informed assessment of whether an individual poses a danger to society or is likely to return to court. Instead, the decision is based on whether the arrestee has enough money to meet bail." People with money walk; poor people wait behind bars.
Overcrowding is also exacerbated by the lack of appropriate services: the county jail has become a de facto mental hospital, homeless shelter, and sober-up facility for the drunk and disorderly.
When the Board of Supervisors decided to consider alternatives to jail, where did they go for expert advice? To the Vanir Construction company that, no surprise, determined that new jail facilities had to be constructed at a cost of $1.6 billion. Vanir's report relied on the assumption that LA County is so resistant to change that split sentencing will continue to be underutilized and the pre-trial release system will not be improved and made equitable.
Proposition 36 (2000) and Proposition 36 (2012)
In recent years, California voters have shown more common sense than their government.
Proposition 36, the drug diversion initiative which passed in November 2000, was intended to send nonviolent drug offenders to treatment instead of to prison. But on the government level, implementation fell short. Funding for treatment was cut from the state budget. Once again, as with bail, justice depends on income. Defendants with money to check into a rehab center stay out of prison; poor people go in.
Coincidentally, November 2012 saw another Proposition 36 on the ballot. After almost two decades of tireless education and advocacy campaigns by grassroots organizations -- and with an appreciative shout-out here to Geri Silva, co-founder and executive director of FACTS (Families to Amend California's Three Strikes), voters decided that the 3,000-3,500 men and women condemned to life imprisonment for minor offenses could petition for resentencing and release. And those 36-ers want to come home at the same time the county is coping (inadequately) with Realignment.
Only about 14-15% of the people eligible for relief in LA County have had their cases resolved, according to Michael Romano, director and co-founder of the Three Strikes Project at Stanford University. More than 1,000 LA cases are waiting to be heard.
Romano met on Thursday with the other public, community, and faith-based agencies, activists and advocates of the Los Angeles Regional Reentry Partnership (LARRP) to network and start to streamline referrals and share resources. Lawyers who know how to get people out of prison but acknowledge they know little about reentry met with providers of transitional housing and activists like Dwayne Dickson of Fair Chance, always on call for people "coming home with only the clothes on their back. People need housing and transport," he says, "but they need cosmetic stuff, too. If they feel clean and look clean, they'll do better." LARRP executive director Peggy Edwards calls him the "go-to guy" for matching resources with need, the one to call "when I've got someone who has a job interview tomorrow and he's got to have shoes."
The 36-ers face a specific challenge that no one thought of before Prop 36 was passed. Because at the time of resentencing, most of them will be found to have served their full time, they are discharged and ineligible for any post-release services. What happens to them? Romano painted the picture: "At least half of the people serving life sentences don't have any family or friends to go back to. They have done between 10-15 years, are released in the middle of nowhere, with no contact with anyone on the outside."
Currently (though as Edwards points out, the situation is changing not by the day but by the minute), "the D.A. is the main barrier opposing any release without a reentry plan," said Lynne Lyman, co-chair of Policy and Advocacy for LARRP as well as California state director, Drug Policy Alliance
Romano explained petitioners must convince the court they pose little or no risk to public safety. One of the best ways is to show the person has stable housing lined up. "We --" and that includes Libby Pace of the Public Defenders Office and Krista Hohmann of the Post Conviction Assistance Center -- "are doing our best to pick them up and bring them to a program," Romano said. "Those beds are very hard to come by."
And so the few providers of transitional housing -- their beds already filled, their budgets already stretched to the limit -- get frantic last-minute phone calls.
"People need more than three hots and a cot when they get out, especially if they've done a lot of time," said Mark Faucette, vice president of the Amity Foundation which maintains 200 beds for transitional housing in LA. The Amity Foundation has offered housing to men who have no means of paying for it. And even when funding is available, government programs cover only the cost of providing a bed and employment services, while most of the men need much more. "They need help to navigate the whole system. People literally can't get to a doctor's appointment by themselves."
If you've never known people just coming out, you might find this hard to believe, but I remember a man who couldn't walk down the street unaccompanied because, after decades in a cell, the traffic and open space got him too disoriented. Long-term prisoners leave everything behind. They emerge with only prison documents which are not acceptable anywhere as ID. Men I know now in transitional housing have spent months -- one of them eight long months -- trying to get birth certificates, California photo IDs, and Social Security cards out of the various bureaucracies so they can apply for jobs, benefits, and get on with their lives.
At present, the four D.A.s, the Probation Department, and the single judge assigned to 36-er hearings are encouraging prisoners to waive their time and accept a longer sentence that includes a year's probation. That way, they do qualify for PRCS services. But they run the risk of being sent back. Sheriff's deputies can execute searches without a warrant at any time of day or night -- and as noted, the Sheriff's Department does not enjoy trust and is feared with good reason.
Lyman, who is committed to working toward systemic fixes that go beyond meeting daily urgent needs, called on the group to strategize.
She explained that under Realignment, the county was allocated $272 million from the state to make up for the costs associated with the influx of prisoners. Of that money, the county budgeted $8 million for community-based services and only $4 million was spent. "We're gonna have to shake them down for that money," she said. Looking at the funding that was spread around different agencies, she estimates there's easily $50 million left unspent.
That includes millions budgeted for mental health services, while 36-ers with mental health problems have been pushed to the back of the line for release because it's so hard to find safe housing and services for them.
Santa Clara County chose to use the state allocation to assist 36-ers as well as Realignment prisoners without imposing PRCS. Why not here as well? Funding may still be inadequate to meet needs, but existing funds are not getting to the people and providers who need them.
Another needed fix: Agencies should be able to have pre-release contact with prisoners so they can begin working with people and making real plans for reentry before hearings and before release. What I hear all too often is a variant of: They gave me a list of service providers. The letters I wrote were returned. The phone numbers were disconnected. The prison called this a "pre-release program".
Susan Burton, founder of A New Way of Life, the nationally recognized transitional program for formerly incarcerated women, told the meeting she used to be able to go into the prisons and talk to women. She would like to offer an informational session on Prop 36, but about four years ago, the Department of Corrections closed the door to her. (Most programs, even those offered for free, like hers, to inmates, were barred supposedly so prisons could save what they claimed were the excessive costs of having guards escort prisoners out of pods and to classrooms or meetings.)
Nanny Wilkerson, who went through the program at A New Way of Life and now works with Burton, stays in touch with the women she knew inside and tries to keep them informed through letters. "A friend of mine still in prison agreed to PRCS though she has no idea what that is because after 19 years of incarceration she just wants to get out." She's still waiting.
The big fix Burton wants to see: "How do we change that hook 'em and book 'em mentality?"
In the meantime, said Romano, "With a little bit of help and a little bit of hope they can put their lives back together."
Who else should have the chance to come home?
While California finally followed the Supreme Court in abolishing Life Without Parole for juveniles, SB 9 did nothing to help kids who received virtual LWOP sentences, such as 95-years-to-life, 110-years-to-life. The California Supreme Court ruled in People v. Cabellero that a sentence of 110 years to life is essentially indistinguishable from a LWOP sentence and therefore unconstitutional for a non-homicide crime. But each case still has to be litigated separately and young people convicted of homicide -- even when they were present at the scene but did not cause the death -- still have no recourse. As Kruti Parekh of the Youth Justice Coalition put it recently, "Even when we win, why do we always need to fix it? Why is something always overlooked so we have to keep fighting?" So the fight goes on as the California legislature considers AB 260 which would give at least some juveniles a chance to appear before the Parole Board after ten years to have their extreme sentences reconsidered.
Signs of Hope
Until recently, the formerly incarcerated were banned from Section 8 housing (public or subsidized voucher housing) which meant if their family members received housing assistance, family reunification was not possible. As a pilot program, the Housing Authority of the City of Los Angeles (but not the County) has lifted the ban for now. That opens up at least some homes to return to in a city where the lack of affordable housing is a scandal. (Some families are not receptive however to the idea of being raided by deputies and facing retaliation from landlords.)
Most encouraging, the public is apparently way ahead of the politicians and criminal justice professionals.
The first ever survey of victims and survivors of violent crime -- most of whom reported continued disturbances in their lives due to the crime--found that the majority also believed we incarcerate too many people, not too few. By a two-to-one margin, they favored probation and community supervision over prisons and jails. By a three-to-one margin they favored investments in mental health and drug treatment over incarceration.
Some anecdotal evidence: As I talk to the formerly incarcerated, again and again they tell me of experiences that took them completely by surprise and left them grateful. The story always goes something like this: A man is put outside the gate, disoriented, with no place to go. He stops a stranger to ask directions. Offered a cell phone so he can make a call, he has no idea how to use it. He explains he's just been released from San Quentin after 29 years and instead of recoiling in fear, the stranger -- usually a woman! -- gives him money which he tries to refuse, takes him to the bus terminal and buys him a ticket, or drives him to a center where he can get help.
There are angels among us. They understand that men and women who've been granted a second chance need something more: They need to be welcomed home.
Diane Lefer
Sunday, 14 July 2013