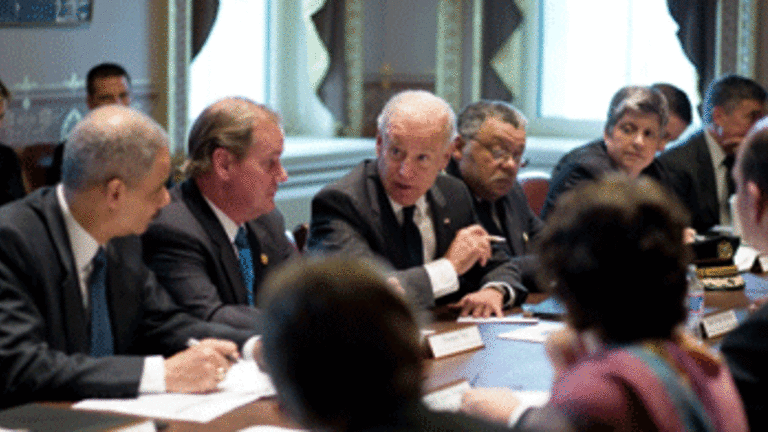 Terrorism Around the World
Carl Matthes: Extremists can always step up to the next weapon of mass killing. Anti-violence campaigns, respect for human life, education and zero tolerance for the proliferation of assault weapons are needed now.
Hearing the right-wing NRA defend the continued sale of guns to anyone who has the cash has become both common place and indefensible. Even in the wake of the Newtown massacre last month, the NRA and the American gun industry dismisses these incidents as "guns don't kill people, people kill people." This lobbying and sales job is only rivaled by the tobacco industry's "smoking doesn't kill people."
The NRA has convinced some that owning a gun is a God-given right and others that you can't trust your government. The tobacco industry convinced many that smoking was actually a health treatment, improving complexions, soothing nerves while looking cool. In both cases, lobbyists knew how to get the votes to promote these industries.
As marijuana is said to be an entry drug for addicts, having a gun is the entry weapon for terrorists.
Unfortunately, America is rivaling Third World nations in acts of gun terror. George Zornick of "thenation.com," compiled a list of every 2012 American mass shooting. For his compilation, a mass shooting was defined as "multi-victim shootings where those killed were chosen indiscriminately." There were 14 such attacks in America during 2012. Internationally, there were over 300. (Internationally, entry-level guns were joined by bombs, IEDs, mortars and grenades.)
Below are the 14 American gun attacks interspersed with 14 international gun attacks.
January 1, 2012 - Garissa, Kenya: Suspected Al-Shabab militants fired on New Year revellers in two bars in northeastern Kenya killing 5 people and injuring at least 28.
February 22 - Norcross, Georgia (USA): Five people were killed in at a Korean health spa when a man opened fire inside the facility in an act suspected to be related to domestic violence.
Jan 2 - Gujrat, Pakistan: Seven people, including a police officer, were killed after gunmen on motorcycles opened fire in the town of Gujrat.
February 26 - Jackson, Tennessee: Multiple gunmen began firing into a nightclub crowd killing one person and injuring 20 others.
Jan 3 - Baghdad, Iraq: Shootings across the capital killed 2 and injured 12 more..
February 27- Rural Ohio: Three students at Chardon High School in rural Ohio were killed when a classmate opened fire..
Jan 4 - Baghdad: A number of shootings across Baghdad and Mosul left 5 people dead, including 3 off-duty soldiers and a member of the Sons of Iraq and his wife..
March 8 - Pittsburgh, Pennsylvania: Two people were killed and seven wounded at a psychiatric hospital when a gunman entered the hospital with two semiautomatic handguns and began firing..
Jan 5 & 6 - Mubi, Gombi and Yola, Nigeria: A series of shootings took place in northeastern Nigeria. Hundreds of terrified residents started fleeing the affected areas shortly after the attacks, fearing further violence..
March 31 - North Miami, Florida: A gunman opened fire on a crowd of mourners at a funeral home, killing two people and injuring 12 others..
Jan 8 - Vedensky, Chechnya: Four members of the Russian Army and four suspected militants were killed after an intense firefight in the southeastern Vedensky District of the Chechen Republic..
April 2 - Oakland, California: A 43-year-old former student at Oikos University walked into his former school and killed seven people, "execution-style." Three people were wounded..
Jan 10 - Potiskum, Nigeria: Suspected members of Boko Haram opened fire on a bar in the northeastern Yobe State, shooting eight people to death, including four policemen..
April 6 - Tulsa, Oklahoma: Two men went on a deadly shooting spree shooting black men at random in an apparently racially motivated attack. Three men died and two were wounded..
Jan 17 - Afar Region, Ethiopia: Attackers shot and killed at least 5 foreign tourists and kidnapped 4 others..
May 29 - Seattle, Washington: A man opened fire in a coffee shop and killed five people and then himself.<.
Jan 20 - Kapisa, Afghanistan: An Afghan soldier opened fire on French personnel killing at least 4 and injuring 17..
July 9 - Wilmington, Deleware: At a soccer tournament three people were killed, including a 16-year-old player, when multiple gunmen began firing shots.<.
Feb 1 - Bayelsa State, Nigeria: Gunmen ambushed a police patrol in the Niger Delta, shooting 4 officers to death. Responsibility was claimed by the Movement for the Emancipation of the Niger Delta..
July 20 - Aurora, Colorado: James Holmes enters a midnight screening of The Dark Knight Rises and opens fire with a semi-automatic weapon; twelve people are killed and fifty-eight are wounded..
Mar 10 - Toulouse and Montauban, France: A gunman on a motorbike shot and killed three French paratroopers..
August 5 - Milwaukee, Wisconsin: A white supremacist and former Army veteran shot six people to death inside a Sikh temple before killing himself..
Aug 10 - Helmand Province, Afghanistan: A person in an Afghan police uniform shot and killed six soldiers..
Aug 14 - College Station, Texas: Three people were killed at Texas A&M University when a 35-year-old man went on a shooting rampage; one of the dead was a police officer..
Sept 11 - Benghazi, Libya: Heavily armed Islamist militants stormed and burned the American Consulate killing the United States ambassador to Libya, J. Christopher Stevens, and 3 others..
Sept 27 - Minneapolis, Minnesota: A 36-year-old man who had just been laid off from Accent Signage Systems entered his former workplace and shot five people to death, wounding three and killing himself..
Oct 8 - Southern Thailand: Islamic militants staged a number of attacks killing at least 11 people. The victims included 3 paramilitary rangers, as well as 2 Muslims killed in a drive-by shooting..
Oct 21 - Brookfield, Wisconsin: 45-year-old Radcliffe Frankin Haughton shot three women to death, including his wife, Zina Haughton, and injured four others at a spa before killing himself..
Oct 22 - Kazan, Russia: At least two suspected Islamic militants and a member of the security forces were killed in a shootout in Russia's eighth most populous city of Kazan..
Dec 11 - Portland, Oregon: A 22-year-old began shooting at random at a mall killing two people and himself..
>Nov 2 - Khuzdar, Parkistan: A gunmen opened fire on a bus carrying civilians while it was at a petrol pump, killing all 16 occupants and 2 by-standers. Among the dead were eight women and three children..
Dec 14 - Newtown, Connecticut: One man murders 26 people at an elementary school including 20 children before killing himself.
As we enter the post-Newtown era, Vice-President Biden is listening to measures backed by key law enforcement leaders that would require universal background checks for firearm buyers, track the movement and sale of weapons through a national database, strengthen mental health checks and stiffen penalties for carrying guns near schools or giving them to minors.
Gabrielle Gifford has launched "Americans for Responsible Solutions," an initiative urging Congress to pass legislation to curb gun violence. Gov. Andrew M. Cuomo is pushing New York to become the first state to enact major new gun laws in the wake of the massacre in Newtown. He is proposing one of the country's most restrictive bans on assault weapons and broadening the number of guns and magazines covered by the law.
The irrational and destructive climate of violence around the world has the potential to grow in the United States. Extremists can always step up to the next weapon of mass killing. Anti-violence campaigns, respect for human life, education and zero tolerance for the proliferation of assault weapons are needed now.
Carl Matthes
Wednesday, 9 January 2013