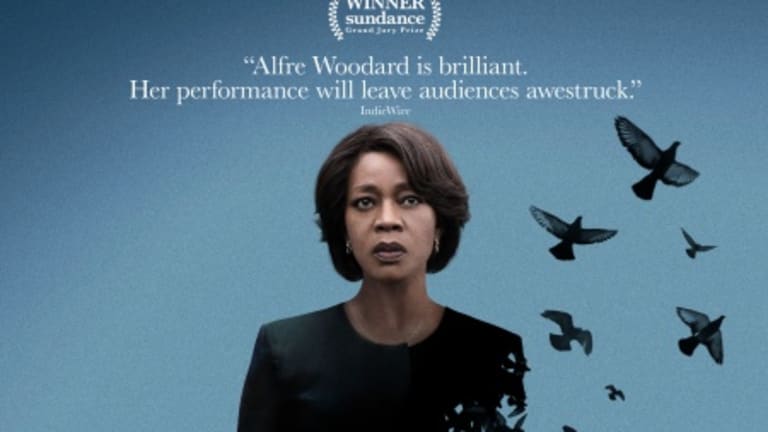 The Film Clemency, Capital Punishment, Pope Francis, and Trump
Walter Moss: In any atonement and movement toward national healing, rethinking our penal system and eliminating the death penalty (and life-imprisonment-without-parole sentences) should certainly play a part.
I just watched the 2019 film Clemency on Hulu. I have long opposed the death penalty, but never before has the horror of it struck me as it did while watching this film.
From reading Peter Travers' review of it in Rolling Stone, I learned that its Black writer-director Chinonye Chukwu, "spent four years researching the death penalty in Ohio . . . . She interviewed wardens and corrections officials in an attempt to understand the toll taken on people whose livelihood depends on the taking of a human life."
Chukwu awakens our empathy for those people and even more so for those executed and their families. She does this partly by depicting the agony it causes for prison warden Bernadine Williams, played by a terrific Alfre Woodard, and her husband, Jonathan (Wendell Pierce of The Wire).
Our empathizing, feeling the pain of those suffering, is a whole different experience than merely opposing something on rational grounds.
Watching the film made me feel like the great Russian writer Leo Tolstoy once felt after witnessing a criminal's head severed from his body by means of the guillotine.
This happened in Paris on 6 April 1857. It occurred early one morning after a crowd of some twelve to fifteen thousand people, including women and children, had slowly gathered during the pre-dawn hours. The prisoner was brought out on the square in front of the jail.
In any atonement and movement toward national healing, rethinking our penal system and eliminating the death penalty (and life-imprisonment-without-parole sentences) should certainly play a part.
He had a thick, healthy-looking, white neck and chest. A priest accompanied him until he was turned over to the executioner and his machine. His body was stretched out on a board, and seconds later his bloody head was in a basket. A few years earlier Tolstoy had been an officer during the Crimean War, and he now said that he had seen many things during his experience as a soldier, but nothing as revolting as the work of "this ingenious and elegant machine."
For centuries before Tolstoy's experience governments had, by various killing instruments, put people to death for many crimes--think of Jesus and the Crucifixion. But the 18th-century Enlightenment helped change and limit such killing.
"After the Enlightenment, European countries stopped executing people for any but the most heinous crimes: by the middle of the 19th century, Britain had reduced the number of capital offenses from 222 to 4. And the countries looked for methods of execution such as drop hanging that were as humane as such a gruesome practice could pretend to be. After World War II, when the Universal Declaration of Human Rights inaugurated a second humanitarian revolution, capital punishment was abolished altogether in country after country, and in Europe today [2018] it lingers only in Belarus."
Among the many in Europe who oppose the death penalty is Pope Francis.
In his most recent encyclical, Fratelli Tutti, he writes, "Today we state clearly that 'the death penalty is inadmissible' and the Church is firmly committed to calling for its abolition worldwide."
Although the Catholic Church had earlier taught that it could be used in certain cases, in 1995 Pope John Paul II stated that the cases were "very rare, if not practically non-existent."
In 1999, he went a step further and called for its abolition. So too in 2011 did his successor, Pope Benedict XVI.
In stating his case Francis writes, "It is impossible to imagine that states today have no other means than capital punishment to protect the lives of other people from the unjust aggressor." He fears that "fear and resentment can easily lead to viewing punishment in a vindictive and even cruel way, rather than as part of a process of healing and reintegration into society."
He reminds us that "not even a murderer loses his personal dignity, and . . . . the firm rejection of the death penalty shows to what extent it is possible to recognize the inalienable dignity of every human being and to accept that he or she has a place in this universe." (In keeping with this stress on dignity, the pope also thinks that people should "work for the improvement of prison conditions," including abolishing life imprisonment, which he considers "a secret death penalty.") Also among the arguments against the death penalty, he refers to "the possibility of judicial error."
Indeed, just such error does occur. A U. S. 2014 study found that at least four percent of those sentenced to death in the USA since the 1970s were innocent of the crime for which they received the death sentence.
In Clemency it appears that the final death-row inmate depicted, Anthony Woods (brilliantly portrayed by Aldis Hodge), may have been just such a man, one not guilty of the cop killing with which he was charged.
Here is what Woods' attorney, Marty (West Wing's Richard Schiff) states:
Anthony has always maintained culpability in the crime of robbery, which he did commit that night . . . . Yet . . . he maintains, and we maintain, that he was not involved . . . in the shooting. Surveillance footage of the convenience store that night shows two masked men. . . . The shooter was left-handed and considerably shorter than Anthony Woods, who is right-handed. And new ballistic technology proves that the type of gun used in the shooting of Officer Collins that night was owned by James Taylor. This was also confirmed by several people who knew James from his neighborhood. Four of the five eyewitnesses have recanted their statements. Most of the jurors from the original trial have stated that they cannot say with 100% certainty that Anthony Woods was the shooter. [Quoted from the filmscript.]
Another problem, though not one mentioned by Pope Francis, is that capital punishment sometimes violates the Eighth Amendment to the U. S. Constitution prohibition on "cruel and unusual punishments." This occurs when there is a "botched execution" causing great pain--one such one is depicted in Clemency, and it is when a lethal injection goes wrong.
According to one source, from 1890 to 2010, 7 percent of lethal-injection executions were botched. From 2006 to 2017 in one state alone, Ohio (where director Chukwu did most of her on-site research), five such executions were bungled.
Although most democratic countries in the world no longer execute people, the United States has been an exception. But even here, there has been some progress.
Until 2020 no federal executions had occurred since 2003, and most executions were carried out by a small number of states. 39 states had had no executions in at least 5 years, with many of them having outlawed capital punishment.
In 2018 Pinker wrote, "American executions are concentrated in a handful of Southern states, mainly Texas, Georgia, and Missouri." In 2019, Texas had the most (9), followed by Alabama, Georgia, and Tennessee, each with 3. In 2020 (as of 19 November), Texas with 3 has again been the state leader, with Alabama, Georgia, Tennessee, and Missouri each having one.
But in 2020 for the first time in many years, the federal government again started putting people to death, 8 of them as of 19 November.
That the federal government had once again started executing people is primarily due to Donald Trump, a president with a plethora of narcissism and a paucity of empathy. He has long been a capital-punishment enthusiast.
Back in May 1989, after the rape and assault of a Central Park jogger, Trump proclaimed in full-page advertisements in four New York newspapers that "our society will rot away" until capital punishment is used more commonly.
"I no longer want to understand their [the criminals'] anger. I want them to understand our anger. I want them to be afraid . . . . They should be forced to suffer and, when they kill, they should be executed for their crimes." (It would have been unfortunate if they had because, as Ava Duverny's 2019 Netflix series When They See Usindicates, those charged and imprisoned for the crimes were not guilty.) 
The following year in a Playboy interview Trump said, "When a man or woman cold-bloodedly murders, he or she should pay. It sets an example. Nobody can make the argument that the death penalty isn't a deterrent." From then until now, he has consistently advocated a "quick trial, then death penalty," as he did in the case of the 2013 Boston Marathon bomber. In 2014, after the beheading of an Oklahoma woman, he even suggested for the perpetrator "the same fate – beheading."
A recent ABC article noted Trump's plans to ratchet up "the pace of federal executions . . . . announcing plans for five . . . concluding just days before the Jan. 20 inauguration of President-elect Joe Biden. If the five go off as planned, it will make 13 [federal] executions since July when the Republican administration resumed putting inmates to death . . . and will cement Trump's legacy as the most prolific execution president in over 130 years."
One final thought about Clemency, capital punishment, and Trump.
The two execution procedures portrayed in the film each involved a person of color, Victor Jimenez (Alex Castillo) and Anthony Woods. And of the roughly 2600 inmates on Death Row (in April 2020) a majority were non-White.
Although it is impossible to disentangle all the reasons that such people made up a disproportionate number of those sentenced to die, racial considerations and racism were certainly factors. And racism has been one of the great stains on our national character, a stain that the Trump administration has only spread.
In any atonement and movement toward national healing, rethinking our penal system and eliminating the death penalty (and life-imprisonment-without-parole sentences) should certainly play a part.
Walter Moss