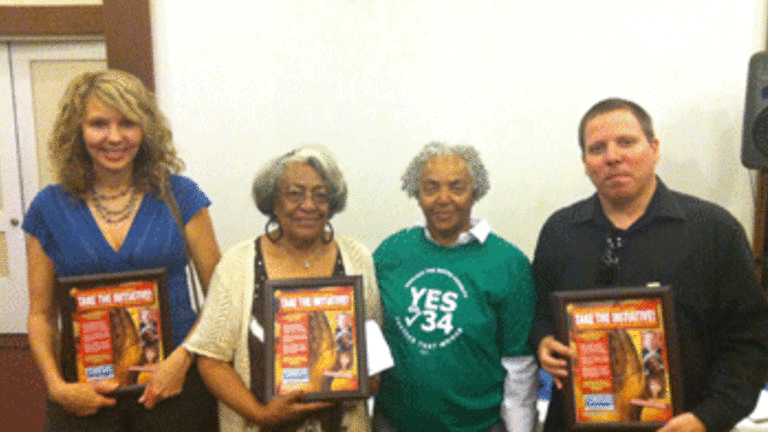 Safer Foods, Saner Prison Sentencing, No Death Penalty Vie for Voter Attention
Dick Price: At the American Civil Liberties Union's Pasadena/Foothills Chapter forum this past Tuesday, September 11th, advocates made their case for three particularly contentious initiatives on California's November ballot:
At last week's American Civil Liberties Union's Pasadena/ Foothills Chapter forum advocates made their case for three particularly contentious initiatives on California's November ballot:
Prop 34: Death Penalty Initiative
Prop 36: Three Strikes Law
Prop 37: Labeling of Genetically Engineered Foods
The State's official voter information guide contains the full language for each of the 11 initiatives Californians will vote on in November, along with summaries of arguments for and against each measure.
Chapter President Michelle White moderated the evening's festivities, which took place Tuesday, September 11, at Pasadena's Neighborhood Church..
No Science Experiment
Prop 37 would require labeling for food made for human consumption from plants and animals that have been genetically changed. The law would also prohibit foods labeled as "natural" from containing genetically modified organisms (GMOs).
"Most First World counties have halted the use of label GMOs -- China, Japan, most of Europe," said Carole Bartolotto, a registered dietician and author who advocates for the Yes on 37 campaign. "In Europe, just 2 percent of food contains GMOs. Here in the United States, it's closer to 80 percent."
Facing that kind of potential business disruption, agribusiness giants are contributing mightily to the No on 37 campaign, already coughing up an estimated $24.9 million by early this month. "Big Organic" -- companies such as Kellogg, General Mills, Del Monte Foods, Coca-Cola, and ConAgraa that market "organic" foods containing modified organisms -- are especially heavy hitters. They know that consumers think they are eating healthy by eating organic.
"We're fighting an uphill battle. We're just a bunch of activists without any deep-pocketed organization behind us," Bartolotto said, who publishes Eating Heathy Rocks. "Against us is Monsanto, one of the richest, most powerful corporations in the world."
But American consumers support the YES on 37 campaign's principles, with surveys showing that between 60 and 90 percent of Americans want their foods labeled, according to Bartolotto.
Prop 37 opponents argue that GMOs are not harmful to humans and that this unnecessary labeling would drive up food prices by as much as $400 per family annually.
"But when much of Europe moved away from GMO-laden foods, prices did not rise," countered Bartolotto. "And though industry says GMOs are harmless to human health, respected scientists think they could create allergens and toxins that would affect people."
GMOs create collateral damage as well. Monarch butterflies across the country are dying off because the stronger pesticides used on fields kill nearby milkweed plants the butterflies need, according to Bartolotto. And farmers face health risks as weeds become resistant to pesticides used to protect genetically modified crops, requiring more and more pesticide spraying.
"The cigarette industry told us cigarettes were safe and pesticide companies told us DDT was safe. Now, they're saying GMOs are safe," Bartolotto concluded. "I don't know about you, but I don't want to be a science experiment."
Life for "Aiding and Abetting Shoplifting"
Prop 36 would revise the Three Strikes Law enacted in 1994 by imposing life sentences only when the new, third felony conviction is for a serious or violent crime. Already incarcerated "Third Strikers" would be re-sentenced if the third strike was not for a serious or violent crime.
Although the 18-year-old law was intended to keep violent, repeat criminals off the street, the result has been different.
"As the Three Strikes law was actually implemented, a person could be picked up for anything -- a serious crime or a minor shoplifting or drug possession offense -- and the DA could make that a third strike felony," said Dorothy Erskine, a retired Los Angeles teacher who advocates for the Yes on 36 campaign.
As a result, more than 8,500 prisoners have been sentenced to life in prison for nonviolent crimes, some as minor as shoplifting or simple drug possession, according to George Gascon, writing in the San Francisco Chronicle. Besides not fitting the crime, these disproportionate sentences have clogged California's already overburdened prisons, costing taxpayers millions
Erskine, a member of Families to Amend California's Three Strikes (FACTS), knows the current law's unfairness first-hand.
"My nephew had two convictions -- a house burglary and a car theft -- and his third strike was for aiding and abetting shoplifting," she related. "Two girls he was with were stealing sheets from a department store. He was sentenced to 25 years to life and has already served 18 years."
Erskine cited these statistics:
54% of Three Strikes convictions are for nonviolent crimes.
45% of Three Strikers are African American.
Just 6% are considered high risks for new violent crimes.
"Most inmates convicted of serious crimes - murder, rape, or child molestation - would not qualify for the new law," remarked Erskine, who volunteers at LA's Juvenile Hall.
Indeed, fear mongering and demagoguery are big obstacles to the Yes on 36 effort. During the last attempt to bring more sanity to the Three Strikes implementation, then -- Governor Arnold Swartzeneggar said 21,000 murderers and rapists would be set free, according to Erskine.
But the law actually calls for re-sentencing, not immediate release. Three Strikers already behind bars would have to go before the same judge who sentenced them to life.
"That judge would decide if the person is safe to be released back to the public," said Erskine. "And they would have to have served twice the normal sentence for their third offense."
According to Erskine, Proposition 36 wouldn't even be on the ballot had it not been for Stanford Law School professors. The initiative process, which was adopted in California, in 1911 is frequently disparaged because of the amount of money needed to get an initiative on the ballot. "It takes deep pockets or a well-organized grassroots campaign to get an initiative on the ballot", Erskine remarked. "FACTS didn't have the resources. And it takes a lot of money to get your argument before the public."
In addition to the legal community at Stanford, prominent law enforcement officials, such as LA County DA Steve Cooley and LA Police Chief Charlie Beck, back Prop 36.
Closing California's Death Row
Prop 34 repeals California's death penalty, which was enacted through a voter initiative in 1972, and replaces it with life without possibility of parole sentences.
Savings from the extensive mandated appeals process and special housing for Death Row inmates would amount to $134 million annually, according to Tommy Watts, the SAFE CA coordinator who spoke on behalf of Prop 34. $100 million of those savings would go to local law enforcement agencies to improve conviction rates for serious crimes of murder and rape.
"California has 720 inmates on Death Row, or 29 percent of the nation's Death Row population," according to Watts. "A great many more will die of suicide or old age than are ever executed.
California has spent $4 billion in the Death Penalty since 1978, or more than $300 million for each of the 14 executions, according to an influential study conducted by retired judge Arthur Alarcón.
"Prop 34 will stop executions and that will be momentous," according to Natasha Minsker, statewide director of the Yes on 34 campaign. "And a victory in California is crucial to the national campaign to end the death penalty."
Texas just executed a man who DNA evidence proved was innocent, Watts pointed out.
"This is the time to cut budgets that don't work and the death penalty in California hasn't worked," Watts concluded. "We would become the 18th state to move away from the death penalty."
Foreclosed Again
At its November 13th Forum, the ACLU's Pasadena/Foothills Chapter will address again the foreclosure crisis facing Californians and the nation. A well-received earlier forum addressed the foreclosure crisis from the grassroots level, presenting Occupiers and housing advocates working in the trenches to save people's homes house by house, mortgage battle by mortgage battle. This November's forum will look at the situation from the higher level of much-needed legislative and legal reform.
Dick Price
Editor, LA Progressive
Published: Thursday, 20 September 2012